May 16, 2020:
ASI locations will begin limited operations on June 1.
New ASI Procedures
REDUCED CAPACITY
– We are operating at 25% capacity
– Only one parent per student in the gym
– We ask that no siblings be allowed in the gym at this time
– We ask that no one over the age of 65 come to the gym
KEEPING IT CLEAN
– Cleanings before, during, and after each workout
– Overnight deep cleaning and disinfecting
– Extra staff designated to help with cleaning during each shift
KEEP THE DISTANCE
– Specialized seating to ensure that everyone practices social distancing
– Parents must bring a yoga mat or cushion to use for seating in the bleachers
SAFETY FACE COVERINGS
– Face coverings will be worn by all staff
– We require that all adults who enter the building also wear a face covering
HEALTH FIRST
– Staff, student, and parent temperature must be checked at the door before entering the gym
EXTRA PRECAUTIONS
– Gymnasts will need to bring a backpack or gym bag to class with a water bottle and hand sanitizer
– We encourage the option for drop off and pick up at this time
 May 4, 2020:
ASI family, we miss each of you and can't wait to get back in the gym soon!
For the health and safety of all, we will remain closed until at least June 1, 2020. When we resume limited operations in June, we will focus on gymnastics classes in compliance with CDC standards.
At this time we have not scheduled resumption of camp, parties, and open gym.
We will soon be taking reservations and deposits for GAS this fall. As a courtesy, our existing GAS customers will have first priority. Please be on the lookout for more information.
No tuition will be charged for May and we continue to honor all class enrollment.
The first classes to resume will be our team classes
We are so grateful for the support of all of the customers, parents, and staff during this very difficult time
March 16, 2020:
All ASI locations will be temporarily suspending all classes, Camps,  PNO, and Open Gyms at all ASI locations indefinitely. Don't worry, we will be back. Thank you for being loyal customers. We will do everything to make it up to you.
March 12, 2020:
We are open and currently operating on a normal schedule. The safety of your families and our staff is our top priority.
At ASI Gymnastics, we work diligently to ensure each visit is clean for you and your family. In response to the novel coronavirus (COVID-19), ASI Gymnastics has increased the frequency and extent of our cleaning services, to include but not limited to:
Washing hands before and after each class

Cleaning door knobs, vending machines, water fountains and other frequently touched hard surfaces 

Hand sanitizer will be located throughout the gym
If your child is coughing, sneezing or has a fever, please stay home. ASI will gladly offer makeup classes to students who are feeling under the weather. 
As we continue to learn more about the coronavirus, including any possible threat to our ASI community, we will keep you informed. 
CDC Recommended Preventative Measures: 
Wash hands with soap and water for at least 20 seconds
Use hand sanitizer with at least 60% alcohol
Avoid touching your eyes, nose, and mouth with unwashed hands
Avoid close contact with people who are sick
Cover your cough and sneezes
Stay home if you're sick
Clean and disinfect frequently touched surfaces daily.
For more, please visit the Centers for Disease Control and Prevention.
Have questions concerning the Coronavirus and ASI Gymnastics? Coronavirus FAQ's 
Best Practices to follow when coming to ASI Gymnastics: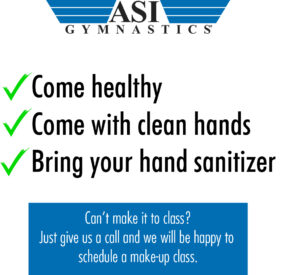 School Closures:
Due to school closures, we will be offering extended Spring Break Camp Monday, March 16 – Friday, March 20. Extended Spring Break Camp will be held at ASI Allen, ASI Cypress, ASI Firewheel, ASI Plano West, ASI Rockwall, and ASI The Woodlands. We will monitor school closures and update camps as needed. To learn more about Extended Spring Break Camp, Click Here.
*ASI Gymnastics is following CDC recommendations for cleaning our gyms. We are aware of the orders of no events of 250 people; we are continually monitoring our capacities to make sure we comply. The safety of your family and our staff is our top priority.
Coronavirus Resources:
Centers for Disease Control and Prevention
Texas Health and Human Services