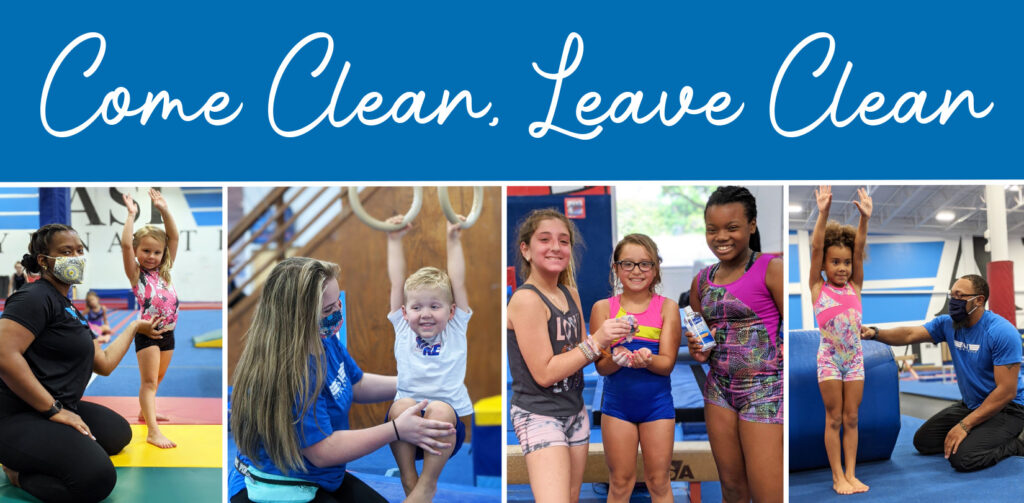 ASI Gymnastics is known for its safety. We are relentless in our pursuit of Safe, Fun Gymnastics. Through sound engineering principles, we track each incident and use it to improve our standards in the gym.  So, now we are faced with the challenge of COVID-19.  From the very start, our goal is to keep our staff and students safe. This naturally means implementing very tight standards.  
We were closed during April and May. In late May, we started preparing to open. We implemented numerous standards, including Hygiene Coaches and rotations, that minimized contact of equipment by multiple students at the same time.  We also lowered ratios and planned for social distancing. The motto "Come Clean, Leave Clean" was adopted. This meant each child should bring water, sanitizer, mask, snacks from home.  Kids carry these items during class and camp in their own backpack. Come Clean, Leave Clean also means as each class rotates to an event, the coach assures hands, mats, and equipment are clean. They also leave them clean at the end of the rotation. 
We also adapted our incident tracking system. If a family contacts us about a student testing positive, we notify everyone in that class. If a coach reports exposure to someone with COVID-19, we immediately isolate the coach and send them for testing. We also identify all close contacts. If we feel the contact was at high risk, then that person is quarantined. We insist the staff person tests negative prior to return to work.  So, our contact tracing system is working very well to minimize exposures. 
While we do have a few staff that have tested positive, all but one is from community spread. We suspect one coach infected a friend. Overall, we have traversed the COVID-19 pandemic with a very low infection rate. Only six positive tests reported across all ten of our gyms with staffing of more than 350.  
ASI will continue to follow all CDC and FDA guidelines. We will implement all orders from local and state governments. We will do our very best to monitor staff and contact trace immediately if we suspect an exposure. 
We are honored to serve the families, the kids, and ASI Gymnastics staff and will continue to work hard to keep everyone safe.  
By: David Holley, CEO
What parents are saying:
"I was very impressed by the sanitation after each group activity. Mask for all parents in the stands and social distance marked and followed. I felt very safe for my son to continue his classes here. I definitely recommend it." – Brittany
"They are currently practicing safe social distancing and sanitation due to COVID. Definitely recommend." – Rosalinda
"ASI management, coaches, and staff have been absolutely amazing with her from day one. Masks are worn by staff and you always see staff walking around cleaning! " – Taylor
Interested in a gymnastics class?
We offer classes from 12 months and up.  Whether your child has never done gymnastics or they are a seasoned pro, we have a class for the whole family!  Sign up for a FREE Trial class today.
FIND A CLASS NOW