Beginning January 2013, ASI will introduce the new Tiny Tots class for children as young as 12 months of age. The current Tiny Tots program now has two levels; Tiny Tots 1 for 12 to 23 months and Tiny Tot 2 for 24 to 36 months.
ASI Gymnastics Product Manager, Ashley Porter, explains: "We have added many new and exciting skills that should be a lot of fun for the children and their parents. The new social skills section will put an emphasis on teaching the children skills they will need in preschool and beyond."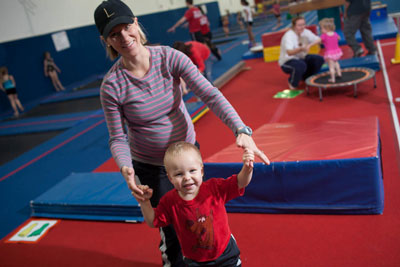 Current Tiny Tots classes will become Tiny Tot 2 classes and current students may choose to stay in the class regardless of age. New students will select Tiny Tots 1 or Tiny Tots 2 class.
Want to try it out? Bring your tot to our FREE Preschool Open House at any ASI location on January 11, 2013 from 10:00-11:30am. The Open House is available for ASI members and non-members and children one to five years old. The Open House includes an obstacle course, pit fun, trampolines, and time for you and your child to explore and play. Bring a friend to the Open House. You and your friend will receive a $30 credit if you sign up for a class.
Click here for more information on the new Tiny Tot program. Sign up today. Classes are forming now.