Join our Team
At ASI Gymnastics, employees work together to provide a safe, fun, and educational environment for children. Employees can expect to use their sense of humor, imagination, and positive attitude on a daily basis. We are looking for dependable applicants that are passionate about working with children. Applicants must be at least 16 years of age.
Love what you do, join our team today!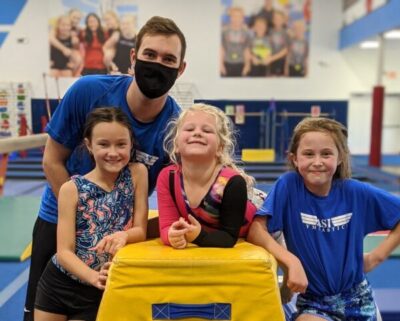 ---
Why ASI?
At ASI we are passionate about our mission and the employees that make it possible. ASI provides valuable employee benefits and is dedicated to keeping our employees safe. Click below to learn more!
---
ASI Gymnastics Careers
Click (+) to expand career details
Position
Description
Availability
Locations
Learn More
Application

Customer Experience Staff

Sales is the Heart of the gym. They work with parents, children and staff ensuring the needs of the child are met.
Weekdays, evenings, and/or weekends
Allen, Arlington, Cypress, Firewheel, Keller, Lakewood, Mesquite, Plano West, Rockwall, The Woodlands

Preschool Coach

Coaching boys and girls ages 18 months – 4 years
Monday-Friday
8:30am-12:30pm, 3:30-8:30pm and/or Saturday 8:30am-12:30pm
Allen, Arlington, Cypress, Firewheel, Keller, Lakewood, Mesquite, Plano West, Rockwall, The Woodlands

Girls Gymnastics Coach

Girls recreation coach for ages 5+
Competitive Team also an option
Monday-Friday
3:30-8:30pm and/or Saturday 8:30am-12:30pm
Allen, Arlington, Cypress, Firewheel, Keller, Lakewood, Mesquite, Plano West, Rockwall, The Woodlands

Boys Gymnastics Coach

Boys recreation coach for ages 5+
Competitive Team also an option
Monday-Friday
3:30-8:30pm and/or Saturday 8:30am-12:30pm
Allen, Arlington, Cypress, Firewheel, Keller, Lakewood, Mesquite, Plano West, Rockwall, The Woodlands

Power Tumbling Coach

Coach tumbling skills to boys and girls ages 5+
Monday-Friday
3:30-8:30pm and/or Saturday 8:30am-12:30pm
Allen, Arlington, Cypress, Firewheel, Keller, Lakewood, Mesquite, Plano West, Rockwall, The Woodlands

Ninja Coach

Coach ninja skills to boys and girls ages 5+
Monday-Friday
3:30-8:30pm and/or Saturday 8:30am-12:30pm
Lakewood, Cypress, The Woodlands

Gymmie Kids Coach

Coaching boys and girls with special needs
Monday-Friday
3:30-8:30pm and/or Saturday 8:30am-12:30pm
Allen, Arlington, Cypress, Firewheel, Keller, Lakewood, Mesquite, Plano West, Rockwall, The Woodlands

After School Coach

Supervise and coach kids after school
Weekdays after 2pm on school days
Allen, Firewheel, Keller, Lakewood, Plano West, The Woodlands

Party Staff

Lead birthday parties on the weekends
Saturdays and/or Sundays, 12:30-8:30pm
Allen, Arlington, Cypress, Firewheel, Keller, Lakewood, Mesquite, Plano West, Rockwall, The Woodlands

Camp Staff

Camp staff supervise kids, coach activities, and bring the extra fun to ASI.
Seasonal
7:45am-1:15pm and/or 12:45-6:15pm
Allen, Arlington, Cypress, Firewheel, Keller, Lakewood, Mesquite, Plano West, Rockwall, The Woodlands

Business Operations

Business Operations oversees daily functions including hiring, staffing, employee relations, and management.
Weekdays, evenings, and/or weekends
Allen, Arlington, Cypress, Firewheel, Keller, Lakewood, Mesquite, Plano West, Rockwall, The Woodlands

Marketing

ASI Gymnastics Marketing Department handles the website, promotional emails, and social media platforms.
Mon-Fri. 9:00-5:00pm
Corporate

Property Management

The Property Management department builds, manages, and maintains all facilities, equipment, and grounds.
Weekdays, evenings, and/or weekends
Corporate / All Locations

IT Department

Maintains all computer-related hardware and software systems and develops new technology systems to support business goals.
Mon-Fri. 9:00-5:00pm
Corporate