At the Men's TGGA Acro Sports Challenge Meet, Daniel Solis of ASI Mesquite, proved to be an exceptionally determined gymnast. Daniel scored a perfect 10.0 on vault. He has only been in gymnastics for about 2 years and is on Level 3 Team.
"Daniel is funny. Last year during the Jurassic meet, he acted like a dinosaur between each rotation. He is always joking, but really works hard. A great kid," stated his coach, Jacob Griffin. Daniel loves to have fun, is very talented, and extremely competitive. It became obvious when he won the headstand contest at the end of the meet.
Daniel's Dad, Prudencio Solis stated, "Daniel was shy until he started gymnastics. Now he is more assertive and has more confidence. It is really helping him in soccer. I can tell the difference."
Congratulations to Daniel Solis, a perfect ASI Gymnast!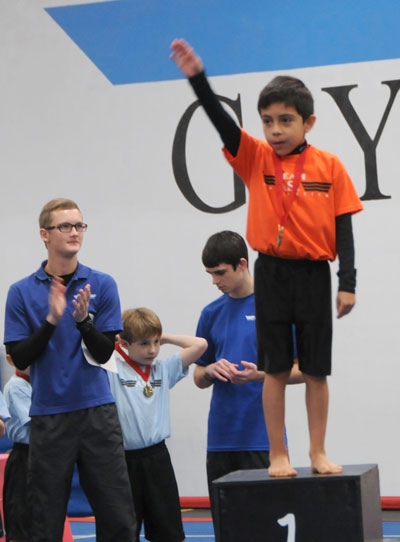 Q: Who is your coach?
A: Coach Jacob at Mesquite.
Q: Do you play any other sports?
A: Soccer. I am a center mid.
Q: Do you have any pets?
A: My dog Chesty, a Lab, Golden Retriever mix.
Q: Where do you go to school?
A: Toler Elementary in Garland. I am in the second grade.