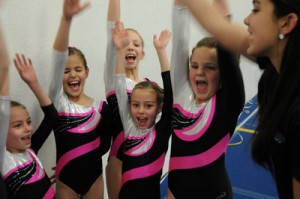 Neve King is a cute eight year old Level 4 gymnast at ASI The Woodlands. She finished her first meet last weekend as she competed at the TAAF Winter Games hosted by the City of Frisco and held at ASI Plano West. Neve had an outstanding meet. She scored a 9.55 on vault and recorded a 35.65 all around. Outstanding effort for her first ever Level 4 meet!
We got a chance to learn more about Neve just after her competition. Here are some fun facts:
Favorite Color: Purple
Favorite Animal: Dog, but she doesn't even own one.
Favorite Sport: Gymnastics, of course.
Favorite Candy: Reese's Peanut Butter Cups. The big ones!
Neve is a very bright and intelligent eight year old. She is in the second grade at David Elementary and her favorite subject is Reading. She is currently reading the sixth book in The Boxcar Children series.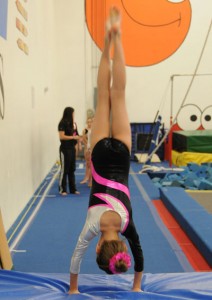 Neve was born in Houston, but now resides in The Woodlands. She attended another gym in the area, but when ASI was under construction, Elly, Anahi, and Neve convinced their mom to switch them to ASI. They love it at ASI now! Plus, she met coach Ashley Mullins and decided she wanted to stay. "One of the most positive and determined kids I teach. I have never heard her say a negative word," said Coach Ashley.
Congratulations on an outstanding meet, Neve. Hope you have two Reese's!