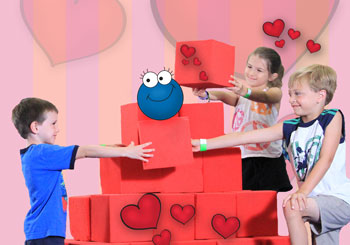 Valentine's Night Parent Night Out is probably our favorite of the year. Courtney Kimbrough, our Fun Events Product Manager, states, "Valentine's Night is a fun filled evening of games and activities for the kids so parents can enjoy an evening alone. While you are at a movie or chatting over dinner, the kids will be busy jumping on trampolines, having their faces painted, or making their own valentines!" This is exactly what our yearly tradition is all about.
Many traditions exist on Valentine's Day. School children in the USA exchange Valentine's cards. It is a time for sweethearts to go on a date. Of course many wish "Happy Valentine's Day" to everyone they love. The tradition is traced back to the belief that birds choose their mates on February 14 of each year. Have you picked your love bird?
This year we celebrate our tradition on Saturday, February 9th from 7pm to midnight. The price is $30 at the door or $25 if you pre-register at myASI. Leave the kids with us, but just remember to pick them up at midnight!
Happy Valentine's Day!
Check out an awesome ASI Valentine's Night PNO video courtesy of Coach Sila Issa and Coach Jason Budzi from ASI Lake Highlands!