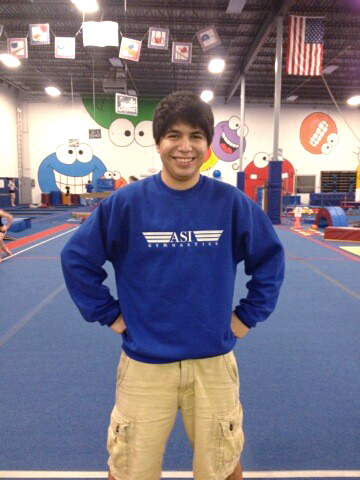 Title: Coach
Classes: Bronze and Silver Boys Gymnastics, Open Gym, Camp, and Parties!
Hometown: Arlington, Texas
Favorite Color: Gray, even though people say it looks boring, I believe it looks professional
Favorite Animal: Cow! MOO!
Favorite Super Hero: Spider-man! I dressed up as Spider-man for Halloween for four straight years
Favorite Candy: Dots! Gotta love them Gumdrops! I can eat them for days
Favorite Cartoon Character: Patrick Star (from SpongeBob Square Pants) since he says the cleverest things, however, in a silly way
Q: If you were an animal, what would you be and why?
A: A cow since they basically only do two things: eat and sleep 😀
Q: What's something someone would be surprised to know about you?
A: I produce my own music as well as DJ. I usually make dance music or funk hop.
Q: If you could describe yourself in three words, what would they be?
A: Laughter, Fun, and Neutral
Q: What is one goal you'd like to accomplish in your lifetime?
A: My goal in this lifetime is to live it to the fullest. I want to be successful in whatever I do for a living and travel across the world since I never leave the state of Texas.
Q: If you could be anyone in the world, who would you be and why?
A: Joel Zimmerman, aka deadmau5, because he is getting well known for his music, but also pulls pranks on his fans; just a fun guy to hang with!
Q: Why did you decide to apply for a job at ASI?
A: I had an intense love for kids since I have a lot of siblings! Seven sisters, however, no brother, crazy huh? Playing games and doing activities with my younger siblings gave me joy. Since ASI gave coaches the opportunity to teach kids in a fun way, I thought I'd give it a try!
Q: What do you love about working at ASI?
A: My co-workers, the people I meet along the way, the experience and memories.
Q: What's one of the proudest moments you've had as a coach?
A: I remember when I took my first Boys Silver Gymnastics class since the previous coach was starting to teach team. They were uncomfortable with me at first but through the weeks of hard work and dedication, all of the students respected me and treated me as a friend. It was an amazing feeling when I was able to move most of them to Boys Gold. I still aim to have that exact feeling everyday!
Q: What are your hobbies/interests outside of coaching?
A: I do so many activities outside of work with my friends: I play sports for fun, arrange events such as Quidditch competitions, game nights, capture the flag nights, and I make music and jam with certain friends.