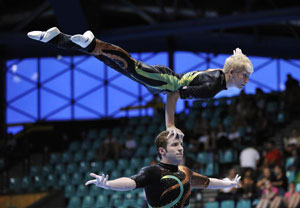 Title: Coach
Hometown: Dallas, Texas
Classes: Power Tumbling Bronze, Silver, and Gold; Girls Bronze and Gold; Kidz Gym Level 1; Girls Team Level 3
Fun Facts:
Favorite Color: Depends on the day, but we'll say blue
Favorite Animal: Wolf
Favorite Sport: Gymnastics, duh
Favorite Food: I loooove Asian noodles 🙂
Favorite Cartoon Character: Aang
Q: If you were an animal, what would you be and why?
A: A dog, the life of luxury would be awesome.
Q: What's something someone would be surprised to know about you?
A: I placed 7th at the 2010 Acrobatic Gymnastics World Championships.
Q: If you could describe yourself in three words, what would they be?
A: Sarcastic, funny, driven
Q: What is one goal you'd like to accomplish in your lifetime?
A: Perform in Las Vegas in a Cirque du Soleil type show.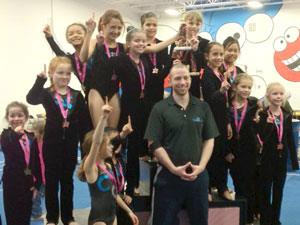 Q: If you could be anyone in the world, who would you be and why?
A: I would never want to be anyone but myself.
Getting To Know You:
Q: Why did you decide to apply for a job at ASI?
A: I first started gymnastics here, and it was a really good experience.
Q: What do you love most about kids?
A: Seeing the look on their face when they finally master a tough skill.
Q: What do you love about working at ASI?
A: That I get to impart my love for gymnastics on the kids.
Q: What do you like about gymnastics?
A: I like being able to do what most people think is impossible.
Q: What's one of your proudest moments you've had as a coach?
A: My first year as a team coach, my brand new team placed first at two of their meets and second at two other meets. Now that same team has already placed first at the 2013 Big Top Circus Meet.