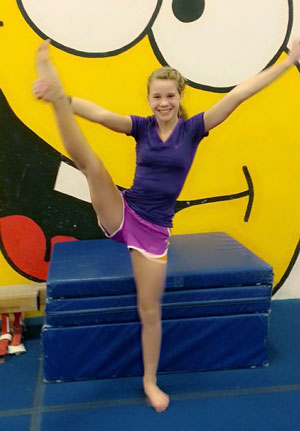 Rylee is a very talented and smart young lady. She began taking tumbling classes at ASI after attending several Open Gyms. Her Power Tumbling Gold class has really helped her with cheerleading, especially since she will be starting competitive cheer in August. Rylee's favorite thing about ASI is all the coaches. She continues to work hard in her class and hopes to soon perfect her round off back handspring!
Age: 12
Hometown: Wisconsin
School: South Keller Intermediate
Classes: Power Tumbling Gold, attends Open Gym
Fun Facts:
Favorite Color: Purple
Favorite Animal: Giraffe
Favorite Sport: Cheerleading
Favorite Super Hero: Spiderman
Favorite Candy: Sour Patch Kids
Favorite Cartoon Character: Sponge Bob Square Pants
Q: If you were an animal, what would you be and why?
A. Fox, because they are rare
Q: If you could describe yourself in three words, what would they be?
A. Hyper, flexible, crazy
Q: What do you want to be when you grow up?
A: Singer
Q: What is your favorite subject?
A: Math
Q: What are your hobbies/interests outside of ASI?
A: Church, church choir, and singing
Keep up the hard work Rylee!