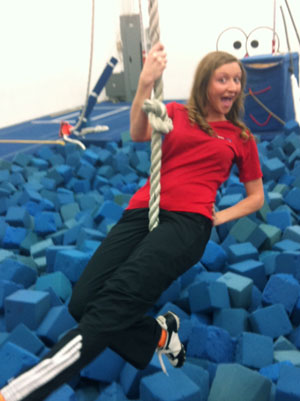 When I started at ASI Gymnastics, I was hired for Gymnastics After School. My co-counselor at my current job told me he was leaving and going to ASI and that I should come as well. So I did! After I got settled into our afterschool program I fell in love with our fun products. I started working Parties, Camps, Brain Gyms, PNOs, and Open Gyms as much as I could.
After graduating from college and coming back home, I got my first big girl job but wasn't happy. So I decided to come back to ASI because it is a fun and loving environment. It's such a great job where we get to be involved with our youth and really impact someone's life. I have changed gyms a few times throughout my time at ASI. My home gym is Lake Highlands, but I am currently in Allen and Plano West. I have also had the privilege to work in Firewheel. I love that I am able to travel to different gyms in my current position as a Sales Representative. ASI is a huge family and I love it!
Working the front desk, I get to see the excitement on a child's face when they accomplish something good or learn a new skill, which makes my job all worthwhile. As a former coach, I am reminded that I make a big difference. One instance happened a few years back. I was out shopping and ran into a former student of mine. When she saw me out of the corner of her eye, she came running and gave me the biggest hug ever. The craziest thing was I hadn't seen her in years and she remembered so much about me. I didn't know that when I was her coach she was going through so much at home and I was helping her cope without even knowing it. It's moments like these that you realize why we work at ASI. It's not just about teaching them a sport or skill, but it's about making a difference in a child's life.
At ASI I get to be a big kid at heart. Everyday I am reminded how precious life really is. Just to see the smiles, hear the giggles, and witness the excitement, makes everyday a blessing. Not many people can say that they go to work in a good mood and leave work in an even better one.
Getting to know Kristen:
Q: If you were an animal, what would you be and why?
A: Dolphin! There are so many reasons why I love dolphins. They are always smiling, being playful, and they are extremely smart. And last but not least, I love the WATER!
Q: What's something someone would be surprised to know about you?
A: I can captain a sailboat by myself.
Q: If you could describe yourself in three words, what would they be?
A: Dedicated, confident (in my own skin), outgoing
Q: If you could be anyone in the world (living or dead) who would you be and why?
A: Celion Dion because she is an amazing singer! I always wanted to be a rock star but I'm missing one really important thing…the musical talent.
Q: What is one goal you'd like to accomplish in your lifetime?
A: I want to see the Nutcracker on Broadway.