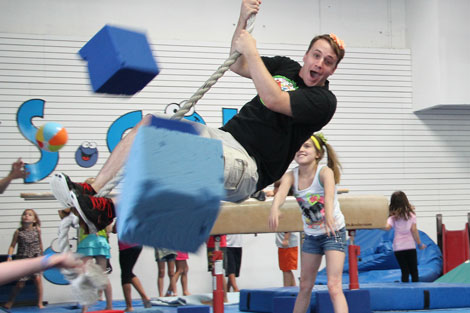 Will Latham is a fun-loving camp coach at ASI Lake Highlands. He started as a camp assistant in the summer of 2007, and now he's running the show as a camp supervisor! Will's students and co-workers agree, he's the camp comedian. Will says he finds joy and success anytime he can make a kid laugh.
Quote from Will
"I love kids! This is the perfect job."
In addition to his high energy and perfect comedic timing, Will also has two black belts, so don't cross him! Martial arts aside, Will's hobbies include music, reading, and basketball. He also loves eating fine fried foods, perfecting the art of power napping, and exploring ancient mayan ruins. Can you guess which one is the joke?
Coaching at ASI has helped Will in so many ways. ASI allows Will a flexible schedule, and helps him pursue his academic goals by offering tuition assistance. Will is a kinesiology major at Texas A&M. What a great fit for a gymnastics coach! He gets plenty of exercise running around at camp!
Quote from Will
"I get paid to play games with kids! What more could you ask for?"
Will loves coaching gymnastics because he feels it is the best athletic development for kids. Take it from this future physical therapist, "the skills you acquire early on in gymnastics can be applied to any sport."
WILL LATHAM
ASI LAKE HIGHLANDS
Favorite Color
Favorite Animal
Favorite Sport
Favorite Superhero
Favorite Candy
Hershey's Dark Chocolate with Almonds (Yum!)
Favorite Food
Favorite Cartoon
A toss-up between Johnny Bravo and Popeye
MORE COACH'S CORNERS