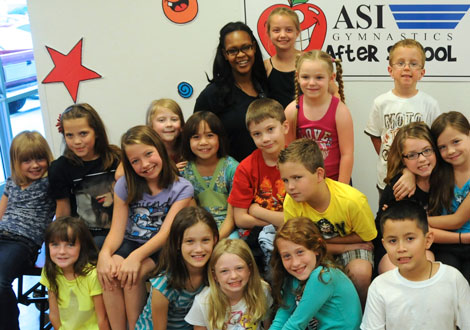 In case you haven't heard, the coolest coach at ASI Firewheel is Brittany Watson! Brittany didn't know anyone when she moved to Dallas from California, but after applying at ASI, her coworkers have become her family. She has worked her way up from an assistant coach to her current position as the Supervisor of our Gymnastics After School program. That's what we call a hard worker!
Quote from Brittany
"When I interviewed for ASI, I felt right at home. Everyone was so welcoming and made me feel like I could be myself. That's what it's all about, and that's what I try to pass on to the kids who come here."
Brittany loves that she's known as the "loud one" at ASI Firewheel, but we like to think of her as the fun one! Brittany's positive attitude is contagious, and she gets to pass it on to the kids and coaches in her GAS program every day after school. Brittany gets to use her position as a supervisor to motivate and train new coaches, and it all comes back to building up her ASI family and making sure every kid has the best possible experience at ASI. Can you see why we like her so much?
Quote from Brittany
"ASI is all about the kids. Why not have a job that doesn't feel like work? I can't find a reason not to love what you do. So for anyone, young or old, who not only has a passion for kids but is a big kid at heart, ASI is the place for them."
BRITTANY WATSON
ASI FIREWHEEL
Coaches
Gymnastics After School Supervisor
Birthday Parties
Camp, Open Gym, & PNO
College
Favorite Subject
Favorite Sports Team
MORE COACH'S CORNERS