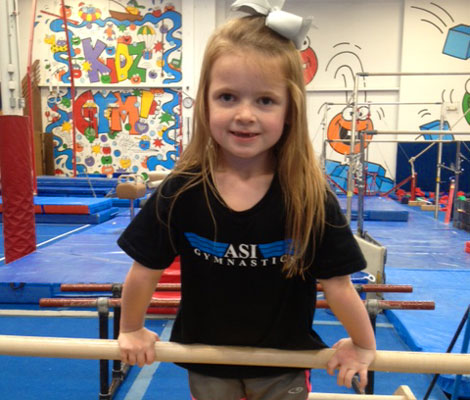 This adorable little gymnast is Abigail Morse. After every demanding day of 1st Grade at Abbett Elementary, Abigail gets to come burn off some energy at ASI Firewheel in our Gymnastics After School program! She gets a snack, homework help, and quality time with her friends on the trampolines, at the pit, and playing fun games like kickball, foursquare, and even crab soccer. Abigail loves coming to ASI when she gets out of school because she gets to be active and have fun.
Quote from Abigail
"I get to run around with my friends!"
Abigail has been coming to ASI for 4 years now. She started in a Tiny Tots class, but she's working her way up the gymnastics ladder. In addition to the GAS program, Abigail also continues to improve her gymnastics skills in a Girls Bronze class. For one hour each week, she practices walking across the balance beam, jumping on the trampoline, running down the vault runway, and her favorite, swinging on the bars.
Quote from Abigail
"I love swinging on the bars!"
Even though Abigail loves playing in the gym and learning cool new gymnastics skills, her favorite thing about ASI is the coaches. We're pretty crazy about our coaches too!
Quote from Abigail
"I love my coaches the most because they are so nice."
ABIGAIL MORSE
ASI FIREWHEEL
Age
School
Grade
Favorite Subject
Favorite Gymnastics Skill
MORE STUDENT SPOTLIGHTS