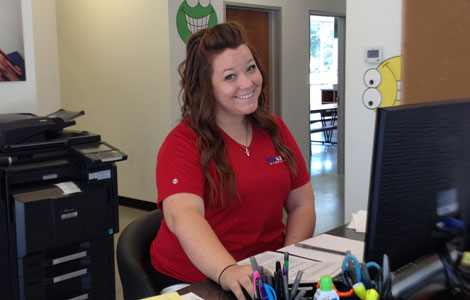 Shannon Kennedy is an all-star Sales Rep at our newest ASI location in The Woodlands. She went to Pflugerville High School outside of Austin, TX, but now she calls the Houston area home. She applied at ASI this summer because her roommate was an ASI Sales Rep and raved about it. Shannon took her word for it, and now she couldn't be happier!
Quote from Shannon
"What I love most about ASI is how awesome the staff is. Every single person at the gym went above and beyond to introduce themselves and make me feel comfortable."
Shannon has been the perfect addition to the Sales team in The Woodlands. A sales position fit perfectly with Shannon's schedule, and she definitely has what it takes to keep our customers happy. Shannon is a positive, friendly, organized fast learner with outstanding people skills. She loves that her position allows her to get to know every family in the gym and make sure that they are all getting the most out of their ASI experience. Shannon truly loves our customers and their kids, and they love her right back!
Quote from Shannon
"I can not express how much I already love my sales team. Those ladies are amazing! I also love the kiddos that now know my face and run up to me and give me hugs and high fives at Open Gym or when they arrive at the gym from school."
Quote from Shannon
"I would recommend people to ASI because I think that it is an awesome company to work for. The staff is amazing and so much fun to be around. Not to mention that the atmosphere in the gym is crazy fun and up beat. The music rocks!"
SHANNON KENNEDY
ASI THE WOODLANDS
High School
Favorite Subject
Favorite Sports Team
MORE SALES SPOTLIGHTS