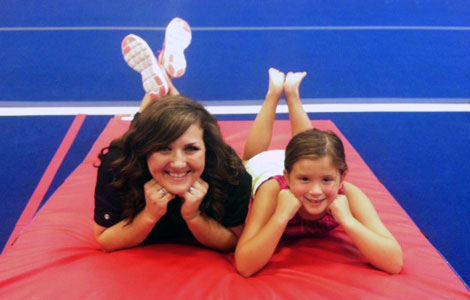 At ASI, we pride ourselves on our clean, well-lit facilities, but the lights in our gyms don't hold a candle to the way coaches like Michella Seelye light up when her students achieve a new skill. Michella has been coaching at ASI Rockwall for a few months now, and she is already an important and beloved member of the ASI family. Her positivity and bright, friendly smile make her very popular with her Kidz Gym, Girls Gymnastics, and Boys Gymnastics students.
Quote from Michella
"I love coaching gymnastics because I love seeing children develop new skills. When a child finally masters a skill after having trouble with it, I get so excited for them! In those moments, my heart just overflows with joy. My students probably think I'm crazy when they finally get their cartwheel, because I start shouting with joy and clapping!"
When Michella left her home in the Houston Area (Oak Ridge North, to be precise), she asked her gym manager there if he knew of any good gyms in the Dallas area. He told her that ASI was the best gym in Dallas, hands down, and Michella could not agree more. Coaching at ASI has been the best job Michella has ever had, and she loves her second family at work! Since she started coaching at ASI, Michella has felt so welcomed and supported.
Quote from Michella
"I would recommend that people apply at ASI because it is a place where they truly care about what your strengths are and helping you get in the best position for you."
Her new job at ASI is not the only big change in Michella's life" She just got Married! Congrats, Michella!
MICHELLA SEELYE
ASI ROCKWALL
Coaches
Kidz Gym
Girls Gymnasitcs
Boys Gymnasitcs
High School
College
Dallas Baptist University
Favorite Subject
Favorite Sports Team
MORE COACH'S CORNERS