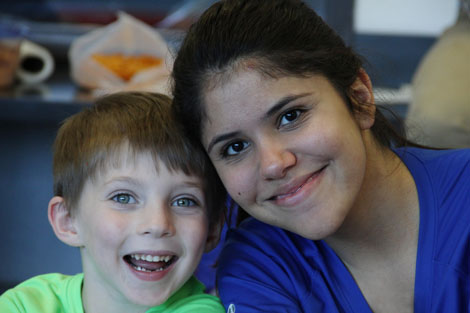 Jazmyn Conejo is a rockstar coach at ASI Allen. In addition to coaching gymnastics classes and serving as the Gymnastics After School Supervisor in Allen, she also trains new coaches and supervises Survivor Camp when school is out. Jazmyn is a student by day, coach by mid-afternoon to evenings, and on the weekends, she has a blast putting on awesome Birthday Parties and Parents Night Out events.
Quote from Jazmyn
"One thing I really love about working at ASI is that I get to do so many different, important things! I'm learning so much about how to lead a team and be a supervisor, it fits perfectly with my schedule, and I still get to come into work every day and play with kids! I'm so lucky!"
On top of all that, Jazmyn's favorite part of her job is coaching children with special needs through our incredible adapted gymnastics program, Gymmie Kids. Her positive energy is contagious, and she gets to pass it on to all kinds of kids that come into our gym.
Quote from Jazmyn
"I'm really loving coaching my Gymmie Kids classes right now because I've learned so much in the training process and I think it's such an important program. Kids need and deserve creative options to get fun, safe exercise and build self confidence, and I feel so fortunate to be a part of that. Every time I work with these kids, I come out grinning from ear to ear. It's the highlight of my week."
Jazmyn makes a huge difference in the lives of so many kids, and she really shares and exemplifies ASI's mission to provide the best gymnastics instruction possible to each child at their level. Jazmyn is the kind of employee any gym would want on their team, and we love to recognize her hard work with gift cards, incentives, new responsibilities, and other fabulous benefits. Because she's a student, Jazmyn also takes advantage of our Education Assistance plan. ASI is a strong supporter of education and personal development, so all employees are eligible to apply for reimbursement of expenses associated with college tuition, fees, and books.
Quote from Jazmyn
"My job is so many things. It's stress relief after a long day of classes, it's professional development and work experience, it's got great benefits, it fits my schedule and my personality, and most of all, it's a family that I'm so lucky to be a part of."
Well, we feel lucky to have in you in the ASI family too, Jazmyn!
Coaches
Gymnastics After School Supervisor
Girls Bronze
Kidz Gym
Gymmie Kids
High School
College
Favorite Thanksgiving food
MORE COACH'S CORNERS