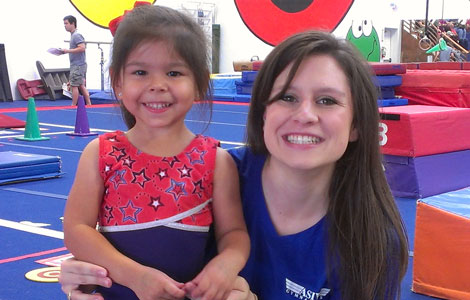 Lauren Kamper has been a part of the ASI Family for almost 16 years. This is especially impressive since she's only 22! Lauren started taking classes at ASI Mesquite when she was 6 years old, back when pogs and beanie babies roamed the earth. She was on the competitive team until she was 12, and she started coaching at ASI when she was in high school. After she went off to college at Texas A&M, Lauren worked seasonally as a Survivor Camp coach whenever she was home.
Quote from Lauren
"ASI has always been a part of my life. It was so good to know that I could always come home to my ASI Family during holiday breaks. It is a well-established company that is growing fast, but still values its employees and cares for them."
When she graduated from A&M with a degree in Recreation, Park and Tourism Sciences, with an emphasis in Youth Development and a minor in Business, she was offered a full-time position in the Business Operations department. She is now the Business Lead at ASI Rockwall, and it's the perfect fit!
Quote from Lauren
"It was so wonderful to receive a career within my major that provides excellent benefits for my health and well-being. I have health insurance, a steady income, and I get to use my relational skills and my administrative skills. Now I get to see the gym from a business perspective, but I'm still involved in the lives of children every day!"
Lauren coaches classes, trains new employees, and is responsible for other administrative tasks involved in running the Rockwall gym, like scheduling, purchasing, and payroll support. She is also a team leader, so she gets to influence and support the Rockwall staff to be the best coaches they can be for our students.
Quote from Lauren
"ASI provides the opportunities for young adults to be involved in the physical and personal development of children while developing their own careers and professional skills. I would encourage people to apply at ASI because I can think of nowhere else that your job is so fulfilling, meaningful, and fun."
LAUREN KAMPER
ASI ROCKWALL
Title
Coaches
Kidz Gym 1
Kidz Gym 2
Girls Silver
College
Degree
Recreation, Park and Tourism Sciences with an emphasis in Youth Development
Business minor
Favorite Thanksgiving food
MORE COACH'S CORNERS