This past weekend, upper-level ASI Gymnasts competed at the 2014 Metroplex Challenge meet at the Fort Worth Convention Center. Coach Jordan's Level 5 boys from ASI Keller and Coach Isis's Level 6 and 7 girls from ASI Firewheel participated in the meet, along with hundreds of other gymnasts from 41 different states!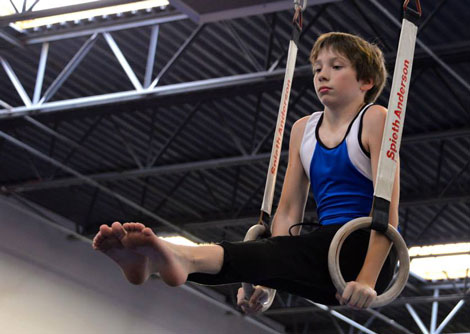 The Metroplex Challenge is a unique opportunity for our athletes to meet and compete with some of the best gymnasts in the country. One of the most fun features of this event is the College competitions that take place after all of the competitive sessions have finished for the day. Watching NCAA Gymnastics events shows our athletes that with some hard work and dedication, gymnastics can take you anywhere!
Friday night, athletes from the NCAA Men's Gymnastics teams at the University of Oklahoma, Stanford University, and club teams from Texas A&M and the University of Texas competed in a team competition with a surprise upset. The men from Stanford shocked the #1-ranked Sooners with a massive team score of 445.15, winning by over 3 points, a huge margin of victory for NCAA Gymnastics!
On Saturday night, the Women's Gymnastics teams from the University of Oklahoma, Louisiana State University, the University of Kentucky, and the University of Arizona battled it out until the very last routine. The Sooners posted a 198.175, the highest team score in the country so far this season, to claim the title.
The gymnasts from ASI put on quite a show as well. Every single one of Coach Isis's girls from Firewheel improved upon their scores from their last meet, and one gymnast even scored above a 9 on every event! There is nothing more satisfying than seeing an athlete who has worked hard all season get the recognition they deserve!
Quote from Isis:
"I was so proud of my girls' success this weekend. They all showed so much improvement from our last meet, and they just looked so poised and confident. I think the chance to see other amazing gymnasts from around the country compete, not to mention seeing just how far a career in gymnastics can take them, has really motivated them. So far this week in practice, they are working harder than I've ever seen them work. It's a joy for me as a coach to see them pour so much heart into the sport they love, and it's a bonus to see all that hard work recognized during meet season."