MaryBeth Widman is an adorable Kidz Gym student at ASI Arlington. She loves coming to Coach Phil's class on Wednesdays, because she gets to act silly and have fun. In her free time, she likes to play on playgrounds and swing on swing sets, and she takes that same playful energy with her into ASI every week! She especially likes to swing on the rope and jump on the tumble tramp.
Quote from MaryBeth
"I love to jump and swing!"
MaryBeth's family has been taking classes at ASI for almost two years, ever since they heard about our wonderful programs through some friends in the special needs community. MaryBeth's older brother, Mitchell, takes Gymmie Kids classes, and MaryBeth takes Kidz Gym Level 1. She really enjoys dancing to the music and playing with the props during the music circle time. Our preschool classes are designed to give kids early exposure to colors, letters, shapes, seasons, animals and more. MaryBeth learns something new every week!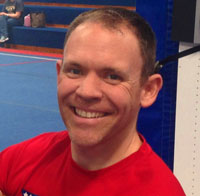 MaryBeth's favorite thing about ASI is Coach Phil!
Quote from MaryBeth's Mom
"He is so patient, gentle, funny and has awesome attention to detail. He can tell just by looking at her face if she is having a bad day or not."
MARYBETH WIDMAN
ASI ARLINGTON
Age
School
Grade
Favorite Gymnastics Skill
Rope swing and jumping on tumble tramp
Favorite Candy
MORE STUDENT SPOTLIGHTS