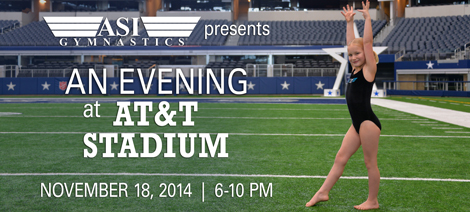 On Tuesday, Nov. 18, 2014 Olympic Gold Medalist Carly Patterson will attend the event that includes private stadium tours, a gymnastics and football "fun-zone" on the field, and Patterson's appearance.
ARLINGTON, Texas – ASI Gymnastics, a local youth fitness company that owns and operates 8 gymnastics facilities in Dallas and 2 in Houston, will host "ASI Gymnastics Presents an Evening at AT&T Stadium" on Tuesday, November 18, from 6-10 p.m. at AT&T Stadium in Arlington, Texas. 2004 Olympic all-around gold medalist Carly Patterson, who is also a two-time American Cup champion, will headline the event, which celebrates the 2015 AT&T American Cup's returning to North Texas next March for the first time since 1998.
The AT&T American Cup is the most prestigious international gymnastics invitational held annually in the United States. Past champions have gone on to triumph at the Olympic Games, and the meet is known among fans of the sport as a predictor of Olympic success. This March, the AT&T American Cup will be held in a football stadium for the first time, and anticipation is building.
In addition to Patterson's appearance, the ASI Gymnastics event on Nov. 18 will feature private tours of the stadium and locker rooms, and a gymnastics and football "fun-zone" on the field. Children of all ages can explore circuits with gymnastics equipment and compete in contests involving gymnastics skills, like handstands, and skill tests straight from the NFL combine, like a 40-yd. dash and field goal kicks.
From ASI Gymnastics:
"As an avid supporter of the sport of gymnastics and a lifelong fan of the Dallas Cowboys, hearing that next year's AT&T American Cup will be held at AT&T Stadium right here in Arlington is a dream come true," said David Holley, CEO of ASI Gymnastics. "We were so excited to see this high level of gymnastics come to the Dallas area that we knew we needed to celebrate. We jumped at the chance to help the North Texas gymnastics community get excited for this amazing event."
From USA Gymnastics:
"The Road to Rio heats up in 2015 and we are looking forward to a fantastic event at AT&T Stadium," said Steve Penny, president of USA Gymnastics. "This is a once in a lifetime opportunity for both the participating athletes and fans of our sport. AT&T Stadium is unlike any other and will provide a very memorable setting for the 2015 AT&T American Cup."
Tickets on sale now for An Evening at AT&T Stadium!