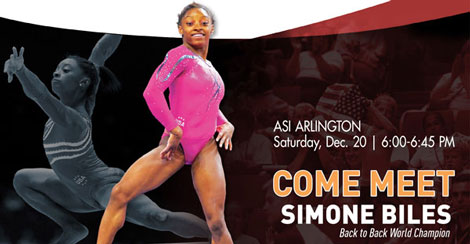 We would like to invite you and your family to come meet Back to Back World Champion and 2015 AT&T American Cup Competitor Simone Biles on Saturday, Dec. 20 from 6:00-6:45pm at ASI Arlington! Simone will be signing autographs and having a short Q&A session. This is a perfect opportunity for your gymnast to meet her in person just a couple months before she goes on to compete at the AT&T American Cup on March 7 at AT&T Stadium.
Autograph cards will be available, however, feel free to bring your own item to get signed. Please allow only one item per child. You will be able to take pictures throughout the event, but no individual pictures will be allowed due to the time constraint.
Don't forget that tickets to the 2015 AT&T American Cup are on sale today through ASI Gymnastics! Get your tickets early before they are gone!
MEET AND GREET WITH SIMONE BILES
READ MORE