Reigning World All-Around Champion Simone Biles came to ASI Arlington on Saturday evening to meet fans, sign autographs, and promote the 2015 AT&T American Cup, where she will compete against some of the best gymnasts from around the world at AT&T Stadium in March.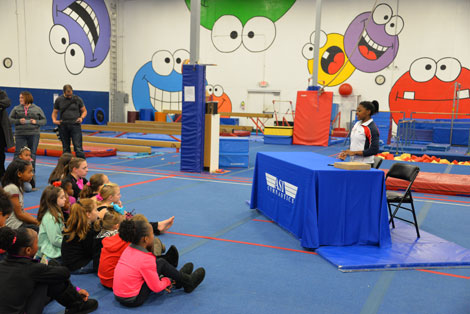 Biles lived up to her reputation as a bubbly, effervescent role model. While gymnastics is a sport commonly associated with discipline and composure, Biles is famous for her upbeat approach to competition. She lights up whole arenas as she smiles throughout the duration of her world-class floor routine.
Her down-to-earth and friendly advice for the gymnasts in attendance included "Dream big, and always have fun!" So far, this mantra has paid dividends for Biles, who at 17 is on track to be the most successful female gymnast in US history. If she repeats as World Champion again in 2015, as she is heavily favored to do, she will be the first woman in history to win 3 consecutive World All-Around titles, and will carry that momentum into what promises to be a very successful Olympic Games in 2016.
Behind all of the hype surrounding the teen phenom is a kind, playful athlete who loves her sport, and loves her fans. As Biles was leaving ASI Arlington, a mom and her three adorable daughters rushed up to the front door, asking "Is she gone? Is it over? Did we miss it?" Allison Ford had driven well over an hour from Rowlett, in holiday shopping traffic, to give her girls a chance to meet a gymnastics legend in person. Even though Biles had already gotten in the car to leave, her Mother, Nellie Biles, met the Fords at the door and assured them they hadn't missed their chance to meet Simone. "I'm the Mom. I'm in charge here! I'll get her out of the car," she promised them.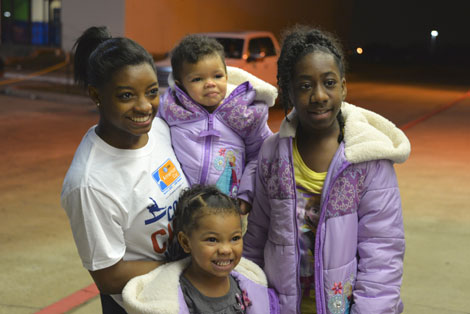 Gracious and very cognizant of her duties as a role model, Biles stepped out of the car to take pictures with the Ford girls and talk to them about following their dreams in gymnastics. (pictured above) The impact that Biles had on all of the girls that came out to ASI Arlington on Saturday pretty much sums up why we do what we do at ASI Gymnastics. When we're fortunate enough to see the eyes of a child grow wide in amazement as a gymnastics super-girl like Simone Biles answers her questions and signs her grip bag, we recognize how blessed we are to serve the thousands of families that call ASI home.

From all of us at ASI Gymnastics, thank you for giving us the opportunity to work with your children. There is no joy in the world like changing a child's life for the better, and it's a responsibility we don't take lightly. We wish all of you a very Merry Christmas and a monumentally blessed New Year. As Simone Biles would say, "dream big, and always have fun!"
MEET AND GREET WITH SIMONE BILES
READ MORE