Pound for pound, gymnasts are the most impressive athletes in the world, but gymnastics is about so much more than physical activity. The life-skills your child will learn in their gymnastics class will set them up for success in so many other areas of life. We view gymnastics as a way to build not just amazing athletes, but amazing people! Our coaches reward good behavior, praise progress, and positively redirect misbehavior with patience and loving discipline. Your child will learn to walk in line, wait their turn, share, cooperate, respect their coaches and cheer on their classmates in a fun and safe environment. We take an interest in your child's behavioral and emotional development in addition to their athletic development, because we truly care about the kids we serve.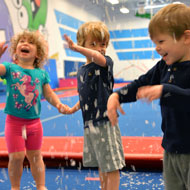 Some people think gymnastics is an individual sport, but teamwork is essential to success in gymnastics. We structure our classes to improve peer-interactions by including fun games and partner activities, and encouraging students to take turns and share props, equipment, and attention from their coach. These early peer-interactions are the building blocks for future success in friendships, teamwork, and conflict resolution.
---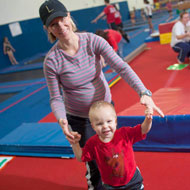 While our Tiny Tots classes include parents, and our Kidz Gym classes focus on independence, both programs will enhance your parent-child relationship in their own developmentally appropriate way. In Tiny Tots, you will build trust in a very physical way, by holding your child in the air, lifting them to the bar, swinging them on the rope and helping them across the beam. This shows your child at an early age that they can rely on you for both physical and emotional support. When your child is ready for Kidz Gym at age 3, you are able to step back, support your child's independence and watch them grow and learn at their own special pace while you cheer them on from the bleachers!
---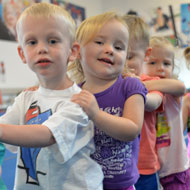 Developmentally, preschoolers are at an age where they have trouble recognizing the wants and needs of others, so patience is not always their strong suit, and that's perfectly normal. We utilize gymnastics as a way to teach patience in many different ways. First, children will develop patience while waiting for their turn to swing on the rope, slide down the slide or jump on the trampolines. At a deeper level, it also takes patience to learn the more difficult skills in gymnastics class that may take weeks or even months to master.
---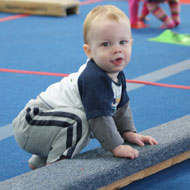 Educators and child development specialists often stress the importance of resilience in learning and in life. It's only natural for your child to fall off the beam once or twice (don't worry, it's only about 2 inches off the ground!) but the ability to get back on the beam and keep walking will prepare your child to take life's challenges in stride. The grit and persistence your child will develop in gymnastics is linked to higher achievement in their athletic, academic, and professional endeavors throughout their lifetime.
---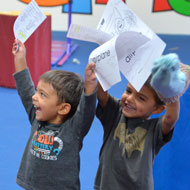 Some gymnastics programs can be a little disorganized, with subjective standards for class advancement. When we created our skills-based preschool programs, we included a system for documenting which skills your child has mastered, and which skills they need to improve before safely attempting the next level. When you enroll in a class, you get a Skill Poster, which is a list of skills your child will learn. Each week, your child will receive a Sticker Sheet that keeps you up to date with what they're learning, plus a sticker to place on the Skill Poster at home. As your child sees their Skill Poster begin to fill with stickers, they see what they're working towards, which helps them become goal-oriented, a skill with serious implications for their future success in life.
---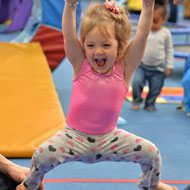 Learning gymnastics is fun and engaging, but it can also be challenging sometimes. Some skills will come very naturally, and other skills may take more time to master. When your child finally learns a skill that has given them a little trouble, the confidence they develop from sticking with it is very gratifying. This encourages them to work through challenges and trust in their own abilities and strengths.
---
Click here to learn about the Physical Benefits of Preschool Gymnastics.
Share with your friends!