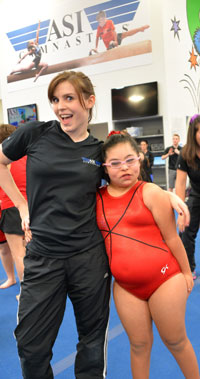 Coach Mary-Kate with her student, Morgan
ASI Gymnastics was proud to host our 1st Annual Gymmie Kids Meet on Sunday, March 22, 2015 at ASI Plano West. The Gymmie Kids students from all 8 of our Dallas gyms were invited to participate in this meet. These kids work so hard all year long to learn new skills and achieve their goals, and each child put on a magical performance as they showed off their routines in front of a packed crowd that cheered the whole way through the meet! There wasn't a dry eye or frown in the gym. This was one of the most joyful and special days in ASI's history, and it will not soon be forgotten.
Mary-Kate Hopkins, our Gymmie Kids Program Director, has asked that we share this message with everyone involved in the meet. It was her hard work and vision that made this meet possible. Great work, Mary-Kate! Thanks for all you do for our Gymmie Kids!
"The 1st Annual Gymmie Kids meet was a total success and a dream come true for me. I cannot fully express my gratitude to everyone involved. I am so fortunate that ASI Gymnastics cares so much for our exceptional students in the Gymmie Kids Program, and this meet would not have been possible without the help of my wonderful ASI Family.
I am also eternally grateful for all of the sacrifices the Gymmie Kids coaches made to be there for their kids, and for the patience and passion they demonstrate every day as they strive to give their kids the amazing gymnastics experience they deserve.
I would also to thank all of the families who came out to support their athletes, because the atmosphere in the meet was truly perfect and unforgettable. The memory of everyone in the building erupting in cheers and applause as the athletes completed their routines will burn bright in my heart and mind for the rest of my life.
Finally, I must thank all of our fabulous athletes. They are the fire in my stomach, they are why we do what we do at ASI, and they have taught me more than I could ever hope to teach them. Their hard work, enthusiasm, bravery, and sheer cuteness made this meet the best day of my life so far… until the next Gymmie Kids meet, that is!"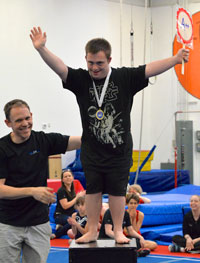 Long time ASI Arlington student, Jacob Yaquinto, saluting his achievements
As Mary-Kate mentioned, this meet was the first of many to come in the future. We are already looking forward to the 2nd Annual Gymmie Kids Meet! Thank you to our coaches, staff, parents, and family members for putting on a wonderful meet yesterday. Each person in the gym had a hand in impacting these children's lives for years to come.
There is a long, proud tradition of adapted gymnastics for children with special needs in the United States. Our Gymmie Kids Program takes a goal-oriented approach to help children learn challenging and fun gymnastics skills while reaching physical, cognitive, and behavioral goals. Gymnastics is a phenomenal tool for helping exceptional children enhance their quality of life. For more information on our Gymmie Kids Program, click here.
"Children with special needs are not a problem to be solved, but potential to be realized."
-USA Gymnastics National Team Physician, Dr. Larry Nassar