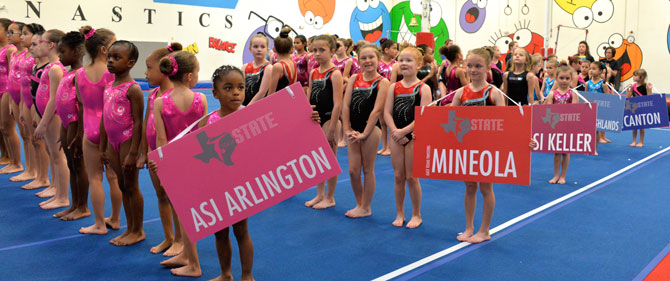 The TGGA State Championship meets were hosted this past weekend at ASI Allen and ASI Plano West. The boys and girls who competed did an amazing job showing off their routines at the last meet of the season. The athletes, their parents, and their coaches should all be very proud of their accomplishments.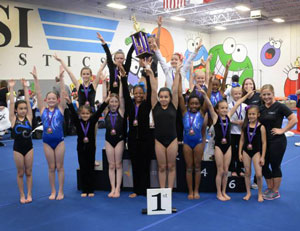 At the girls meet in Allen, much fun was had by the gymnasts, parents, family members, and ASI Staff. Barnacles the Clown provided plenty of laughs and smiles all weekend, passing out treats and performing his very own crazy beam routine. The gymnasts, however, performed outstanding! Reflecting on all of their hard work and the dedication their coaches showed all season was a truly humbling experience. ASI Mesquite was particularly excited and shocked as they placed first in Level 1 Large Team. Congratulations to a very deserving team and Coach Carly! And congratulations to the rest of the outstanding first place teams:
Level 1 Small Team: East Texas Twisters Mineola
Level 1 Large Team: ASI Mesquite
Level 2 Large Team: ASI Arlington
Level 2 Small Team: ASI Rockwall
Level 3 Large Team: East Texas Twisters Canton
Level 3 Small Team: Plano Aerobats East
Level 4 Large Team: East Texas Twisters Mineola
Check out the rest of the Team Results here.
View Girls State photos on Facebook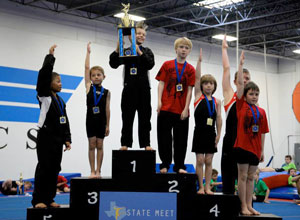 At the Boys State Championship meet at ASI Plano West, 54 boys competed in front of a packed gym. The gymnasts' energy was truly contagious. After a fantastic competition, the gymnasts competed in fun and challenging relay races while the final scores were tabulated. Even the coaches got to play! The audience cheered on the athletes enthusiastically during the relays, which set the tone for a very exciting awards session. Cheers from the crowd almost blew the roof off the gym when Top Gunz won the Level 4 Team State Championship!
Congratulations to these Level 1 Boys Team Winners:
Level 1 Team: ASI Allen
Level 2 Team: ASI Arlington
Level 3 Team: ASI Firewheel
Level 4 Team: Top Gunz
Check out the rest of the Team Results here.
View Boys State photos on Facebook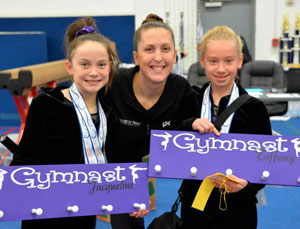 Of course, all of the unforgettable fun would not have been possible without our amazing meet director, Isis Pochciol. In addition to coaching optional gymnasts at ASI Firewheel, overseeing the expansive ASI Team Program, and looking out for the safety of over 10,000 participants at ASI Gymnastics, Isis works tirelessly for months to ensure that our gymnasts have an amazing experience at every TGGA and TAAF meet we host. The sacrifices she has made have led to such high quality meets, and everyone at ASI Gymnastics is so grateful for the work she puts in. Isis deserves to rest after hosting an incredible 18 MEETS (!!!) this season, but we know she won't! She's already hard at work planning some amazing programs for our team athletes to take advantage of this summer and focus on skill development. Stay tuned for more exciting news on that topic soon!