ASI Gymnastics has been in business for over 20 years, operating 10 facilities in Dallas and Houston, TX. We love sharing the sport of gymnastics with over 10,000 children, because we know what a positive impact it can have in a child's life. Over the past few years, "trampoline parks" have been popping up in the same communities where we've been offering true gymnastics instruction for decades. These facilities provide a very different product, and we want to make sure that the differences are clear.
Had a blast pic.twitter.com/joJ9q9KBwW

— Hannah (@hannahcookeee1) April 18, 2015
ASI Gymnastics promises to use our trampolines as tools to teach safe, technically correct gymnastics and tumbling progressions to children based on their individual abilities. Our coaches are never asked to supervise more than 6 trampolines at a time, and each child bounces independently on their own trampoline. We enforce these rules in our gymnastics classes and even in "free-play" settings like Open Gym or Parents' Night Out. We also do not allow any adults on our trampolines, with the exception of highly trained and qualified ASI Staff members. After hundreds of millions of bounces, we are blessed to say that we have never experienced a severe spinal, neck, or head injury in one of our facilities. This doesn't mean we're lucky. It means we love our kids, and we're committed to keeping them safe. Safety has always been the number one priority at ASI Gymnastics, and it always will be.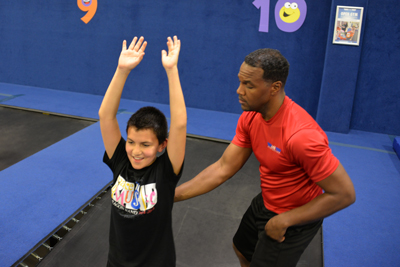 Most trampoline parks, on the other hand, only provide "free-play" scenarios with no instruction, and very little supervision. A typical ratio is one employee supervising up to 30 guests, of all different ages (adults included), bouncing in different directions and at different heights and speeds, across multiple trampolines, and collisions are essentially unavoidable. Trampolines were not designed to be used by more than one participant at a time, and injuries are too often the result of improper use.
As with any athletic activity, there is inherent risk in gymnastics, and trampolines are not a fail-safe instructional device. However, through rigorously developed and carefully implemented risk-management strategies, including low supervision ratios and common-sense rules, ASI Gymnastics and other facilities in the gymnastics industry have managed to significantly decrease these risks. We've spent years analyzing and improving our policies, having tough conversations and constantly striving for perfection, and we do it all to ensure that we're doing everything in our power to keep our students safe. When it comes to keeping kids safe, healthy and happy, anything less than 100% effort is unacceptable, wildly unethical, and frankly, gross negligence.
We urge our gymnasts and their families to think twice about where you bounce on trampolines, and please do everything you can to stay safe. The stories we're hearing from our own gymnasts and online and in the media about the frequency and severity of injuries at trampoline parks are deeply unsettling, and we want to make sure that every member of the ASI Family knows the risk. We love every child in our care, and we just want to keep them safe.
Click here for media articles related to trampoline park injuries:
Mom's life forever changed in trampoline park accident (WFAA-Channel 8)
Man, 30, dies in freak accident during children's charity event at new indoor trampoline park (Dailymail.com)
Lawsuits ignite debate over trampoline park safety (CNN)
Investigation after 102 incidents at trampoline park (BBC News)
For further research and up-to-date references, visit Think Before You Bounce Facebook Page.
As always, we want to thank you for the privilege of working with your children. Their safety is so precious and important to us, and we appreciate the trust you've placed in us to look out for their best interests.