ASI Gymnastics is committed to youth development. The commitment continues for many gymnasts as coaching becomes their first job. Often, your ASI Coach was a former ASI gymnast. The founders of ASI Gymnastics encourage a continued education, and many coaches continue to work for ASI Gymnastics as they attend college and earn a degree.
In June, 43 ASI employees received high school diplomas. Almost all will continue on to college. In many cases, they will continue to work for ASI Gymnastics. Thirty-two of the ASI high school graduates have qualified for the ASI High School Scholarship Award by earning more than $2,500 while working for ASI Gymnastics and attending high school. This is an outstanding achievement. The recipients earned an average of $718 in awards, with eight earning over $1,000. Those wishing to take advantage of the Scholarship are also eligible for the ASI Educational Assistance Plan and will be able to earn more money to pay for tuition, books, and related fees.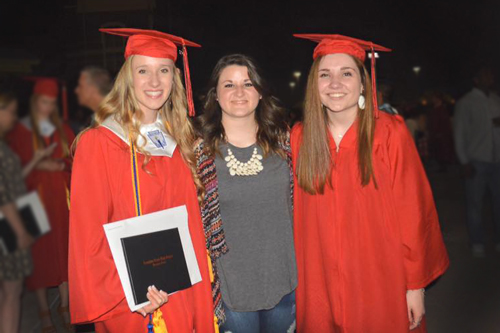 Click to read more about all the ASI Gymnastics High School Graduates.
Congrats to the following ASI Scholarship Award Recipients:
ASI Allen
Nicole Naccarella
ASI Cypress
Felipe Barrera
Tanvir Bhogal
Ciara Carrier
Makenna Cooper
Mary Gregory
Kathryn James
Ashley McAbee
Laura Vera
ASI Firewheel
Tomas Carrasco
Zack Foster
Amelia Lara
Brooke Mahan
ASI Keller
Faith Delijero
Valoria Farmer
ASI Lake Highlands
Hailey Lawrence
Grace Nwegbo
Windi Powell
Abbey Roach
Benjamin Schmidt
ASI Mesquite
Madison Caples
Brittany Dauphin
Kaylea Tredway
ASI Plano West
Breanna Avelar
Stephanie Canelo
Lauren Deems
Kiana Freeman
Shanella Lance
Devin McCord
ASI Rockwall
Samantha Ruff
ASI The Woodlands
Brett Deffner
Zane Nixon
Congrats Class of 2015!
Click to read more about all the ASI Gymnastics High School Graduates.