ALLEN
7-year-old Riley loves her Power Tumbling and Girls Bronze classes at ASI Allen. She loves coming to see Coach Brittney and learning everything gymnastics has to offer, but her favorite event is bars. She especially loves to practice her front roll dismount on bars.
Riley's parents love that she is learning coordination and gaining core strength through gymnastics. "We've been to other gyms, but we love the positive experience ASI provides."
Riley is also involved in volleyball, softball, and basketball, but loves to do flips and cartwheels anywhere she can.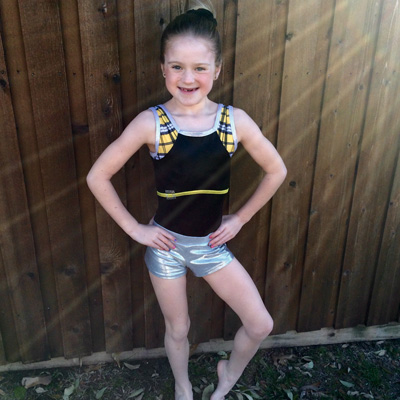 ---
ARLINGTON
4-year-old Nolan , Nolie to her friends and family, has been with ASI Arlington since her Tiny Tots days in 2014. Once a week Nolie bounces into ASI Arlington with her curly hair and bright smile ready for gymnastics. She most looks forward to the trampolines and pit, but her favorite skill is her "pose." Her mom, Brooklyn loves that gymnastics teaches her discipline and listening skills.
"We wanted to put them into something where they had to learn to listen to someone else besides mom or dad." Nolie's brother, Reid enjoys his Tiny Tots class while Nolie does her Kids Gym 2 class with Coach DeeDee.
While enjoying the seasonal soccer or t-ball, Nolie had to make a choice between dance and gymnastics. Brooklyn let her choose and the choice was clear for both mom and daughter.
"It's affordable and the coaches and staff are awesome. You can't beat that. She talks about ASI all the time outside of the gym."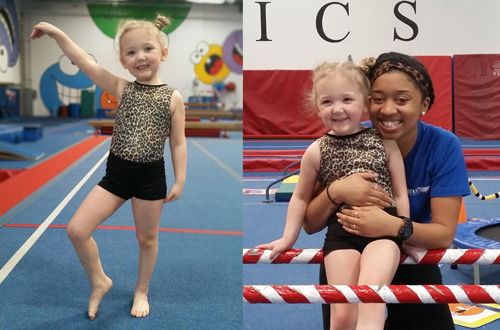 ---
CYPRESS
5-year-old Livianna started her career at ASI when she was just 3 ½ year old! She has completed Kids Gym 1, Kids Gym 2, and is currently in Girls Bronze with Coach Chelsea. She is a gymnast first and a swimmer second. She loves the bars and anything that involves flipping. Why does Livianna love gymnastics?
"Because it's fun!" Mom loves it because it's good exercise, good for balancing, and she love the staff! If you give Livianna free time she will most like be found doing cartwheels, "because they are fun."
---
FIREWHEEL
9-year-old Christopher has been in the Boys Gymnastics program at ASI Firewheel since 2012. He started in Boys Bronze and is currently a level 4 on Boys Team. He is also in the Advanced Gold Tumbling class. He loves coming to his classes with Coach Tanner and Coach Leith.
Christopher's favorite event is the parallel bars, but his favorite skills to practice are his handstand and his roundoff back handspring. It's easy to see that Christopher loves all aspects of gymnastics. Outside of gymnastics, Christopher plays tennis, but he "loves doing flips."
His father, Gary loves what gymnastics has done for Christopher. "Christopher has gained a lot of confidence in himself by doing gymnastics."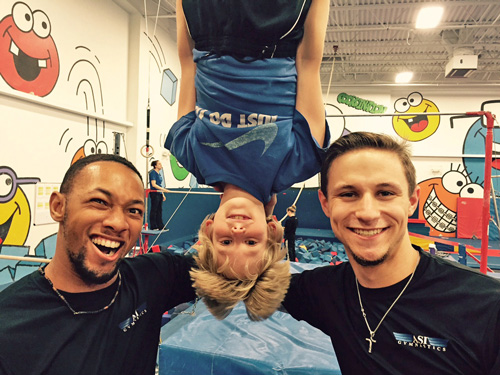 ---
KELLER
9-year-old Bella is in Power Tumbling Gold with Coach Zak at our Keller location. She has been in the Power Tumbling program for 3 years. Her favorite event is floor and her favorite skill to practice is her roundoff back handspring back tuck.
Bella also participates in basketball, but she loves gymnastics because "it's fun and you get to express yourself." Her parents chose ASI because it is close to home, has great teachers, and is a great environment for Bella.
Bella's mom says that gymnastics is also benefitting her academics as well as her athletic ability.
"She loves participating in her tumbling class, in fact this not only helps with her coordination, strength, and focus,but she has to maintain a B average or better in school to continue in class, which she has!"
We love having Bella in our class, but we love that it is helping her in her academic classes too!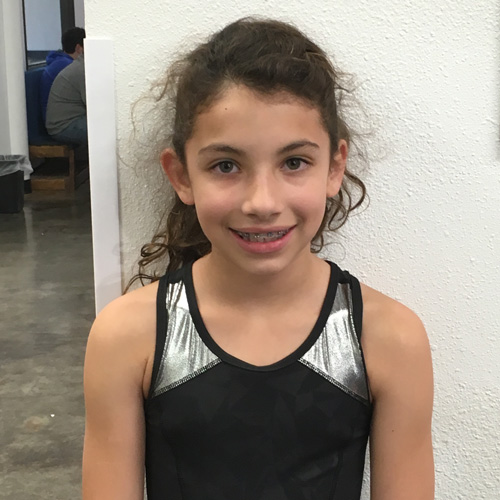 ---
LAKE HIGHLANDS
13-year-old Vivian is a Level 5 competitive gymnast who also participates in Power Tumbling Advanced Gold and in our new Acro program at our Lake Highlands location with Coaches Alyssa and Dylan. Vivian has been at ASI for 10 years! Why gymnastics?
"It's my life! It's a getaway from stress." Vivian's parents echo why gymnastics is so great for her.
"Gymnastics makes her de-stress and calm down. It's a break from school and homework."
Vivian is an excellent gymnast, teammate, and asset to every program she is involved in at ASI.
---
MESQUITE
12-year-old Johnny is currently in Boys Team Level 4 with Coach Jacob Griffin (no relation)! He only started with gymnastics a year ago at ASI Mesquite! He joined a Homeschool Power Tumbling class last year, quickly moved through the Power Tumbling program and transitioned into Boys Team. He loves competing his floor routine and practicing his back handspring. Gymnastics is his only sport.
"It pushes me and I love learning new skills!" Johnny loves the sport, but so does his mom and for much different reasons.
"He has learned the meaning of dedication, which has spilled over into his schooling. He truly feels like he can conquer anything. Mentally and physically- quit is not in his vocabulary."
Johnny's mom found ASI Mesquite through research, but once Johnny reached the Boys Team program, she knew she had made the right choice!
"Once he joined the boys team, I was impressed by the boys team coach's dedication. In a year's time, Johnny has gone from knowing nothing to level 4. ASI has skilled, friendly coaches."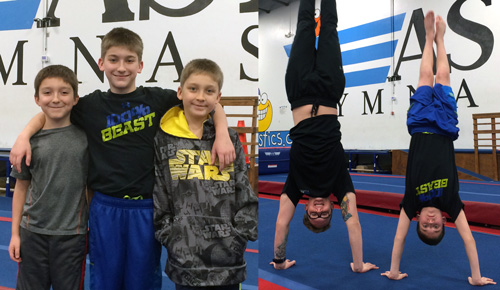 ---
PLANO WEST
7-year-old Hadley is in the Gymmie Kids program in Plano West. She also attends our Gymnastics After School program with her twin sister, Hayden. Hayden also participates in our Level 1 team program.
Hadley loves trampoline and tumbling with Coach Meredith. "It's fun. I play with my coaches and my friends. I love to perform my floor routines to my favorite songs. I love to dance."
Hadley's love of gymnastics and dance shined this past November at the Gymmie Kids Meet when she did her floor routine and pulled out the popular "Whip and Nae Nae" during her routine. The crowd went wild!
Hadley's mom absolutely loves what ASI has done for Hadley.
"Hadley is learning patience, building character, adapting and learning new skills, becoming physically stronger, improving her listening skills, and enjoying her time at ASI. Initially, we chose ASI for the after school program. We love that Hadley and Hayden are picked up from school, have dedicated time for homework, snack time and enjoy free play.
Now, we LOVE ASI as the coaches and staff are family. It warms our hearts to see how happy Hadley is when she arrives and leaves ASI. The coaches (you know who you are!) have worked so hard with Hadley to help her grow and consistently reach new milestones. Hadley is given the chance to shine and be herself. In a special needs world, that is not always a given. We are grateful, blessed and thankful for your roles in her life and in her heart."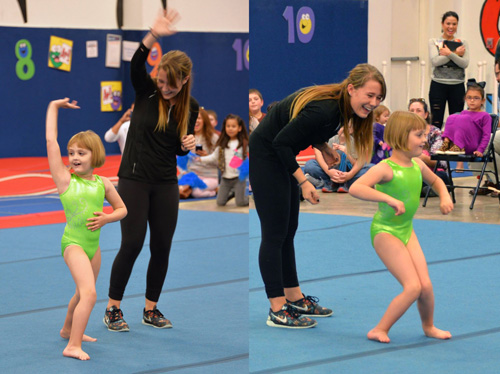 ---
ROCKWALL
8-year-old Zoe is in Girls Silver at ASI Rockwall with Coach Audrey.
"I always count down the days until gymnastics! I want my mom to put me in Monday and Thursday classes!" Audrey's love of gymnastics is paired with a rigorous athletic schedule of MMA, jiu jitsu, swimming, and boxing classes.
She loves practicing her cartwheels, handstands, and tuck-press headstands. All of these skills along with her love of trampolines and bars help her other sports she is involved in outside of gymnastics.
Zoe's mom echoes her sentiments about ASI, "The staff and coaches are great! She looks forward to coming to gymnastics. I like the exercise and flexibility it gives her."
If you ask Zoe why she likes gymnastics, the answer is simple; "I'm really flexible and accomplishing new things."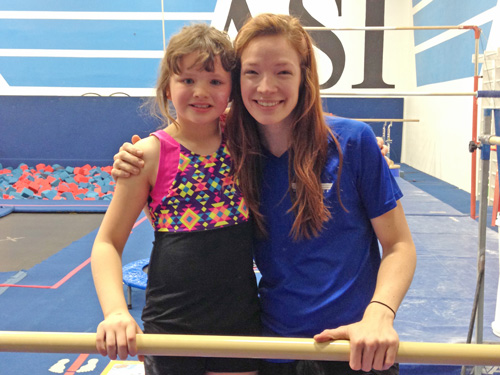 ---
THE WOODLANDS
8-year-old Kodi attends her Girls Gold class with Coach Tabitha in The Woodlands. Kodi has progressed her way through Girl Bronze, Girls Silver, Power Tumbling Bronze, and Power Tumbling Silver with us.
Her favorite event is Bars where she looks forward to practicing her back hip circle underswing dismount. Gymnastics is her sport of choice, "because it's fun," Kodi says. Kodi has fun and her mom sees value in the sport beyond the fun Kodi is having.
"She is physically stronger. The ability to focus, self-control, and practicing is important. And, the coaches are awesome!"