Ladies and Gentlemen, the NCAA Women's Gymnastics National Championships are upon us! It's time to support our college gymnasts' and cheer them on!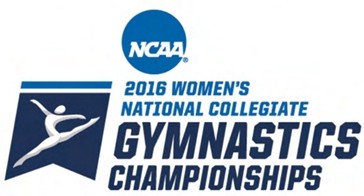 NCAA and USA Gymnastics have partnered up to bring you the National Championships this year. This event is a great opportunity to inspire and motivate your young gymnasts. They will get to see dedicated and hard-working athletes who are at the top of their game. It is important to get our young gymnasts setting goals early. Doing gymnastics in college is a fun and exciting way to continue a gymnast's career. At the championships, young athletes will get to see what it's like to be a college gymnast, the time and dedication it takes, and the dynamic support of such a strong team. The top 12 teams will be battling it out on the Vault, Bars, Beam, and Floor to see who will take the title of NCAA Women's Gymnastics Champion. On Friday, April 15th, the top 12 teams will be competing and will be narrowed down to six teams who will then compete on Saturday. On Saturday, April 16th, the top six teams will be competing for gold and what a sight that will be!
Current National Rankings:
Oklahoma
Florida
LSU
Alabama
Utah
Michigan
Auburn
UCLA
Georgia
Denver
Not only will young gymnasts get to see the top 12 collegiate teams, 2004 Olympic all-around gold-medalist Carly Patterson and 2008 Olympic team silver-medalist and 2015 NCAA all-around co-champion Samantha Peszek will be there signing autographs! Samantha will be there Friday evening to sign autographs and Carly will be signing on Saturday. This is sure to be an amazing weekend of college gymnastics and we can't wait to see all of you there! Get your tickets now!
ASI Gymnastics is selling tickets for the finals, Saturday, April 16th. Get your tickets here!
Schedule
Saturday, April 16
6:30 pm – Doors Open & Warm-ups
6:30-7:30 pm – Autograph signing with Olympic Gold Medalist Carly Patterson
8:00 pm – Super Six Team Final Begins
Following competition – Super Six Awards Ceremony