Allen
Coach Cris is a part of our Senior Staff at ASI Allen. Cris is a huge hit with our Allen families. His coaching career started at ASI and has flourished throughout his thirteen years here! Cris teaches numerous classes that include Tiny Tots, Kidz Gym, Girls Gymnastics, Power Tumbling, Boys Team and Gymmie Kidz. He also does birthday parties and other fun products.
Cris comes from a big family. He is a family man and enjoys the outdoors. Growing up he played soccer, and enjoyed mountain biking and skateboarding. He later learned how to tumble and he really likes coaching it. One of the many reasons families hunt him down for classes is for his coaching style. His coaching style can best be described as experienced, fun, and challenging.
The thing Coach Cris loves the most about coaching at ASI is the kids. "It feels good to know that you are making an impact on a child's life." Cris believes gymnastics is important for children to get involved with. "Gymnastics help any child develop strength, balance, flexibility, body awareness on the ground and in the air, and confidence." He feels these skills will "carry over into any sport or activity they choose to pursue later on."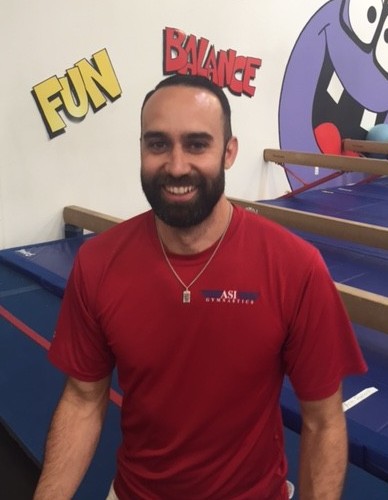 Arlington
McKenna has been working at ASI for four years now and coaches Girls Bronze, Silver, and Gold, Power Tumbling and Kidz Gym classes, works birthday parties, is training to be certified to coach Girls Team, and is the Fun Product Supervisor of ASI Arlington. Coach McKenna started at ASI when he was seven doing boys gymnastics, and then switched to tumbling. He is now coworkers with his childhood coach, James! His extensive cheerleading background gives him an edge when coaching his tumbling classes due to the fact that he still tumbles and stunts today. His favorite event to coach is the floor because he feels he gets to know his kids and he gets to pump them up and get them excited to be at ASI. His coaching style can be described as adaptable, humorous, and relatable, all perfectly describing McKenna. He feels gymnastics is so amazing for kids at all levels and ages because of the coordination and balance it instills within them. "Gymnastics at ASI is great because we get to work with each kid at their own level, truly get to relate to them and their parents, and mentor them as they grow older." He says it's all about relationships, teamwork, and success!
McKenna comes into work each day and puts his heart into coaching young athletes to success. He says it doesn't even feel like a job. "Working here has become an unexpected and rewarding passion I could have never imagined when I started here four years ago." McKenna sums up ASI as rewarding, a blessing, fun, relational, and success-driven. ASI Arlington loves having such a passionate coach like McKenna!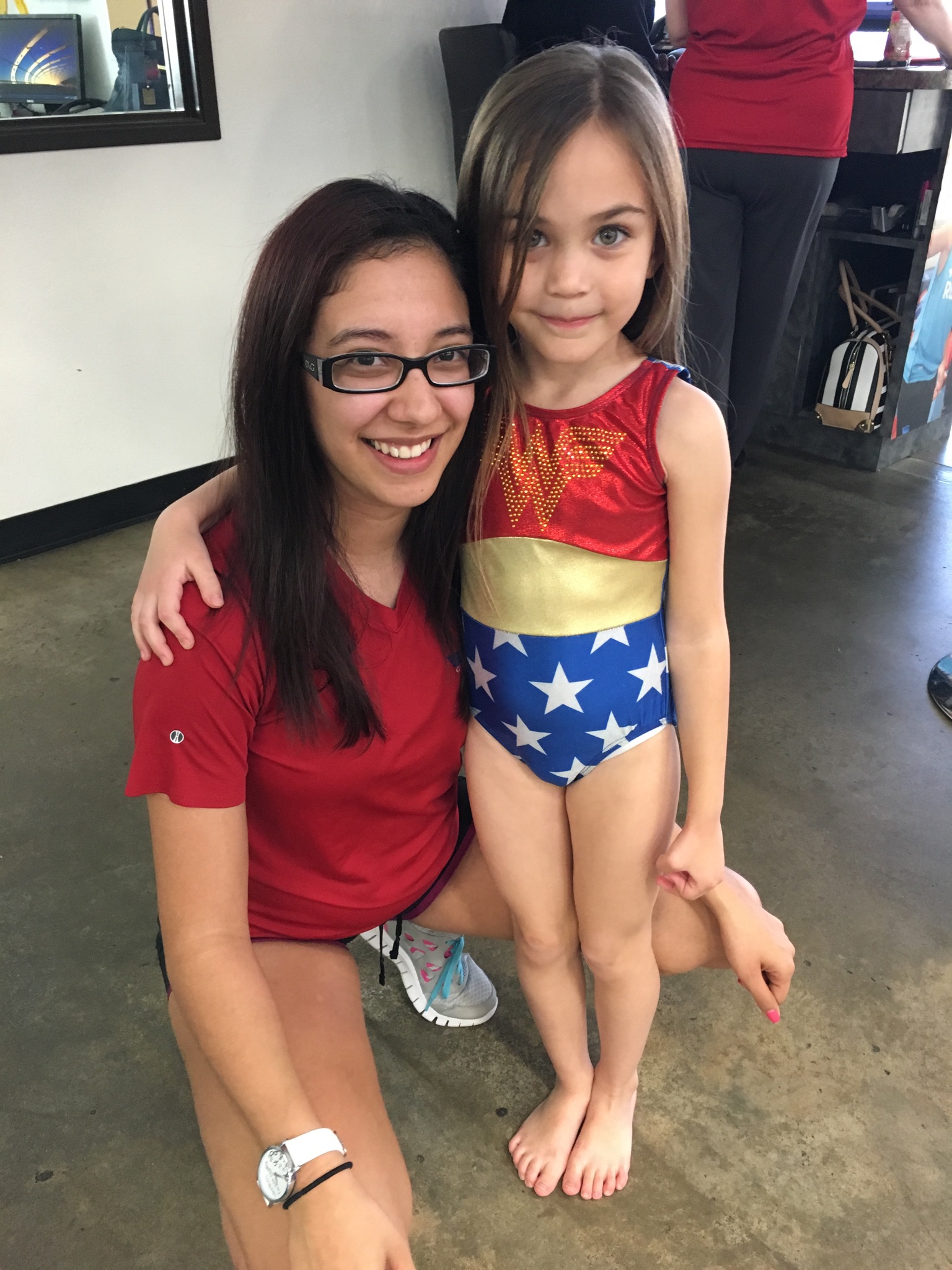 Cypress
Krista has been working at ASI Gymnastics for four years, starting at The Woodlands location, and now working at the Cypress location! She coaches Tiny Tots, Girls Gymnastics classes, and is also a girl's team coach! Her favorite events to coach are floor and the balance beam and feels that her coaching style is all about being hands on with her students, being patient, detailed, and always being creative. Her background in sports includes that of gymnastics, tumbling, dance, and cheer leading for 10-12 years! This certainly gives her extensive knowledge of all things athletics. She coached swimming lessons and was a lifeguard, was also a daycare teacher, and has two kids of her own! She truly understands kids!
What makes gymnastics great? Krista says, "It is one of presentation. It's the only sport that works all of your muscles while it easily translates into any other sport." She feels all boys and girls at any level can get something out of gymnastics. Krista loves the atmosphere at ASI. "I know how it feels to be in an incredibly competitive atmosphere. While it can be very rewarding, it isn't always positive and confidence boosting. ASI focuses on building confidence in a positive environment while teaching them the best gymnastics at their level." Krista says, "ASI is perfect for me." ASI loves you Krista! Keep up the great work!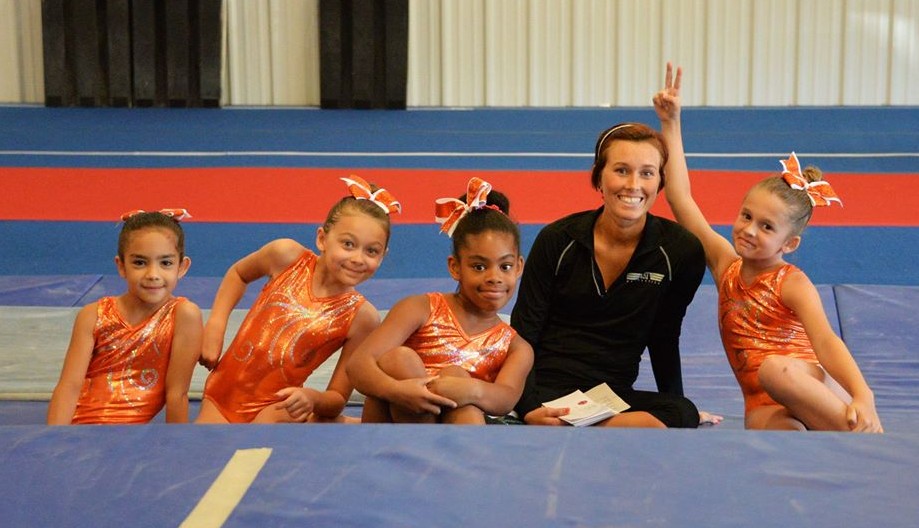 Keller
Coach Hannah is one of Keller's newer coaches.  At the age of 16, she has been involved in various sports such as softball, basketball and soccer. She stays fit by tumbling and what's most impressive is that she took the agility and strength from these sports and made the varsity gymnastics team her freshman year of high school! She describes her coaching style as fun, passionate and creative. She believes that gymnastics is great for kids because "it allows them to learn the discipline they need to succeed in life while having fun!"
Coach Hannah coaches Kidz Gym and Girls Gymnastics at ASI Keller. Her favorite event is bars. The thing she loves most about coaching at ASI is the kids! She loves to watch them get excited about obtaining a new skill, being able to jump on the trampolines, or just being able to swing on the rope. "Watching them improve and grow as a person and a gymnast is my favorite part of my job," says Coach Hannah. Hannah will be graduating early from Central High School this year and will be attending Dallas Baptist University in the fall.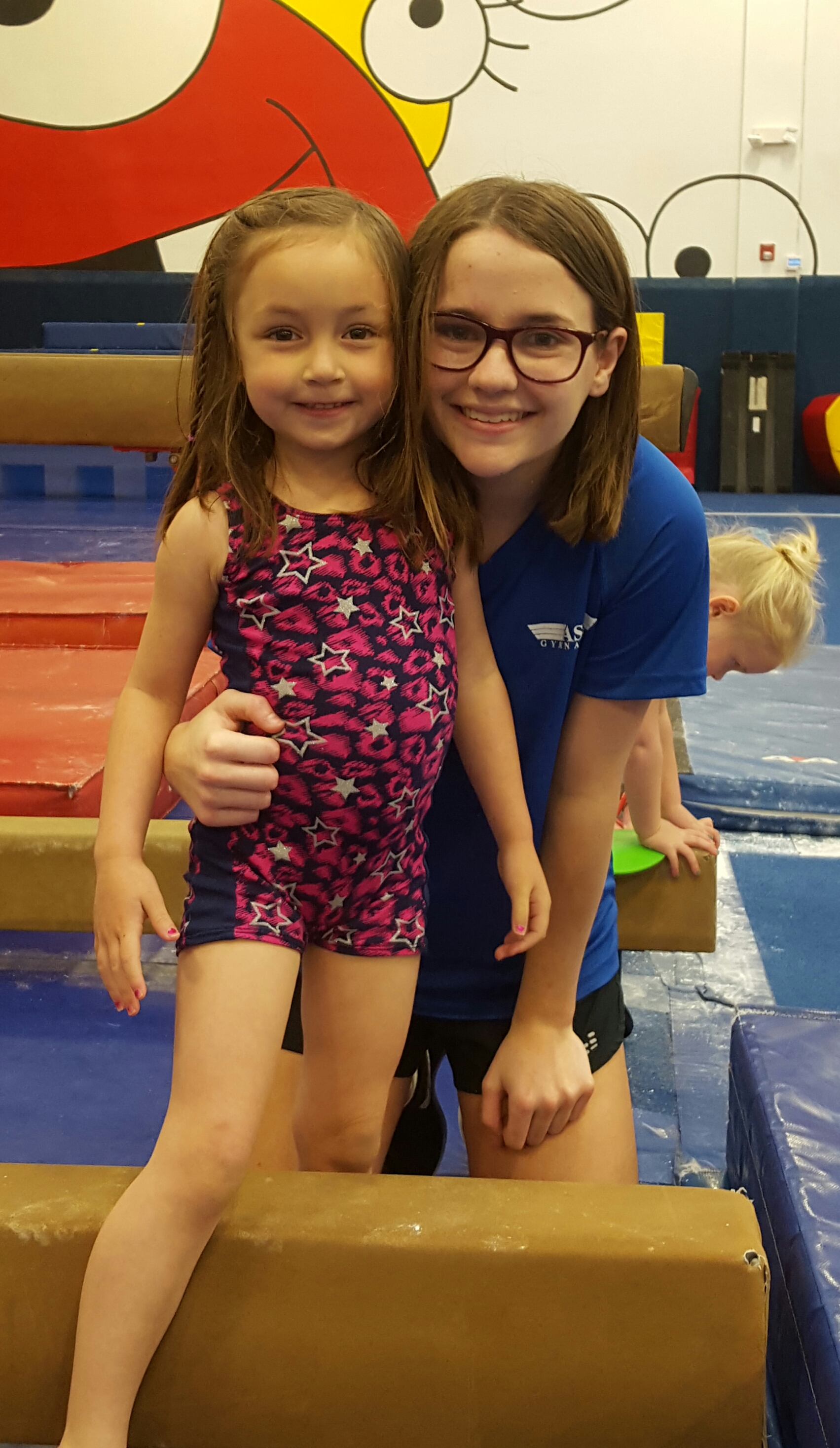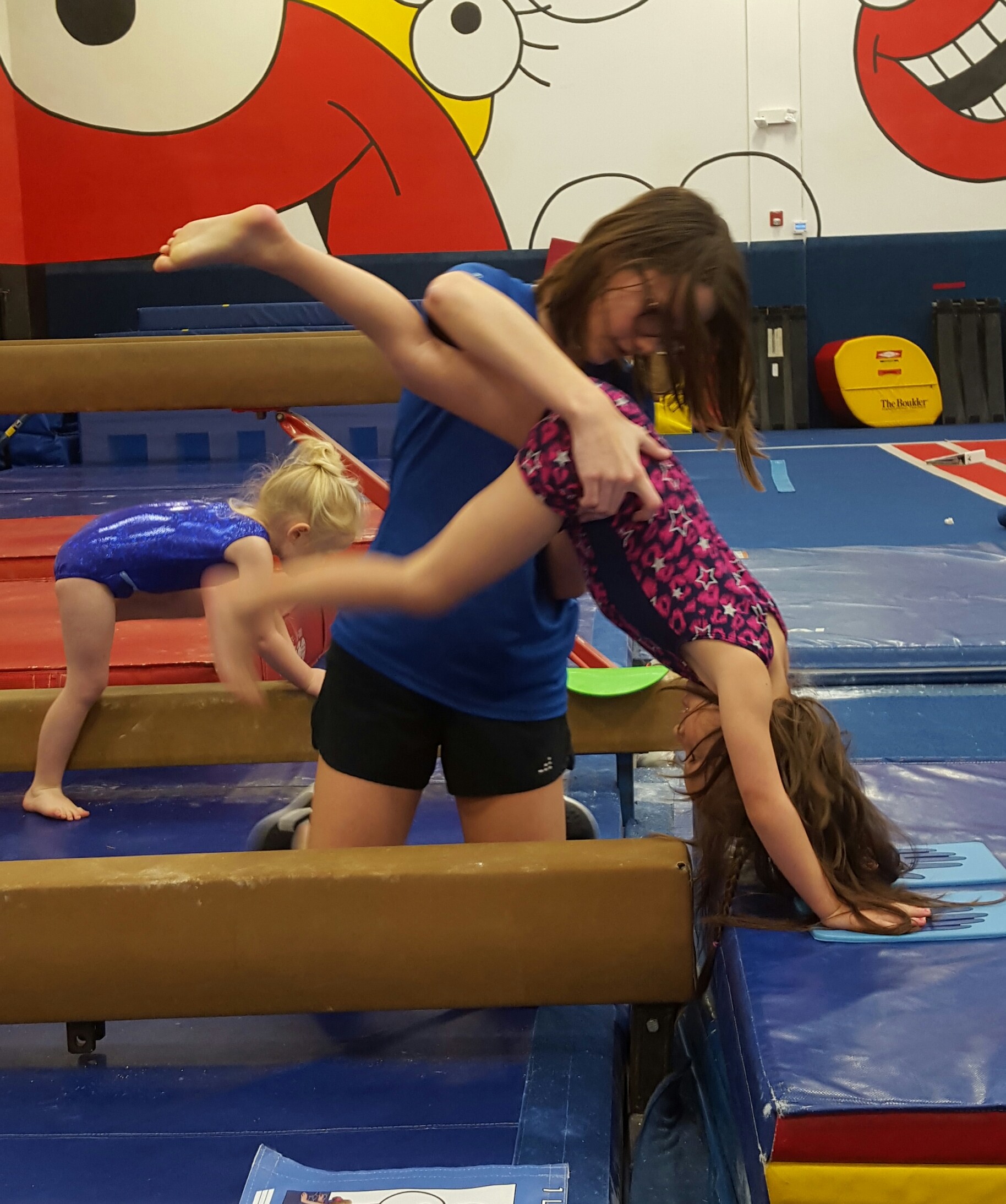 Firewheel
Energetic, caring, and passionate perfectly describes Coach Peter, of ASI Firewheel! He has worked for ASI for a year and both families and coaches, alike, love the enthusiasm he brings to our gym! He is currently coaching both Boys Gymnastics and Power Tumbling, but has worked with children of all ages through mentor program Buddy League, and SMAK (Summer Musical Activities for all Kids).
Outside of ASI, Peter is a junior at Lakeview Centennial High School. He is a tremendous athlete and was a competitive gymnast for 8 years, as well as, being a varsity gymnast and cheerleader in both middle and high school. His hobbies include tumbling, singing and being with his friends. He aspires to attend The University of North Texas or The University of Oklahoma in the future.
When asked what makes gymnastics great, Peter responded by saying, "Developing life skills such as balance, coordination, discipline, and strength as well as developing friendships makes gymnastics great."  He enjoys coming to work because he has the opportunity "to make a difference in the lives of children."
WE LOVE PETER!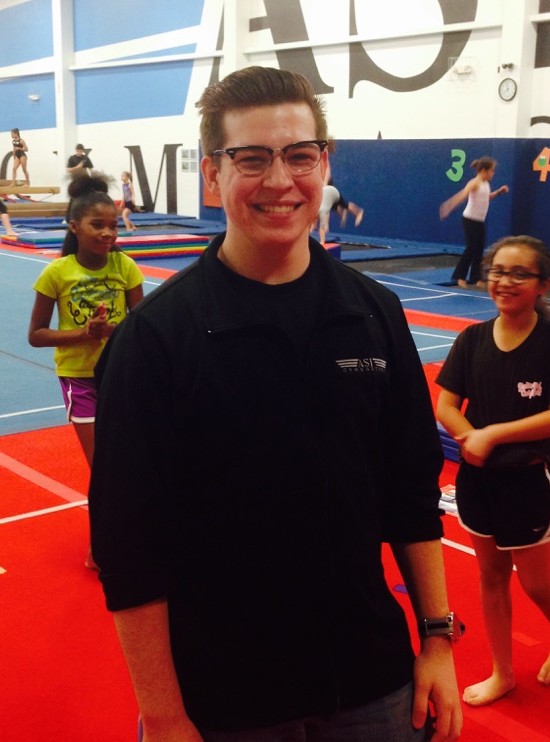 Lake Highlands
Brittany has worked at ASI for 8 years now and coaches Tiny Tots classes all the way up the Girls Teams levels 1-3! She is a lead in all Fun Products and coaches not only girl's classes, but boys as well. She says that coaching bars is her favorite part of practices! Brittany's athletic background includes step team, Varsity Drill Team, and cheer leading, and she uses what she's learned in all three activities to coach her students in a fun, efficient, and organized way. She has been working with children ever since high school and it really is one of her passions.
"Having a child participate in gymnastics helps the child become physically active, develop coordination, and implements a healthy lifestyle for their life. Gymnastics incorporates flexibility, speed, power, and discipline. The skills that a child learns in gymnastics can benefit their overall development."
What Brittany loves most about coaching is that at ASI, everyone is a family. ASI gives her the ability to create and use her imagination with kids. She loves that ASI lets her become a kid herself! Spotting all of her students keeps her in shape and every day is different because no child is the same. "I love that ASI offers tuition reimbursement and scholarships that helps pay for me to go school." Brittany is such a hard-working coach and we are so happy to have had for 8 years! You rock Brittany!
Mesquite
Starr is an energetic and fun coach to so many kids in Mesquite where she has been for two years.  Starr has a long background with children from helping out in her church's nursery every Sunday, to working with a special needs group called Barnubus, and babysitting throughout the years.  She has also always held an active and fit lifestyle including coming to ASI when she was younger, playing basketball and volleyball for most of her life, and remembering to "drink water daily." Her love for children and sports is what brought her to ASI as she hopes to become a teacher in the future.
Starr coaches many different types of classes, such as Tiny Tots, Kidz Gym, Girls Gymnastics, Power Tumbling, and Gymmie Kids. Her Gymmie Kids classes are her favorite as they, "bring a smile to [her] face and throughout the class the smile never goes away." Starr loves "sharing the knowledge of gymnastics to children." For her toddler classes she thinks gymnastics helps "improve communication skills, stable rotations, and classroom development." Her favorite thing is "helping the babies and seeing them smile after every skill they do; it warms [her] heart." ASI to her is a place that is constantly filled with smiles, joy, family and friends, and most of all FUN!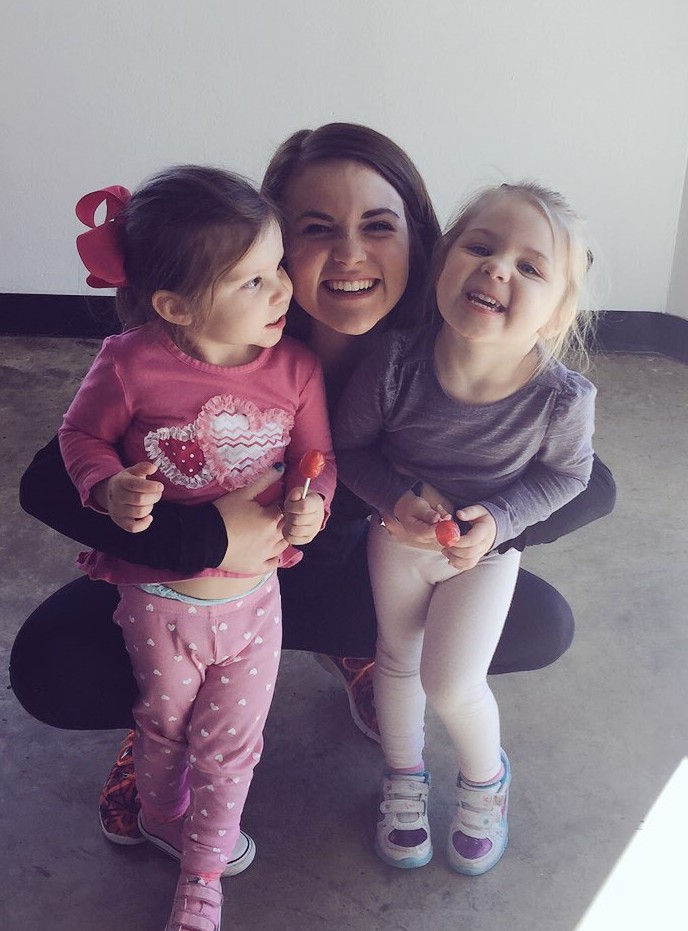 Plano West
Natalie loves coaching! She has only been coaching for one year and this is her first coaching job. She coaches Power Tumbling, Girls Gymnastics, and Kidz Gym classes. Before ASI she worked as a teacher's assistant at CCA. She graduated form Hebron High School and is starting her first semester at The University of North Texas very soon. Cheer leading and tumbling are Coach Natalie's passions. She did an awesome job with this years cheer mini camp! She's always energetic, exciting, and rewarding when working with her students. When asked how she feels about gymnastics, she responded, "It is challenging, fun, and I think kids can learn so much from it!" Plano West loves Natalie!
Rockwall
Audrey has been with ASI Rockwall for one and a half years and we are very lucky to have her. She coaches Tiny Tots, Kidz Gym, Girls Gymnastics and also several of our fun products. When coaching her classes, Audrey displays patience with each child but also an understanding of any issues they might be having. She is very personable and that is a great quality especially when talking with a child's parent. She always makes sure every kiddo is having a blast while also learning important progressions in gymnastics. Audrey considers gymnastics a great sport because, "it teaches self awareness, flexibility and athletic ability; all of which contribute greatly to their confidence. It also opens more doors for athletic potential with any other sport they ever try. Kids get to experience skills and techniques they can be applied to other areas along the way." Audrey says her greatest love of coaching at ASI is seeing the growth in her students! She loves the rewarding feeling of seeing the look in a child's eyes when they finally stick that skill that they have been working on.
In her free time, Audrey is a model and gets to travel to fun locations for photo shoots and commercial shoots. Her background with children includes being a nanny, babysitting, and volunteering in the nursery at her church. As a child, Audrey took classes at ASI Rockwall and also played volleyball, tennis, and water polo! We are over the moon excited to have such a devoted and enthusiastic coach at ASI Rockwall!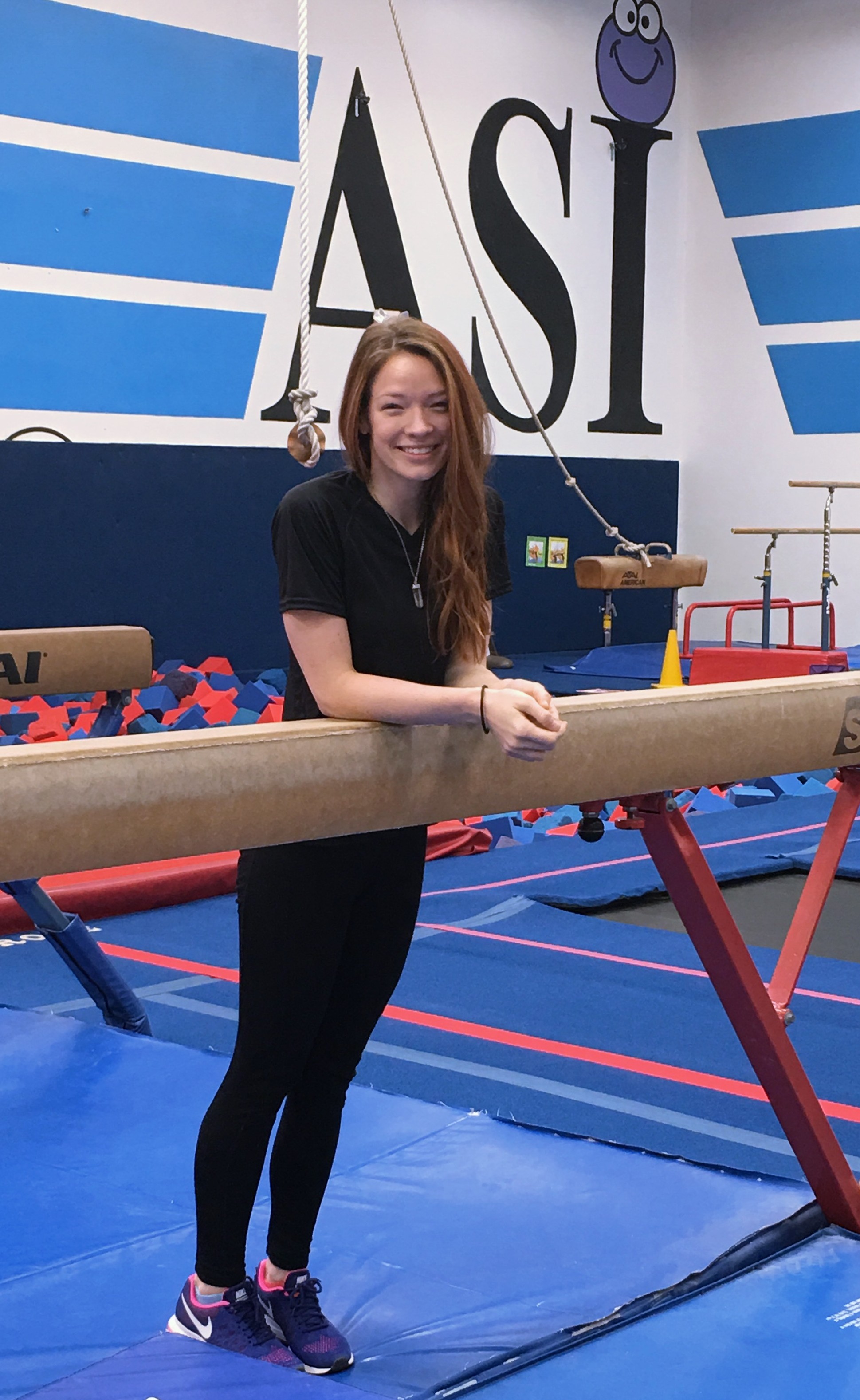 The Woodlands
Allie is a fun and hard working coach who loves to help her kiddos achieve their goals and help them learn new things. She coaches Kidz Gym classes, Girls and Boys Gymnastics classes, and Power Tumbling, along with making a birthday child feel super special during a party. Allie feels that gymnastics is, "a great way for kids to be athletic, interact with other kids, and to have fun while learning new things."
Allie has been with ASI The Woodlands for nine months now and was once a gymnast at ASI Arlington for a couple of years when she was younger. When she is not out on the floor coaching hard, Coach Allie loves to work out and play sports. The Woodlands is super lucky to have Coach Allie!