The only thing I would change about Saturday is that I wished it had happened Sooner. This past weekend capped an incredible season of college gymnastics and celebrated the boom this sport continues to experience. The top teams in the NCAA converged in the Fort Worth Convention Center for a weekend of high-flying, awe-inspiring, powerful, beautiful gymnastics. Saturday night, the Super Six, Oklahoma, Alabama, LSU, Florida, UCLA, and Georgia set the stage for a night of competition that no one will soon forget.  
As I sat in an arena with thousands of fans, I was a student first, gymnastics fan second, and Sooner fan third. I sat next to six of my competitive gymnasts and was able to see two of my recreational gymnasts as well.  I saw something familiar in their eyes. Of course there was awe and dreams of maybe some day being one of those girls. The girls with phones were recording, texting, and snap-chatting parts of the competition. The younger ones were immersing themselves in every routine. The one thing I saw in all of them was passion.
I love this sport. Gymnastics is my lifelong passion. Saturday night as I watched Oklahoma stick every landing, hit every handstand on the bars, fly across the beam, and soar over the vault to a National Championship, I felt humbled by my journey in gymnastics. I felt a sense of responsibility to nurture the growth of the gymnasts that were sitting next to me, their teammates, future gymnasts, and my peers.  
When I was young gymnast in Oklahoma, I was blessed enough to have coaches pour into me, challenge me, and nurture my love of gymnastics. I'm 5'7" and as much as I loved gymnastics, I didn't always put 100% effort into my training. A career as a professional or collegiate gymnast was not in my future; however, Janet Rucker set a foundation of growth and opportunity in this sport that I will forever be grateful for. She nurtured the passion I had and turned this girl into a coach.  As much as I loved doing gymnastics, I loved teaching it tenfold. I went on to coach through my college years and found myself at ASI Gymnastics in my mid 20's. At ASI, I have been given the opportunity to continue to coach kids and coach coaches. My passion again, has grown tenfold.
This sport is more than high flying acrobatics and stuck landings. It's fun. It's discipline, respect, work ethic, teamwork, communication, and many other life skills that are invaluable. The fact that I am now in a role where I am responsible for imparting these skills and my wisdom to students and my peers is the most humbling thing I have ever done in life. I may not be a collegiate national champion or an Olympic gold medalist, but knowing that I impact so many lives through the sport that I love means more to me than any medal ever could.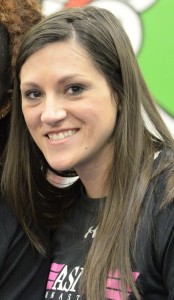 About the Author
Tiffany Warren is the ASI Girls Recreational Gymnastics Director and continues to coach preschool, girls recreational classes, and competitive team Level's 3 and 4 at ASI Arlington. She has been at ASI since June 2012, but has been coaching gymnastics for 15 years. She was a competitive gymnast through level 6. She is a graduate of the University of Central Oklahoma with a degree in Journalism/Public Relations. She is a certified USA Gymnastics coach and continues her education in the sport of gymnastics by attending USAG Congress and the Gymnastics Association of Texas' annual convention.