Allen
Jeremy has been a part of the ASI Allen family for a little over 6 months. He started with a placement evaluation, and was placed into Boys Silver. He promoted from Boys Silver to Boys Gold within 4 months of being in the program. A few events he enjoys of gymnastics are floor and trampoline. Jeremy loves gymnastics because it is FUN! The whole staff can tell he enjoys gymnastics by the big smile he has once he steps foot onto ASI grounds, and all the excitement that radiates from him.
Jeremy has been with Coach Victoria since he started Boys Silver, and is currently with her in Boys Gold. He says a few things he loves about his coach is that she is "beautiful, huggable, and nice."
Jeremy's mom, Christine, searched online for a gymnastics facility that fits their needs. She chose ASI because some friends told her ASI is "great for the boys." She says gymnastics has helped Jeremy with "working with other kids and paying attention."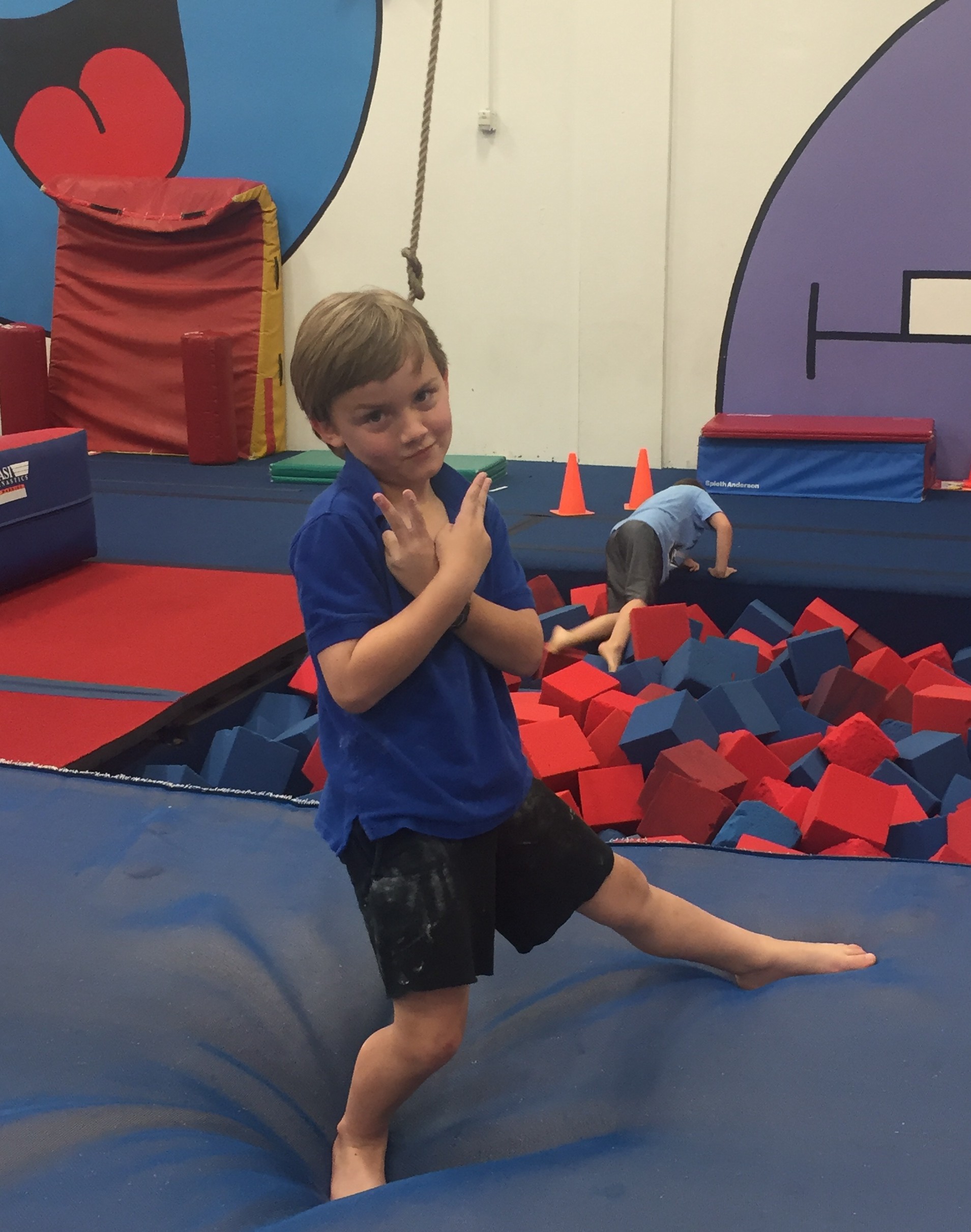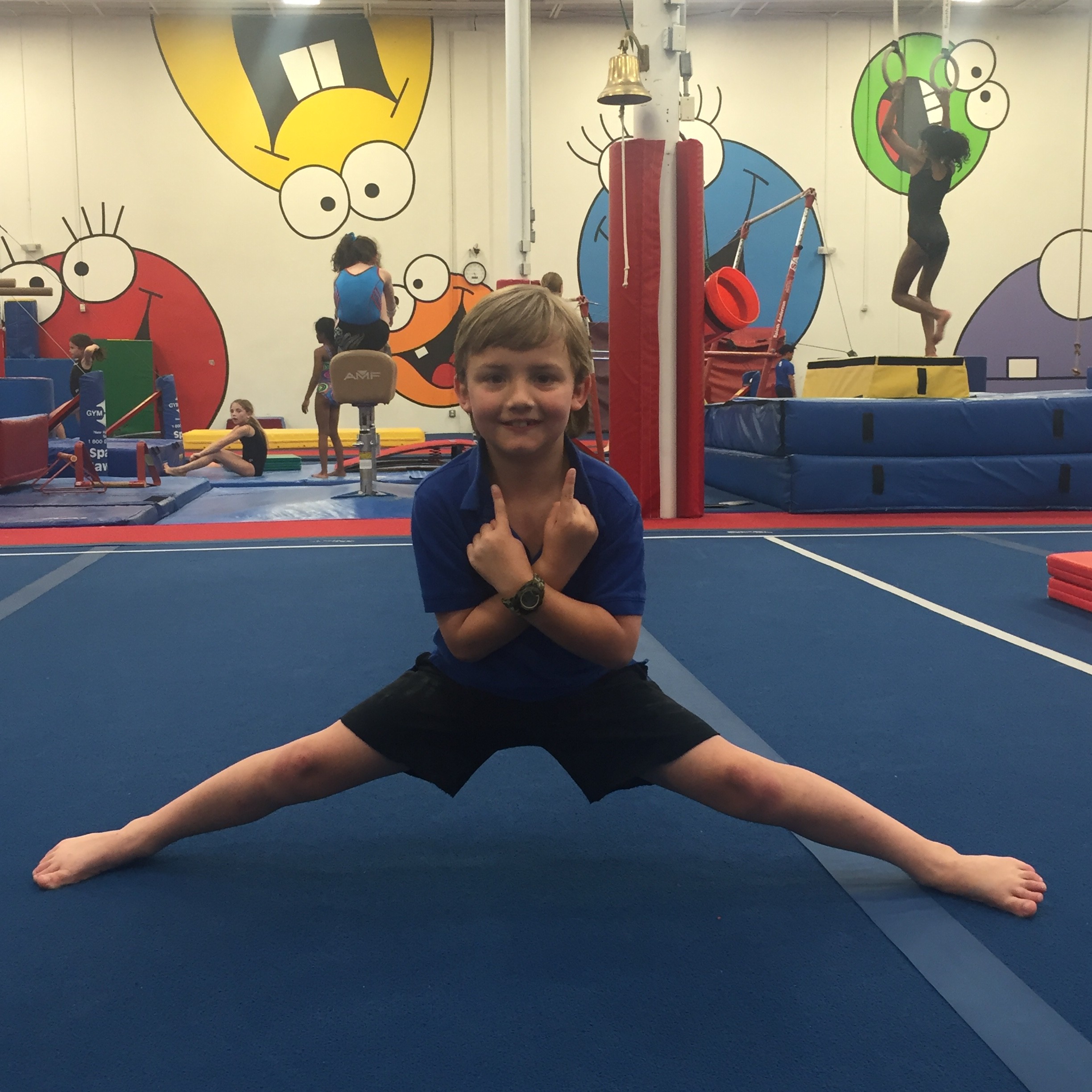 Arlington
Kole has been with ASI for almost 3 years and he loves everything about the sport of gymnastics. He loves jumping on the trampolines and improving his pommel horse skills. Every week Kole comes in eager and excited to attend Coach James' class. He's mentioned numerous time how much he loves Coach James.
His mom, Cara, has mentioned, "Gymnastics has helped him significantly with his gross motor skills, coordination, and balance." It's also an added bonus that his mom works the desk and he is now an extension of the ASI Arlington family. During his spare time he is either building something with his massive Lego collection or learning more about dinosaurs. This kid is pretty awesome!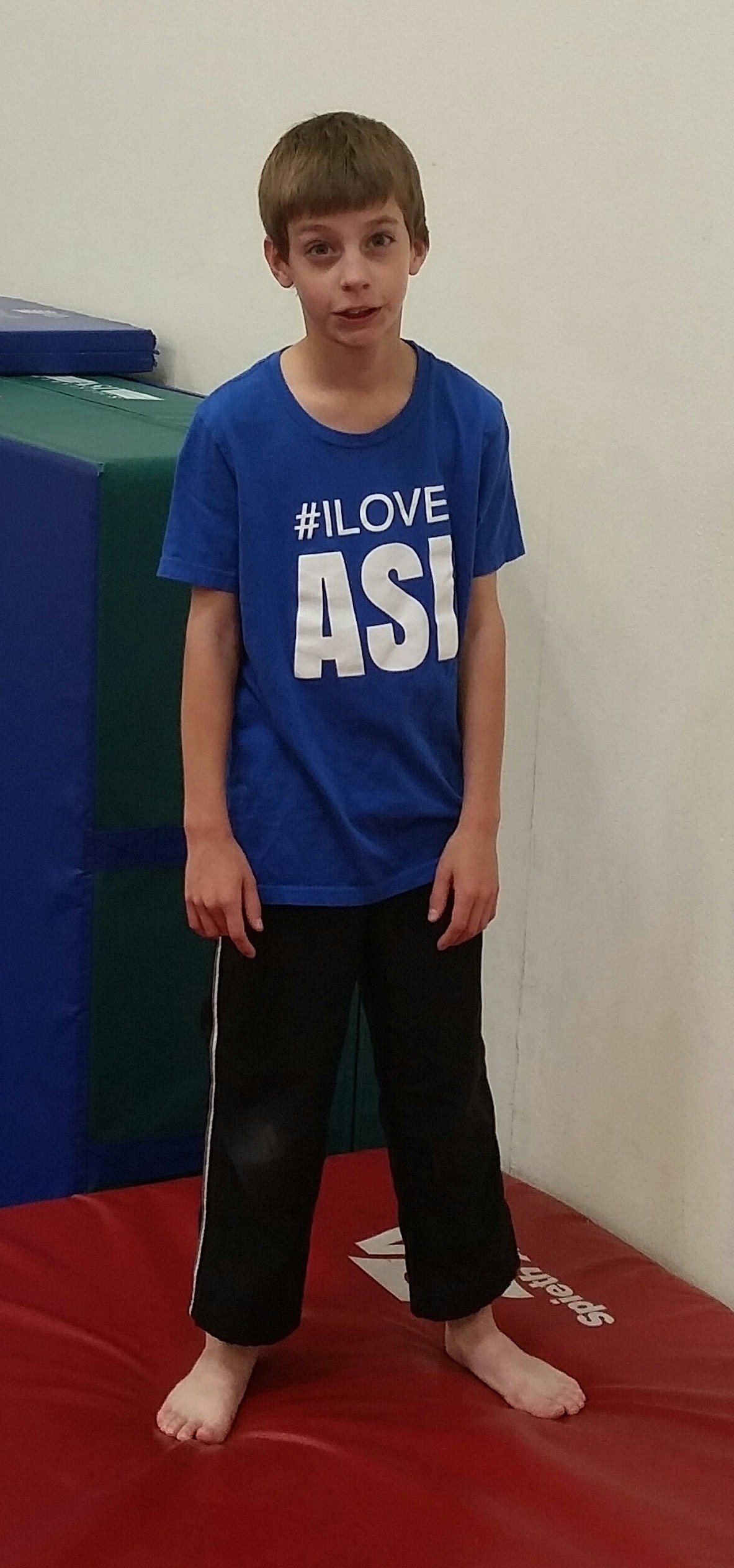 Cypress
Ashlyn is a student at ASI Cypress who just loves to tumble! She is currently in Power Tumbling Advanced Gold and has been tumbling for quite some time. She came from Prodigy and when she arrived at Cypress, she was immediately placed into Power Tumbling Advanced Gold. Her favorite skill to work on is back tucks and she says that power tumbling is her favorite part of gymnastics. Another sport that she has participated in is competitive cheer! Her parents say, "Ashlyn has learned so much and gained more self confidence in her current skills and the new skills that she has learned." Ashlyn and her parents love Coach Payton. "He has helped Ashlyn become an amazing tumbler. The positivity and encouragement is fantastic." Keep it up, Ashlyn!
Firewheel
Yadiel has only been in gymnastics for a year, but is one of our top performing Level 2 Team members! He began in Boys Silver and quickly progressed to Boys Team and Power Tumbling classes. Yadiel has tried many different sports in the past, but easily got bored. He said, "I really look forward to class as I learn something new every time. I can almost do a back-flip!" Since beginning he has really enjoyed all of his coaches. According to both Yadiel and Mom, Coach Trent, Tanner, and Leith have all worked closely with him to develop his skills and constantly improve his technique.
When I asked mom about why they chose ASI, Mom explained, "We were concerned because of his ADHD, but this has not been an issue as his coaches work hard on him. I am so thankful for all the caring and attention Yadiel has received in this past year. Watching him grow as a man and mastering his floor routine, polishing his mechanics, and building his confidence has been an amazing experience for all of us! So much so that even his brother was inspired to join."
Outside of his time spent at ASI, Yadiel enjoys riding his bike, taking walks, and family hikes. Yadiel looks forwards competing at the upcoming State Meet. We look forward to seeing him continue to grow as a gymnast!
Keller
Mose can't get enough gymnastics at ASI. He's currently enrolled in two Gymmie Kid classes as well as a Boys Bronze class with his Gymmie Kids Coach Sabrina! Mose has an energetic personality and loves to sing and create music while working on his gymnastics skills. Mose loves coming to gymnastics because he's "getting stronger and having a lot of fun!" His favorite event is the trampoline and it's no wonder that he's enrolled in both a Power Tumbling Bronze and a Boys Bronze as well as a one-on-one Gymmie Kids class so that he can get the best out of all the programs that ASI has available to him.
Mose also plays soccer when he's not at gymnastics in his spare time. Mose's mom has noticed that gymnastics has been very beneficial to him in more ways than one. "Mose is improving dramatically in coordination as well as muscle tone and strength," noted Mrs. Dinh. "ASI is not only convenient to our house, but the coaches and staff are so nice and it's cost effective to us." You can check out Mose with his dynamic personality and awesome gymnastics skills at our upcoming Gymmie Kids meet on May 22nd that will be held at our Plano West location.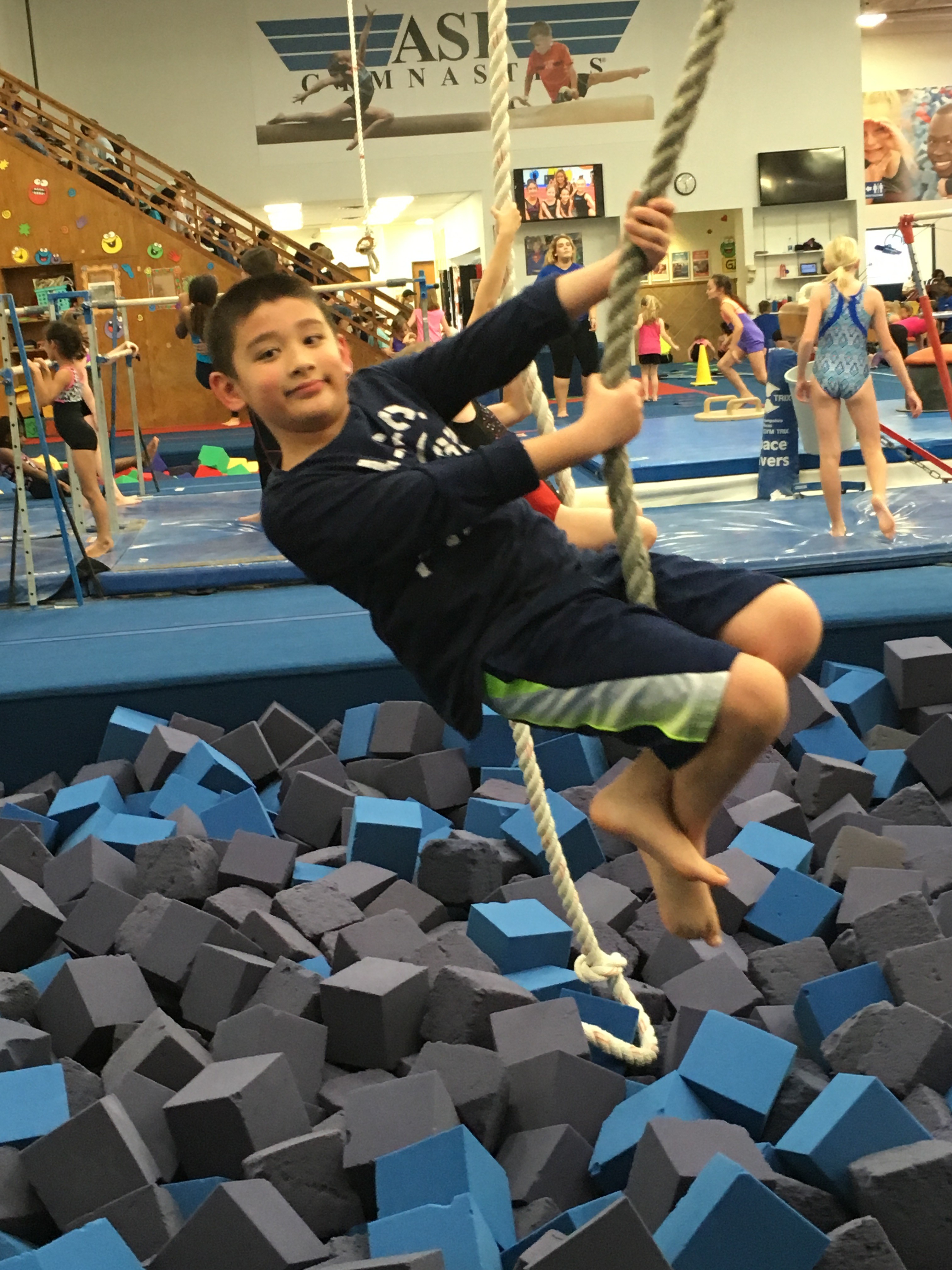 Lake Highlands
Katherine has been attending classes at ASI for 2 1/2 years. Katherine just turned 5 years old and is already in Girls Sliver gymnastics. Coach Libby, Coach Elise, and Coach Nathalie have all taught her different skills to help her get better at her gymnastics. The balance beam is her favorite gymnastics event. Katherine's mom said that it is a treat to get to come to gymnastics, so she uses it to help with behavior control.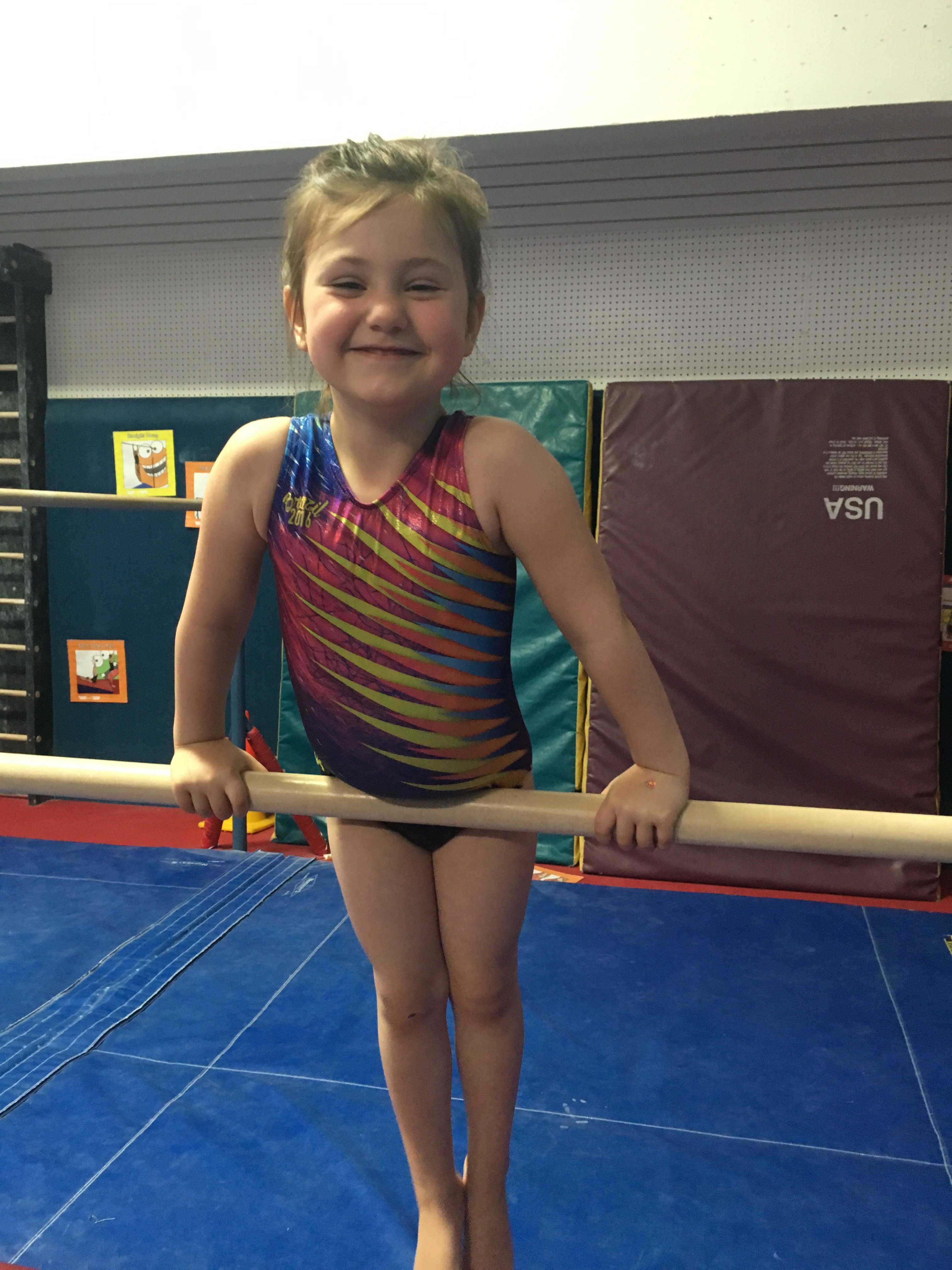 Mesquite
10-year-old Ally has been enrolled at ASI Mesquite for almost 3 years!  Ally started off in Power Tumbling Bronze where she progressed quickly. When she got into Power Tumbling Gold she added on a Girls Gymnastics class. Her coaches believe her strong power tumbling background has really helped her in gymnastics. Ally is now enrolled in both Girls Gold and Power Tumbling Gold classes. Ally loves coming to gymnastics because she, "learns new skills and has fun." Especially when they go to bars, her favorite event!
Coach Carly, Ally's Girls Gold coach, says, "Ally is a very determined student which helps so much with her progression. Every class she is getting new skills and working towards her goal of joining Team." Ally thinks Coach Carly is awesome because, "she is funny and she is tough on us but because she wants us to get better." Ally loves her gymnastics but also enjoys playing basketball and soccer!
Ally's mom believes gymnastics is helping Ally benefit in many ways. "She is learning so much because her coaches are teaching her proper techniques which in turn will only make her better."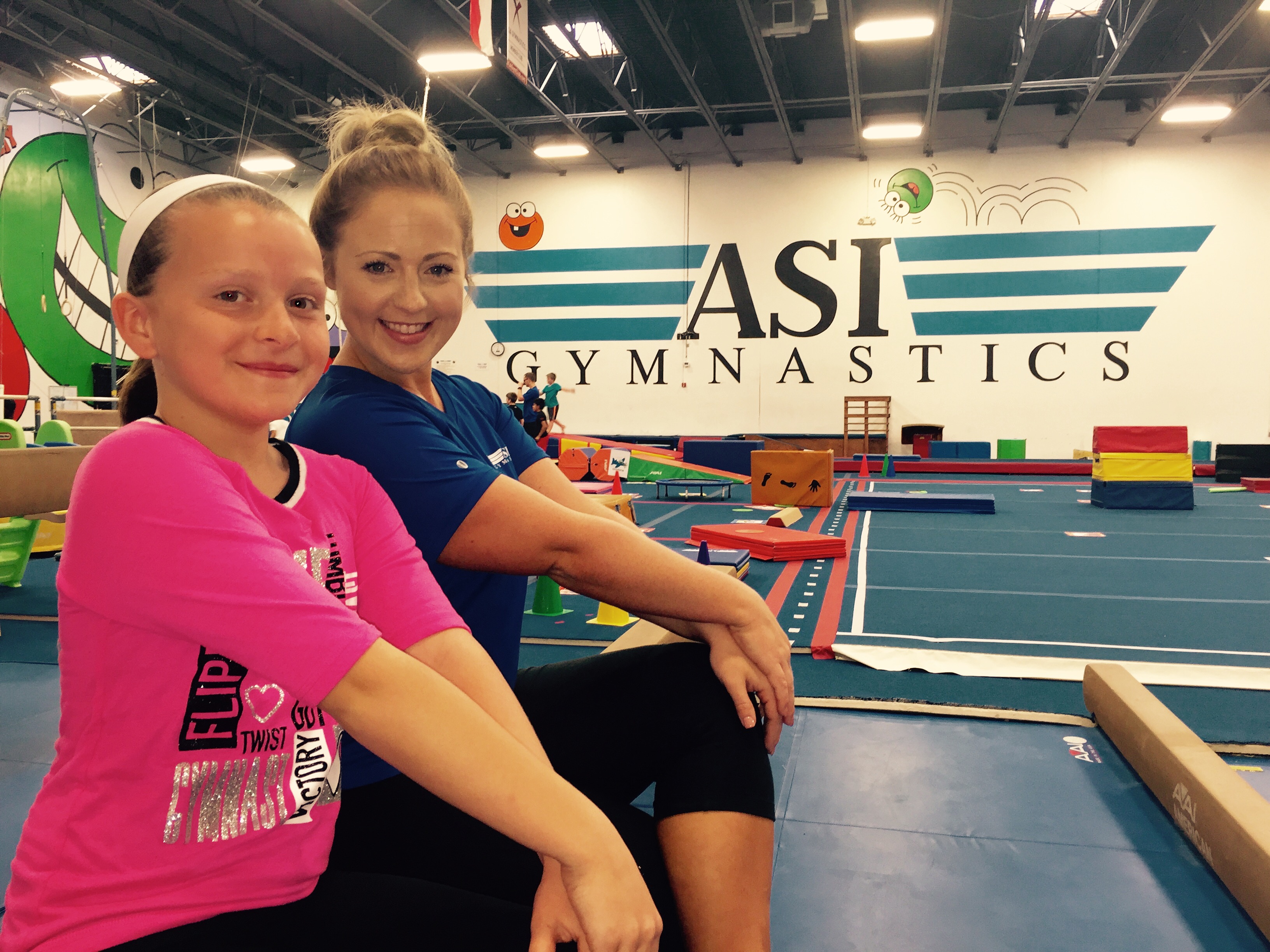 Plano West
Piper loves her Tiny Tots class with Coach Meredith at Plano West! She has been taking classes at ASI since October. Here favorite events are the trampoline and pit, and she is currently learning to master her somersault! Piper enjoys coming to gymnastics because it challenges her to do things she wouldn't normally try and it gives her the confidence to do it! While gymnastics is the only sport she is involved in at the moment, she is going to start ballet next month and soccer in the fall.
Piper's parents love having her in gymnastics "because it helps with her balance, stability, sensory awareness, and mobility of her body…all of which she lacks due a genetic eye condition she was born with which has caused complete blindness in her right eye and severe sensory/balance issues." They are so grateful to have found Coach Meredith, who is aware of Piper's condition and works with her in a very gentle, yet supportive way.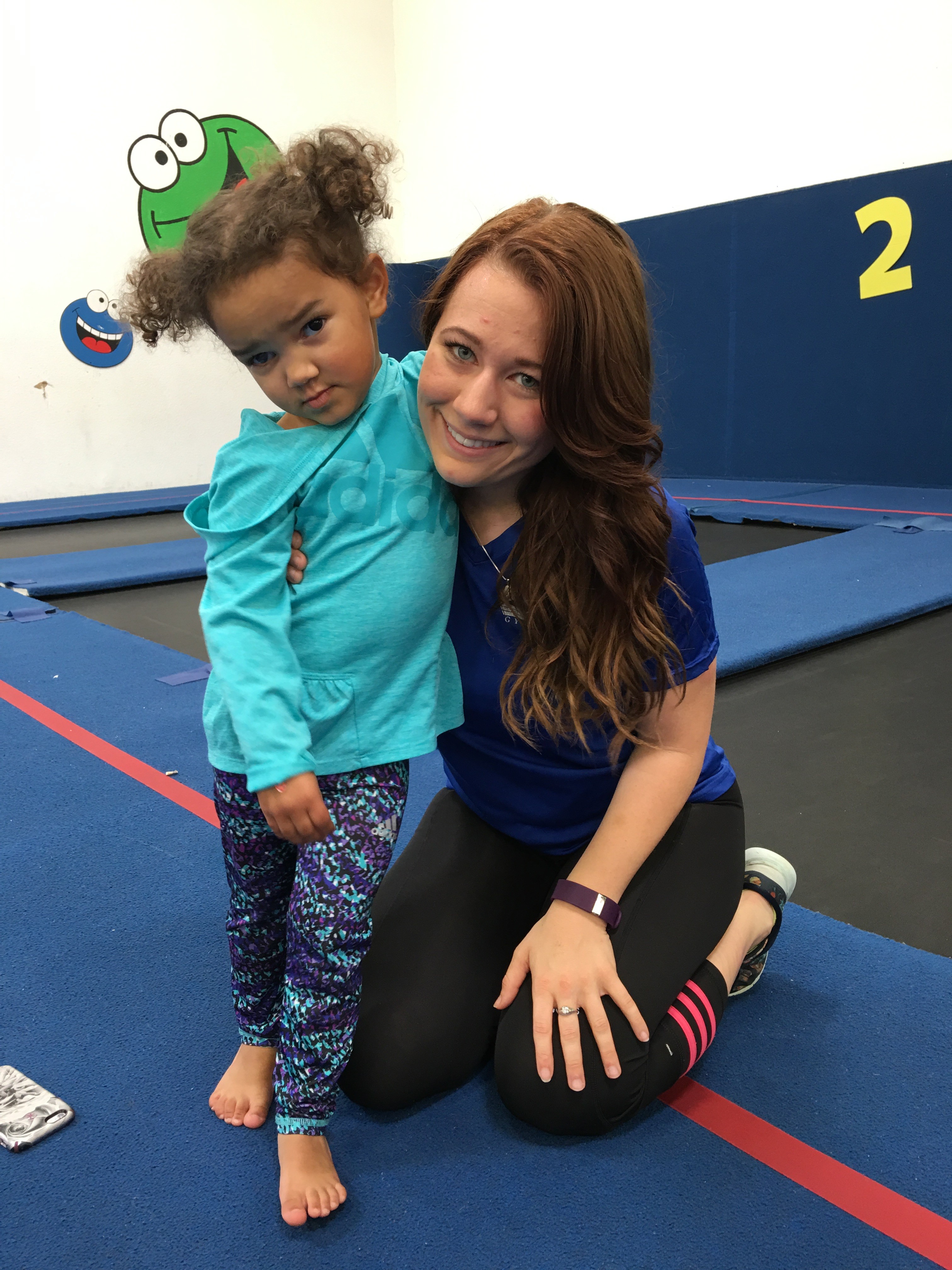 Rockwall
Four and a half year old twins Audrey & Raeleigh love ASI Rockwall!  These precious girls first came to us in January of 2014 when they  joined our Tiny Tots class.  They are currently enrolled in Coach Lauren's Kidz Gym Level 2 class.  The girls love the trampoline and look forward to seeing their friends each week.
Audrey & Raeleigh's Mom loves that the girls are benefiting and learning so much from gymnastics.  She said that both girls have gained tons of strength, they are better at following instructions, and their coordination has greatly improved.
When we asked the girls why they like coming to ASI Rockwall every week, they replied with, "Because it's FUN!"  ASI Rockwall is lucky to have these smiling, bubbly, and loving twin girls come hang with us each week.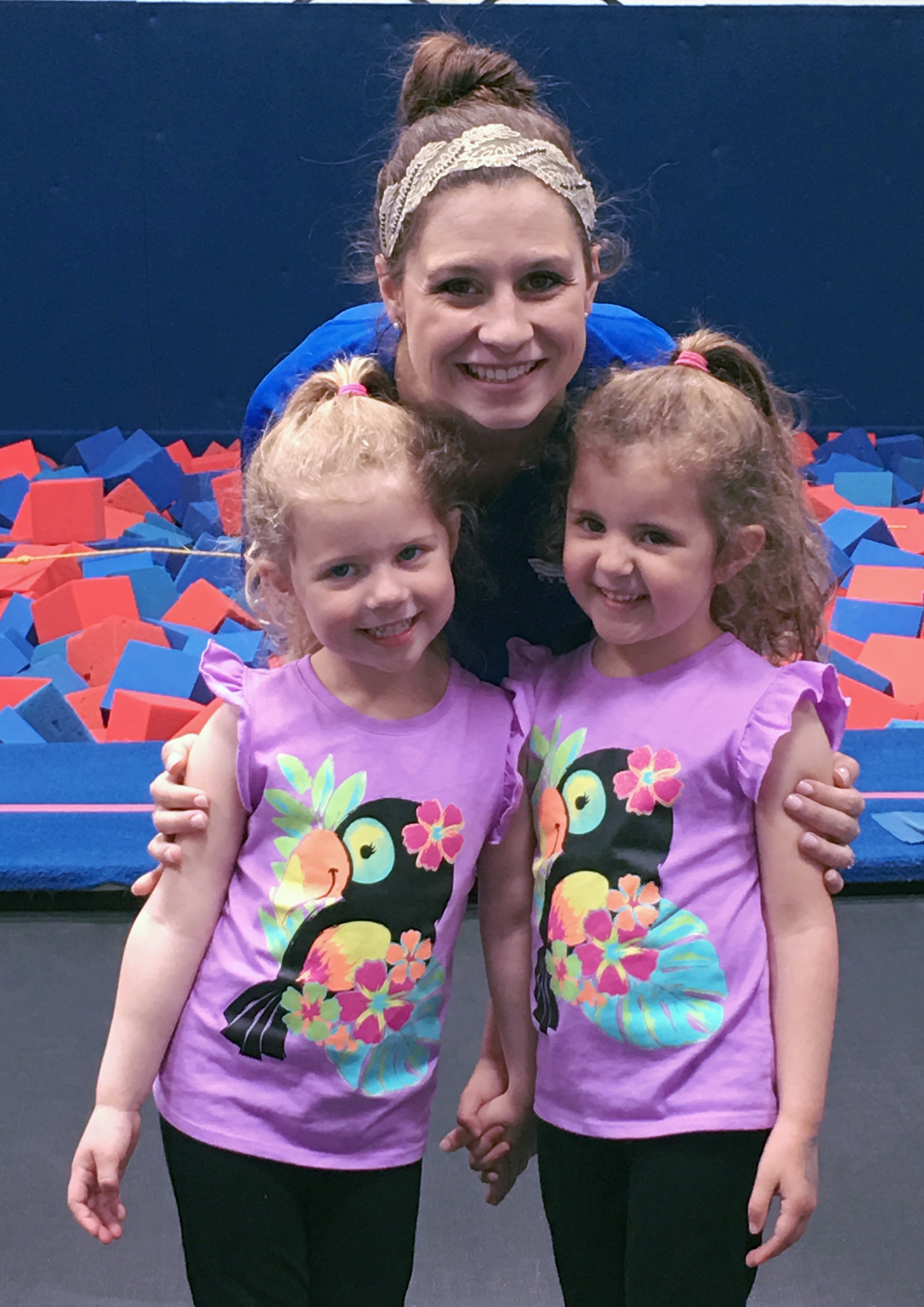 The Woodlands
Four year old Henley loves her Kidz Gym class at ASI The Woodlands. She loves coming to see Coach Lexi and jumping on the trampoline.  Henley's Kidz Gym class is her favorite hour of the week. She loves gymnastics at ASI and always looks forward to class. They love Coach Lexi! She is a sweet, caring, and patient coach.
Henley has been with ASI for six months and her parents love gymnastics because she is working on following directions, taking turns, and interacting with her peers. Henley is getting stronger each week. Her mom says, "I enjoy watching Henley's determination to improve her gymnastics skills each week." Her family just moved to The Woodlands in July and ASI was highly recommended by her neighbors to be checked out.