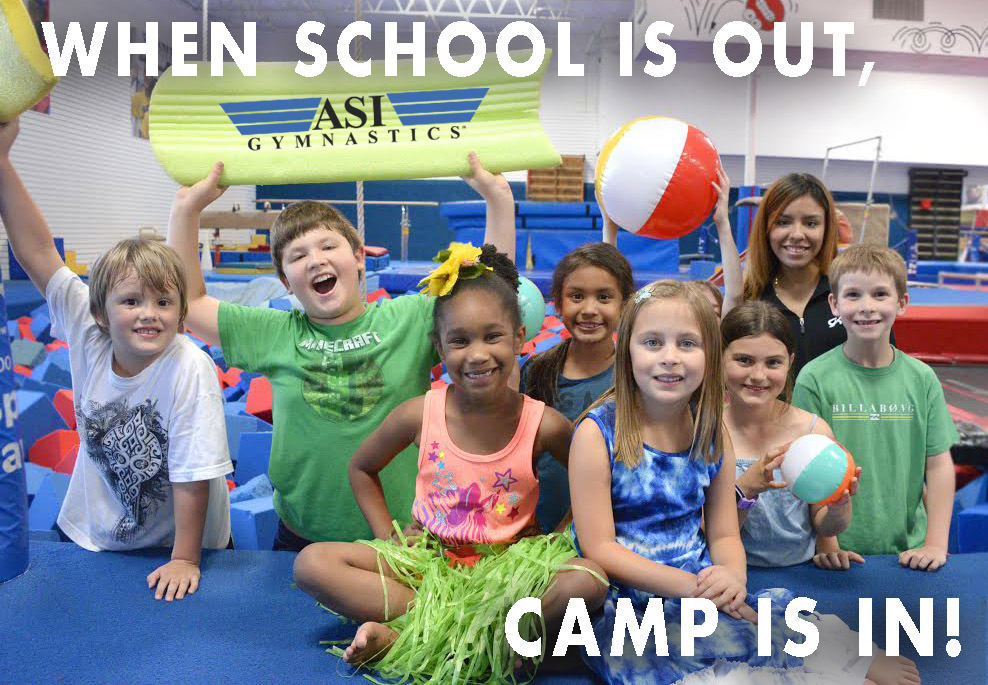 Summer is here and camp is in session!
It is the perfect time to get the kids out of the house and energized for an awesome summer! 
ASI Gymnastics offers summer camp sessions for the kids to come and get in some fun and safe activities! ASI Summer Camp is for kids ages 3-14. They will enjoy learning gymnastics, playing games, and participating in team building and problem solving activities all built around FUN!
Here is what we offer:
Sessions: Two sessions per day, 8am-1pm & 1pm-6pm, Monday-Friday
Ages: 3-14 and potty trained
Coaches: Certified and trained on safety, quality, and fun!
Rotations: Each session begins with an hour of open gym free play. The kids are then divided into groups with kids their own age for the remainder of the session. The coaches lead their groups around the gym for age appropriate games and activities. Each rotation is 15 minutes, so the kids are constantly moving and having fun. Click here to see a sample schedule.
Camper Info: If attending the morning session, please bring a sack lunch. A snack is provided by ASI for both the morning and afternoon sessions.
Camp is non-refundable. You can always transfer your camp session to another day if you contact us by 11:59pm the day before. Therefore, we suggest purchasing one session to ensure your child loves it. We feel confident he or she will! *MUST PRE-REGISTER by 11:59pm the night before to avoid the $5 same day registration fee per session.*
You can always enroll your kids in both sessions and give them a full day of crazy fun! Buy one session, buy a day, or buy a week. We promise they will want to come back! Sign up now and skip the same day registration fees!
You can visit the ASI Gymnastics Camp Page to view camp schedules and to learn more information!