Allen
Every time Adaleigh comes to the gym, she comes in with a mind set to work hard, with a little added flavor of quirkiness. Allen's very own Adaleigh started off attending in Kidz Gym Level 1 back in 2014, and quickly advanced throughout the years. Her natural talent is a great asset in helping her teammates when demonstrating skills with Coach Anna.
Adaleigh's favorite event in gymnastics is the bars. She enjoys doing "fun stuff like back hip circles!" She also enjoys being in Coach Anna's class because "she is fun!" She also enjoys playing soccer when she is not focusing on gymnastics.
Mom believes Adaleigh's "confidence has grown immensely since beginning gymnastics at ASI." She took a chance on ASI Allen when she was driving by one day. Through the years, she now believes "the staff here is phenomenal, I trust them with my kids 100%." She also believes ASI is the place to be. "This is a great place for your child to grow physically and socially."
Arlington
Makayla has been enrolled at ASI Arlington for six years and she has truly blossomed into an amazing gymnast. We've watched her grow from a quiet, shy little girl into a funny, exciting, and well-respected competitor. She is on our Level 4 Girl's Team. Every week she comes in eager to practice and learn something new.
She loves that Coach Tiffany pushes her to her highest level every practice. She said, "Coach Tiffany is not only my coach, but my friend. She is tough, but gentle. If she knows I can do something, she will keep pushing me until I get it. I love Coach Tiffany!"
Makayla loves to learn higher level skills. "Having the opportunity to show off what skills I've learned is the best part of being in the sport." She loves to be with her teammates and see them grow as well. She knows that they are all one unit and with hard work and determination they can all be great together.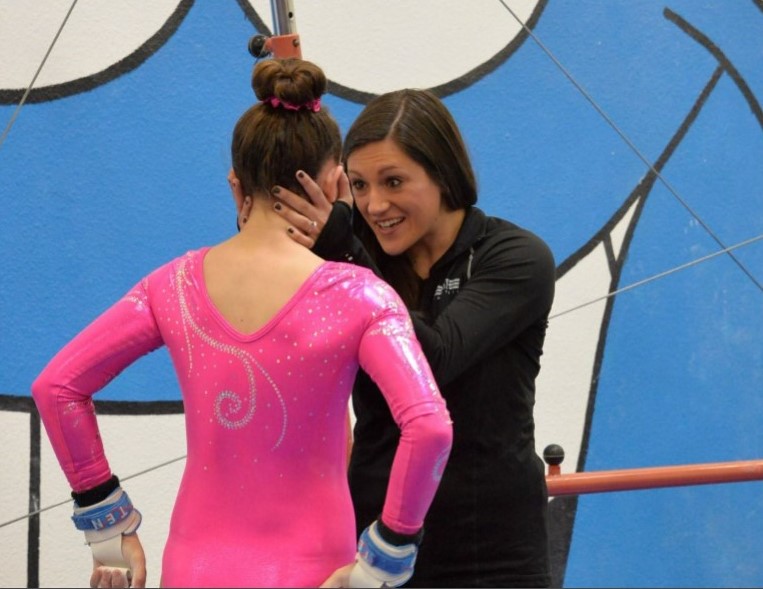 Cypress
Hi! My name is Linley, and I am five years old in a Silver Class. I have been at ASI Cypress for one year and I love my classes. Coach Krista and Coach Candace are the best! I love gymnastics because I get stronger and I like to get coached by my two favorite coaches. My favorite event is the floor and I like to focus on my skills. My mom's point of view is that ASI has the best coaches and staff around! They make sure Linley is working hard and stays focused, but sill makes sure she is having fun. ASI is AWESOME!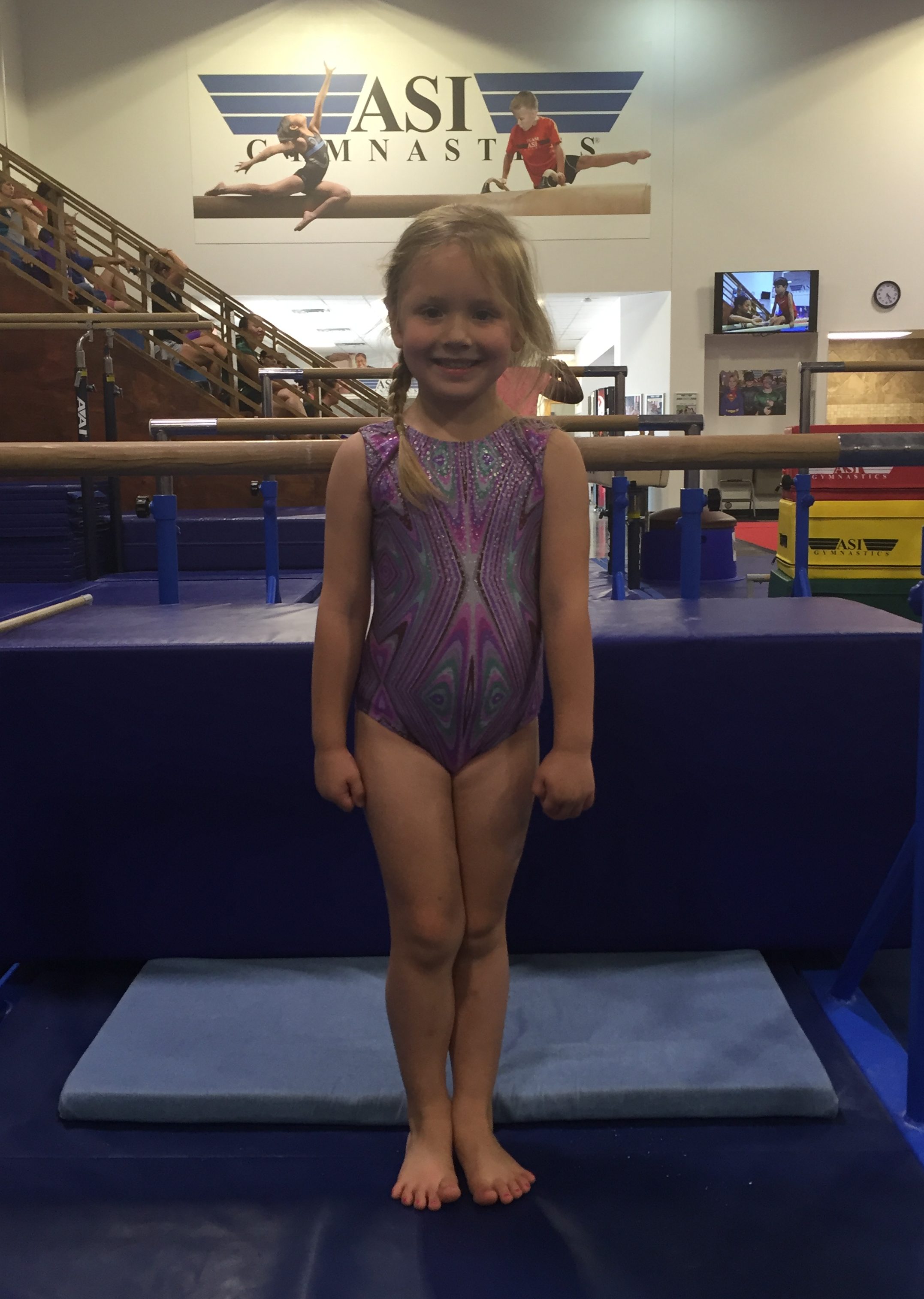 Firewheel
Madison has been taking classes with ASI Firewheel since she was 15 months old! She is currently four and in Girl's Silver with Coach Brittnee. She enjoys attending ASI because gymnastics is her favorite sport, she loves learning new things, and she enjoys seeing her friends and her coach. Madison loves her coach because she wants her to be strong and learn. She said, "She is very nice and I like her a lot." Currently, her favorite event is the trampoline. Outside of ASI she also enjoys dance and soccer. Mom explained that Madison has benefited from gymnastics in many ways.
"It has helped her with coordination, flexibility, balance, speed and confidence." -Rachel Ragan
When we asked her why they choose ASI, she said, "We LOVE the coaches at ASI. They are always friendly and engaging with the kids. They help with technical skills but also strive for the students to have fun."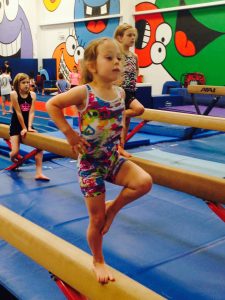 Keller
Elena is a quiet gymnast, but is always smiling through every skill that she does. At the age of seven, she seems beyond her years and works hard every class. Within six months, she has moved through Girls Bronze and Silver classes with the goal of reaching team. Elena loves coming to gymnastics because "it's fun" and she likes "learning new moves!" She also noted that it also keeps her strong and in shape. Currently, she is enrolled in Girls Gold gymnastics with Coach Kiersten. Elena says that Coach Kiersten is awesome "because she is funny. She helps me when I need help. She pushes me to do better." Her mom also noticed how much Elena is benefiting from gymnastics. She said, "Elena works harder to achieve her goals. Elena is stronger. Elena focuses more on detail and perfection." They chose ASI Keller because of the very good reviews and how the staff is helpful, very nice, and knowledgeable." We can't wait to see how Elena grows as a gymnast!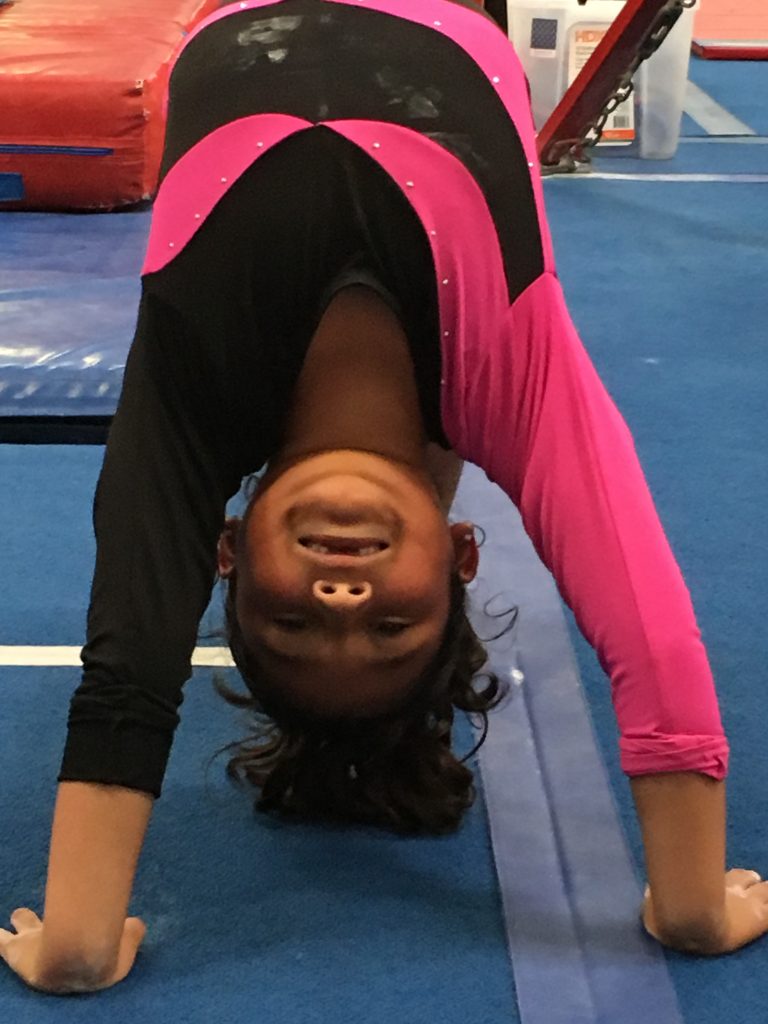 Lake Highlands
Two-year-old Giles has been attending Tiny Tots classes at ASI Lake Highlands for six months. He love to swing on the rope and jump into the pit. He also loves jumping on the trampoline. Giles plays soccer, basketball and enjoys swimming.
Giles' father said that ASI Gymnastics is benefiting Giles because he is able to learn from Coach Brittany while playing with his friends.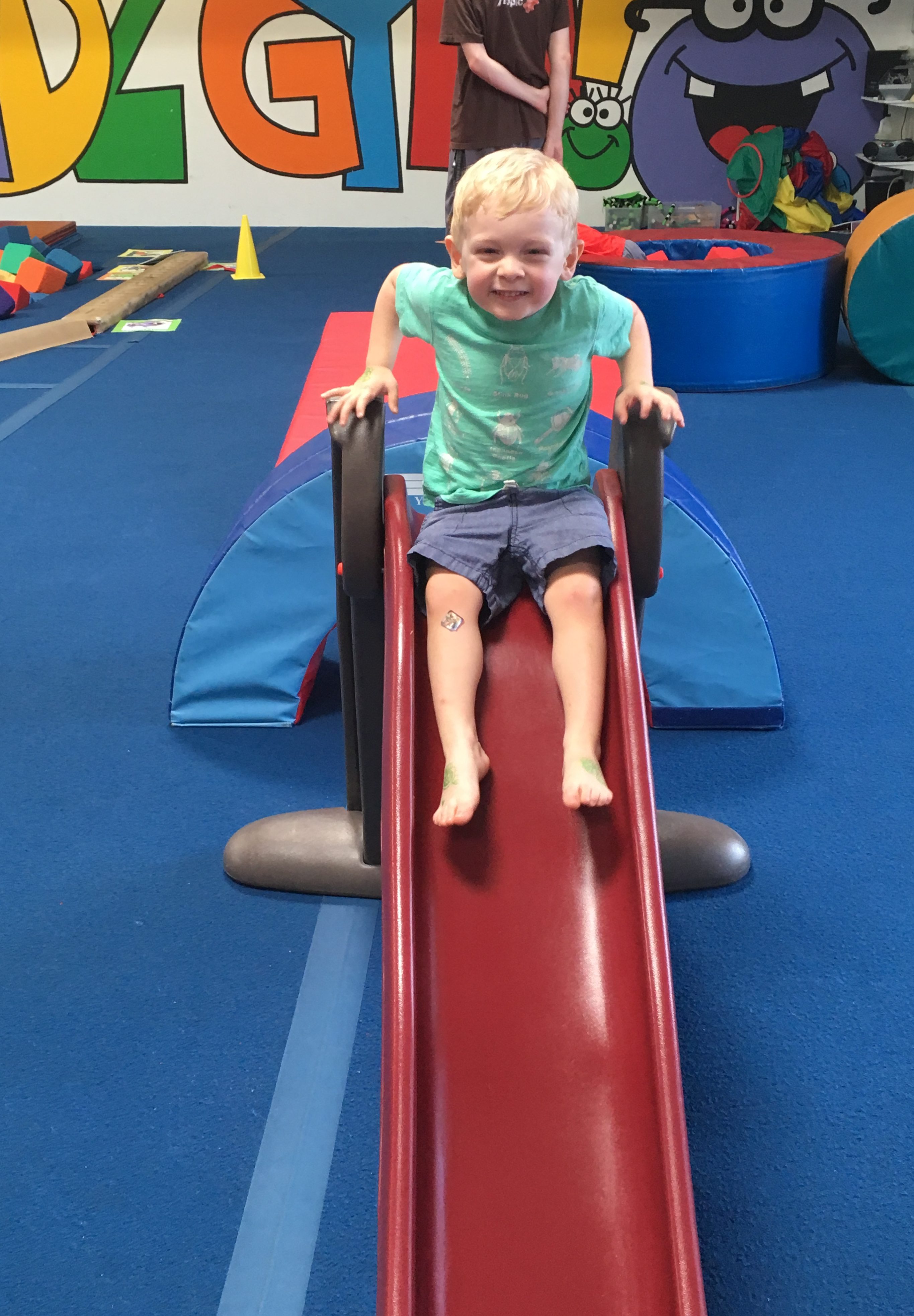 Mesquite
Four-year-old Daphne has been a member of ASI Mesquite since her days in Tiny Tots, and now is enrolled in a Kidz Gym Level 2! Daphne is one kid that can't help but make you laugh with her sweet and bubbly personality! Every week, before and after Daphne's class, you can always find her in the office entertaining all the coaches with her silly stories.
Daphne says she loves gymnastics because, "It is fun. I love learning how to do cartwheels!" She also loves her Coach. "Kelsie always has a smile for me and helps to show me how to do everything" Coach Kelsie says, "I love my coaching days when Daphne is in my class! She always makes class so much fun and definitely keeps me laughing!"
Daphne's parents say that their daughter is benefiting from gymnastics in many ways. "She is so strong and her balance has improved so much." Daphne also enjoys playing basketball and participating in dance!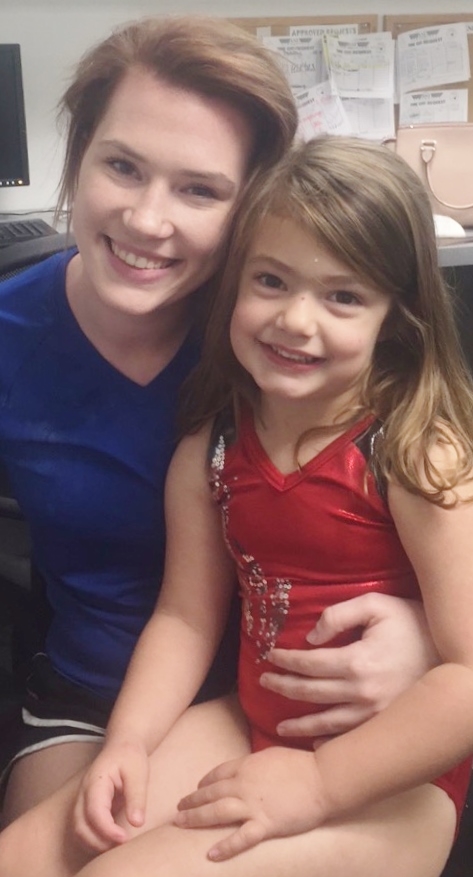 Plano West
Bailey is a Girl's Bronze student in Coach Ben's class at Plano West! She has been coming to ASI since January and is also a regular at our Open Gyms. Her favorite event is the trampolines where she likes to practice her stretch jumps, tuck jumps, seat drops, and doggies drops. Bailey loves gymnastics because she gets to do a lot of fun skills and practice her cartwheels.
Her parents decided to give ASI a try after hearing great reviews from other parents. They say gymnastics benefits Bailey because it helps with her balance, confidence, and is great exercise for her! Bailey has learned a lot since starting gymnastics and loves going to her class every week!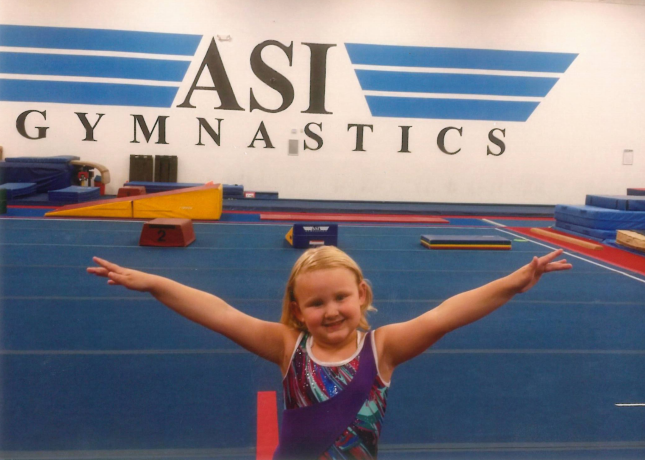 Rockwall
ASI Rockwall is so excited to have Kelton and his family as part of "our family". Kelton is a very focused kiddo who loves all sports. He is a light-hearted person and loves to make everyone around him smile and laugh. He started at ASI six months ago in our Boys Gymnastics Bronze class and has progressed to his current level in the Boys Gymnastics Gold class.  He said, "I love every Monday because I know I have gymnastics! I have the best coaches who really care about me and want me to be awesome!" Kelton's favorite events are the rings and bars, and he said "Coach Adam ROCKS!" "He is silly, funny, and hard, but it is tons of fun!"
Kelton's family said that word of mouth is definitely working for us because they heard about ASI from parents, kids, and almost everyone! They also like the convenient location. Mom said, "Kelton has grown athletically: body, soul, and mind, and they have ASI to thank for this!"
ASI Rockwall is lucky to have such an AMAZING athlete in the gym and we look forward to what the future holds for Kelton!
The Woodlands
Noah has been a member at ASI The Woodlands for almost five years! His favorite thing about gymnastics is the trampoline. He also loves gymnastics because he gets to learn how to be stronger. He hopes to be on American Ninja Warrior someday! Noah's mom Tara says that "gymnastics has built up Noah's strength, as well as his coordination. It has also given him confidence in his abilities, and encouraged him to try new things." The Woodlands is so happy to have Noah at the gym after all these years! Thanks Noah!