The competitions have officially started for the Olympic Games this past weekend, and Team USA came out in full force! The men's qualifications were Saturday, August 6th, and the ladies competed in their qualifications Sunday, August 7th. The women of Team USA were predicted to come out on top, and they surely didn't disappoint.
Our three all-arounders finished in the top three: Simone Biles, Aly Raisman, and Gabby Douglas, respectively. Simone is currently leading the pack with an almost 1.8 point lead over Aly. Although Laurie Hernandez isn't competing in the all around, she still placed top five in her competed events: 2nd on the beam, and 4th on the floor. Hernandez will be competing in the event finals for beam. Specialist Madison Kocian rocked it on the bars with a score 15.866, finishing 1st on the event, putting her into the event finals for bars. Through to individual finals are two of China's strongest competitors, Wang Yan and Shang Chunsong, who are currently in 7th and 20th, respectively. Going through to finals, despite a nasty injury on the floor, is Great Britain's Ellie Downie. She had a fall on floor, causing some neck pain, and ending her floor routine. She still came back to finish with a strong vault score, pushing her through to the finals.
The USA ladies have set themselves apart from the other countries, putting their team all-around lead at almost 10 points. Their are currently in first over China in second, and Russia in third. They are walking into team finals on Tuesday with a huge advantage over the other competitors, but consistency is still the key to taking home team gold. Other teams making it to the finals are Great Britain, Brazil, Germany, Japan, and the Netherlands.  Tuesday will prove to be an intense day of competition for all of the competitors.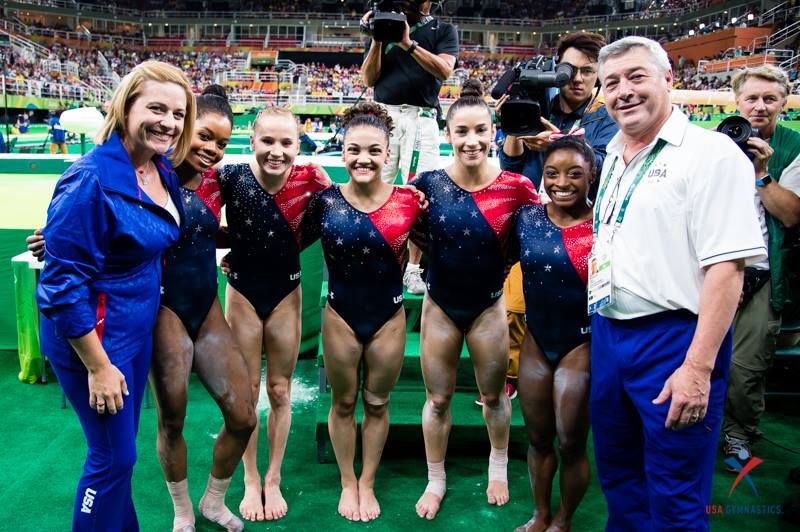 The men's qualifications proved to be a day of tough competition. Although the men weren't too thrilled to be in second behind China, they are keeping their heads up and looking towards the positive. Sam Mikulak and Chris Brooks both qualified for the individual competition on Wednesday and will surely not disappoint.
"We're going to make sure we come in with a chip on our shoulder. We still have done nothing but qualify, and that's all that matters. It doesn't matter if we're first, second, third or fourth today. It's making sure we come out hungrier than ever in team finals." (Sam Mikulak)
Other event final qualifiers include Dalton for floor exercise, Alex Naddour on pommel horse, and Danell Leyva on parallel bars and high bar. Mikulak said he had to remain focused on the high bar. Just as he was going to mount, he looked over and saw French gymnast running for his vault, the same vault that he unfortunately had a horrific leg break. Mikulak said he heard many "oohs" in the crowd, but kept his mind at ease and pushed forward to complete his own routine, finishing with a 15.133, second best behind Leyva.
The men are gearing up for team finals and are ready to give it their all. They will be competing against the best in the world, but Team USA is ready for some team gold.