The Olympics: Every four years the world's greatest athletes come together to compete and be crowned as the best in the world in their sport. As a young girl, I watched the Magnificent Seven win the first gold in women's gymnastics for the United States. I remember marvelling at their every move and stuck landing. No one can forget the image of Kerri Strug landing that final vault or Shannon Miller floating across the beam. I remember wanting to be like them. I had their poster on the wall next to my bed thinking that somehow I would dream their greatness into me.  
Fast forward to 2016, 20 years after that unforgettable moment in the sport I fell in love with so long ago. Instead of being a 9-year-old, Level 4 gymnast, I am now a 29-year-old coach of Level 4 and 5 gymnasts.  
From the Magnificent Seven to the Final Five, my perspective has completely changed. As I watched Simone, Aly, Laurie, Madison, and Gabby compete, I am still in awe of what they do, but my perspective on how they got to the Olympics has drastically changed. Yes, I'm a coach so this may seem bias, but with every great athlete comes a great coach. The athlete has to have drive and dedication, but so does the coach. The coach has to put forth as much, if not more effort than the athlete to constantly drive the athlete to be better than she was yesterday. Aimee Boorman, Mihai Brestyan, Maggie Haney, Cecile Canqueteau-Landi, Laurent Landi, and Christian Gallardo along with the National Team coaches have put in the hours with the Final Five to push them to their highest level of gymnastics. How and what did they do?  If we all knew their exact regimen, that would be incredible. However, here are my thoughts on some of what they did to prepare the Final Five and how they launched them to a gold medal finish.  
Physical Preparation.  

Looking at the Final Five, compared to the other athletes on the floor, they looked better prepared physically than the others. Yes, they had to train the skills that they performed, but a gymnast doesn't just go into the gym and start flipping around. Does a swimmer just jump in a pool and start swimming? Does a basketball player just dribble a ball and shoot it? No. Every athlete at that level spends as much if not more time following a strength and conditioning program that prepares their body for top physical performance. Aly Raisman has been very vocal about the fact that she is in the best shape of her career at 22. She says one of the biggest differences is that she started running 30 minutes every day. This increases muscular strength, cardiovascular endurance, and overall physical fitness. Simone Biles has a regimen that includes climbing a rope everyday only using her upper body. Coaches put thought into how they can get an athlete into peak physical condition.
Communication.  

Learning how to communicate with an athlete can be the biggest challenge a coach faces. Each athlete responds differently to praise, correction, and being pushed. Some girls need the tough love, others need more praise, some need to process on their own before they are ready to hear what the coach has to say. Once a coach has figured out how to effectively communicate with a gymnast, everything else becomes immensely easier. Simone Biles has performed her routines hundreds of times by now.  She knows her every move better than anyone, except her coach. Every time she finishes a routine she immediately walks over to her coach and listens to every little correction she has. During the Olympics, Aly Raisman made a mistake on beam that almost led to a fall. Her longtime coach, Mihai Brestyan started giving a visibly frustrated Aly corrections. She begrudgingly listened. He even gave her a playful tap on her forehead because both coach and gymnast knew she could have done better. In a 2013 interview with FloGymnastics, Mihai described what it feels like to coach. He said, "The athlete is your mirror." When our athletes succeed, we succeed. When they feel failure, we feel it too.
Mental Preparation.  

This has to be something developed by the athlete with the help of the coach. An athlete cannot be pushed to do something that she is not mentally prepared to do. I quit gymnastics because I could not mentally do a skill. I had fallen on it, re-trained it, and could physically do the skill, but mentally I was stuck. If my coach had taught me to think from the angle of mental preparedness, I might have been able to go further in my gymnastics career. Looking back on the experience strengthens my ability and sensitivity to coaching the mental aspect of every skill my gymnasts perform.  I want them to be able to physically do the skill, but also mentally be able to understand the "how" and "why" of what they are doing. You can be the best coach in the world and have the most athletic gymnast to work with, but if the athlete cannot mentally do what is being asked of her then she will stunt her growth in the sport. Aimee Boorman has done interviews and discussed some of her methods she uses with Simone. She knows when to push Simone and when to let Simone warm up to a skill. Simone is known for her skill, the "Biles." Aimee didn't push her to do it. The skill was something Simone decided to try because Aimee had coached her to know her body and her athletic ability.  This allowed Simone the freedom and confidence to experiment and grow her long list of skills that she can perform.
Behind every great athlete is a coach who is just as dedicated as the athlete. A truly great coach will take the time to learn how to best accelerate the growth of the athlete through physical preparation, communication, and mental preparation. An athlete may be the one standing on the podium with the gold medal, but behind her is a coach who helped her every step of the way and grew in their abilities alongside their athlete.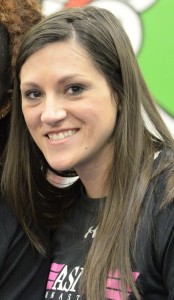 About the Author
Tiffany Warren is the ASI Girls Recreational Gymnastics Director and continues to coach preschool, girls recreational classes, and competitive team Level's 3 and 4 at ASI Arlington. She has been at ASI since June 2012, but has been coaching gymnastics for 15 years. She was a competitive gymnast through level 6. She is a graduate of the University of Central Oklahoma with a degree in Journalism/Public Relations. She is a certified USA Gymnastics coach and continues her education in the sport of gymnastics by attending USAG Congress and the Gymnastics Association of Texas' annual convention.