Allen
ASI Allen has the privilege to have their very own little ray of sunshine, Allana. Once she walks through the gym door, she is ready to go with Coach Casey! Casey loves being Allana's coach because of her amazing personality. She says, "She's smart, playful, and energetic." Allana has been taking classes at ASI Allen for two and a half years now. She loves to play while learning gymnastics.  The fun does not stop at ASI Allen; it continues in every activity she's involved with outside of gymnastics. Allana is also in ballet and competitive cheer. As we can see, she's a triple threat!
When Allana comes to gymnastics, she loves jumping on the trampoline! It is the main event she looks forward to every week when she's with Coach Casey. Mrs. Hussain says Coach Casey is, "Amazing! She has the most patience with Allana." She also believes that Allana benefits from gymnastics because "Allana is able to learn gymnastics techniques in a positive, caring environment which has increased her confidence and motivated her to reach her full potential.  Mom was in search of a gymnastics center that would integrate special needs kids into their program when she drove by ASI Allen. She then saw an ad in a special needs magazine. Once she saw us twice, she knew it was meant to be with ASI. Mrs. Hussain also enjoys bringing Allana because it is the first place she found that had one-on-one instruction for special needs children. She shopped around, but with ASI, she said we truly understand how critically important it is to build and foster an inclusive environment for special needs athletes.
One of the many fun accomplishments Allana has done at ASI is compete in our Gymmie Kids Meet twice! It is one of the greatest events ASI Gymnastics hosts that she looks forward to every year.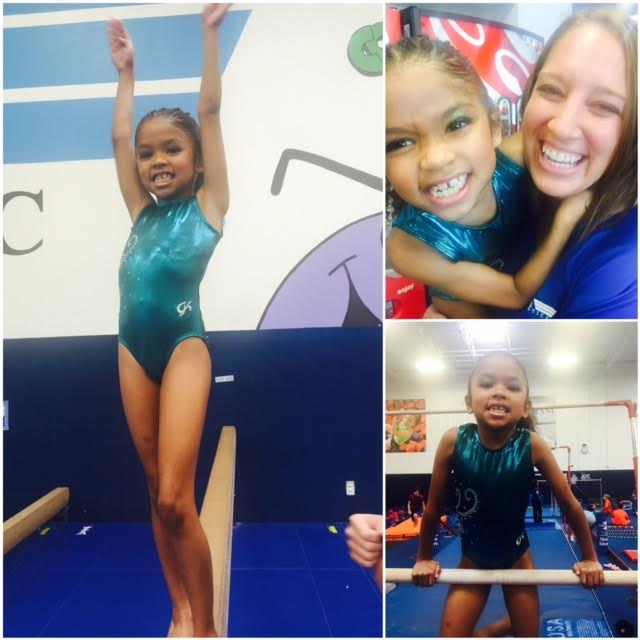 Arlington
Nadya walked into ASI Arlington six years ago, and she was excited to see all of the kids playing and the smiley faces on the wall. She was turned away by other gymnastics facilities who wouldn't give her a chance because she was more awesome than they could handle. ASI Arlington was just the place to make her dreams come true! The Arlington staff looks forward to seeing her eagerly jump out of the car when her parents pull up in front of the gym for class.
Her parents love the attention Coach Tiffany gives her every week. Knowing that her coach will be patient and understanding reassures them that she is in good hands. When Nadya first started, she was very resistant at the thought of participating in class with other kids. Now, she is " Miss Independent". She does all events by herself, for the most part, with minimal assistance. Her mom mentioned that a lot of the benefits she is gaining from the sport of gymnastics are gross motor skills, concentration, motivation, and becoming more independent. Nadya is definitely one of ASI's finest. We are honored to have such a committed member of our Arlington family!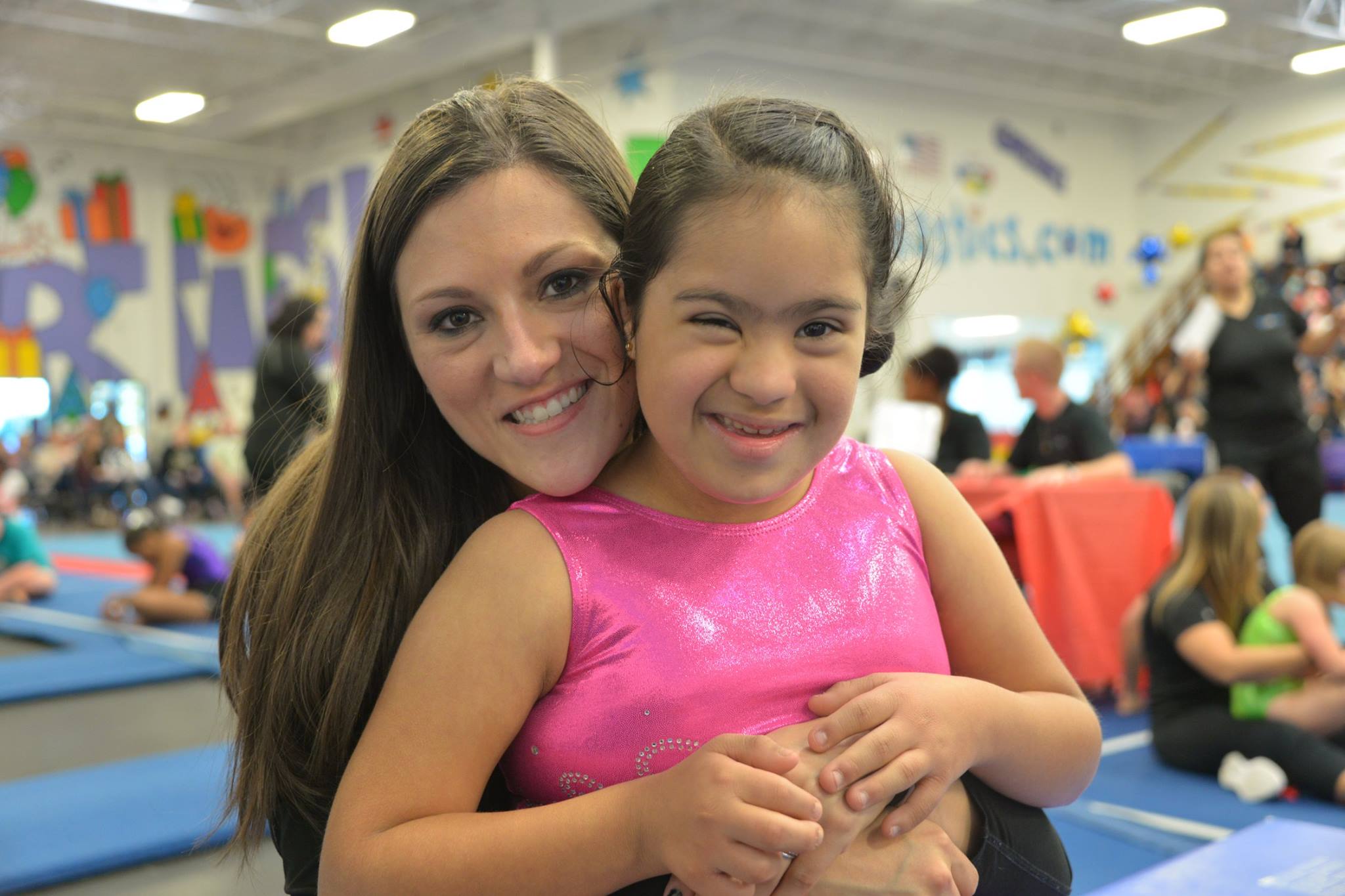 Firewheel
Aubrey is two years old and has been attending ASI Gymnastics Firewheel for six months! She loves coming to gymnastics to be the best she can be. Her favorite event is bars. She also loves Coach Marcie. Aubrey and her family said that they love Coach Marcie because she is awesome and always corrects Aubrey. She also shows her how to be the best in every aspect of gymnastics. Thanks Coach Marcie! Moms said she sees Aubrey getting stronger and more advanced. She loves watching her child grow and seeing all the talents that she is capable of. Outside of gymnastics,  Aubrey enjoys being active and trying any new sports. We are so excited to see how Aubrey continues to grow as a gymnast!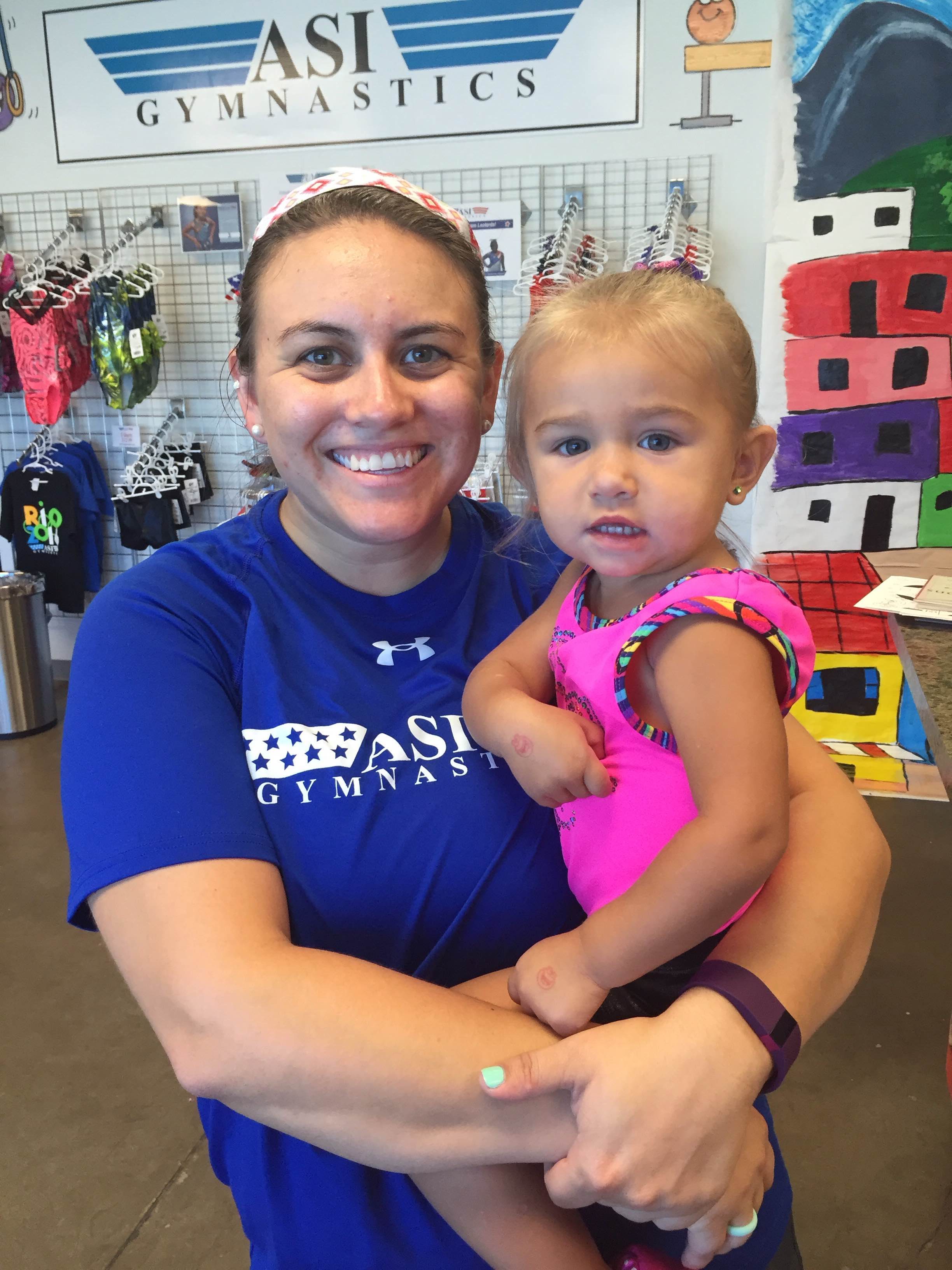 Keller
ASI Keller's Student Spotlight this month in Kidz Gym is Sadie! Sadie has been attending gymnastics classes at ASI Keller since she was just a Tiny Tot and has been gracing us with her presence for nearly two years now. Her favorite event is the Trampoline! Sadie loves gymnastics because she likes working her way through the tunnel, and she loves doing front rolls. She is coaches by Coach Kiersten and Sadie says she is awesome. Why, you may ask?  "Because I love her!" (We have it on good authority that Coach Kiersten loves Sadie right back!) Sadie's parents love gymnastics for her because "she has strengthened physically and her confidence has drastically improved." We love hearing that here in Keller, and we can't wait to see how far Sadie takes her gymnastics!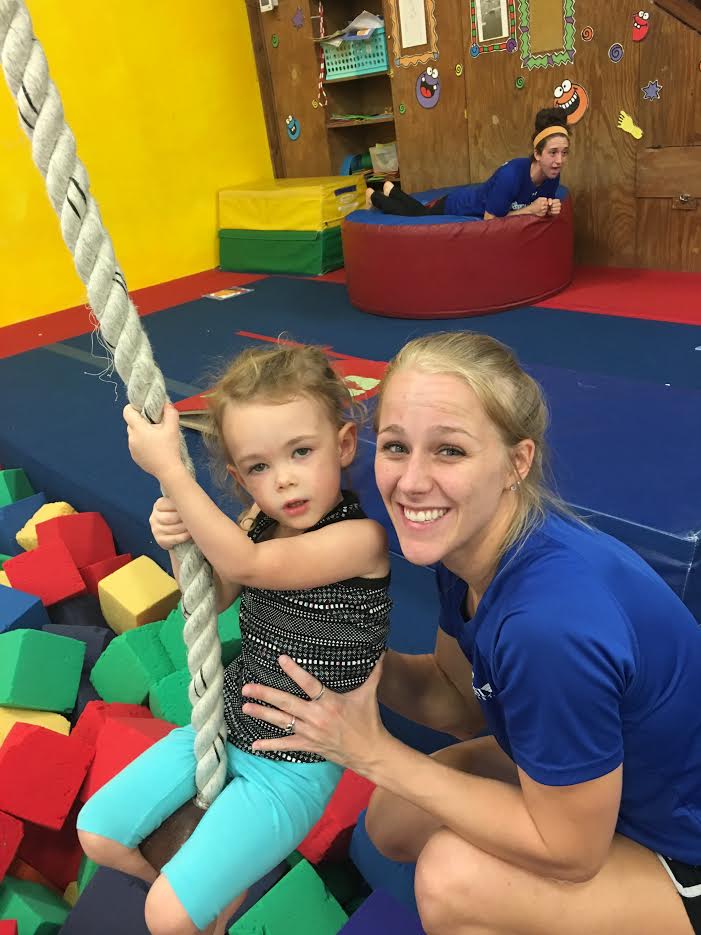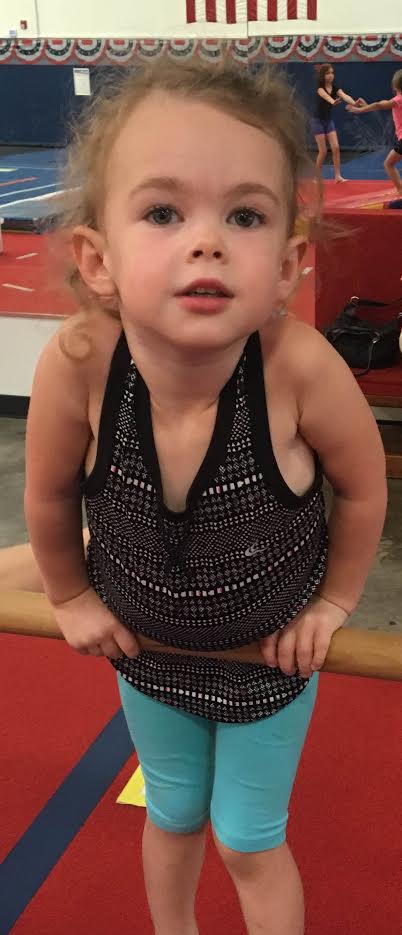 Mesquite
Five-year-old Dante can make anyone smile and laugh with his upbeat, bubbly personality! Starting off in Kidz Gym 1 a year and a half ago, Dante is now currently enrolled in Boys Bronze with Coach Damian. Dante's favorite event is the Rings, especially when he gets to go upside down! When we asked Dante why he loved gymnastics his answer was short and sweet; "My coach, he's awesome! He taught me to do cartwheels!" Coach Damian says, "Dante is such a hardworking student. He always comes to class ready to learn new skills! One thing I love about him is that no matter what, he is always smiling!" Outside of gymnastics, Dante loves bike riding and dancing. His active lifestyle really helps in learning new skills in gymnastics, and most importantly helping him live a healthy lifestyle! Dante's parents say he is benefiting from Gymnastics in many ways.
"He really has benefited from the discipline and concentration required to learn skills safely and accurately. He loves practicing his skills at home, and understands that it takes a lot of patience and practice to see improvement."
We also asked  his parents, why they chose ASI.
"My son can be his bubbly, energetic, bouncy self, and he fits right in with all the other kids. The coaching staff is amazing—so kind, generous, and understanding of all the different personalities, abilities, and temperament. We can't wait to see our kids grow up in the ASI Family."
While Dante's in class every Monday night, his little sister Ava is even getting her gymnastics practice in her Kidz Gym 2 class! In the year they have been enrolled, Dante's family has really become a part of ASI Mesquite Family. We can't wait to see Dante and Ava grow and learn through the sport of gymnastics!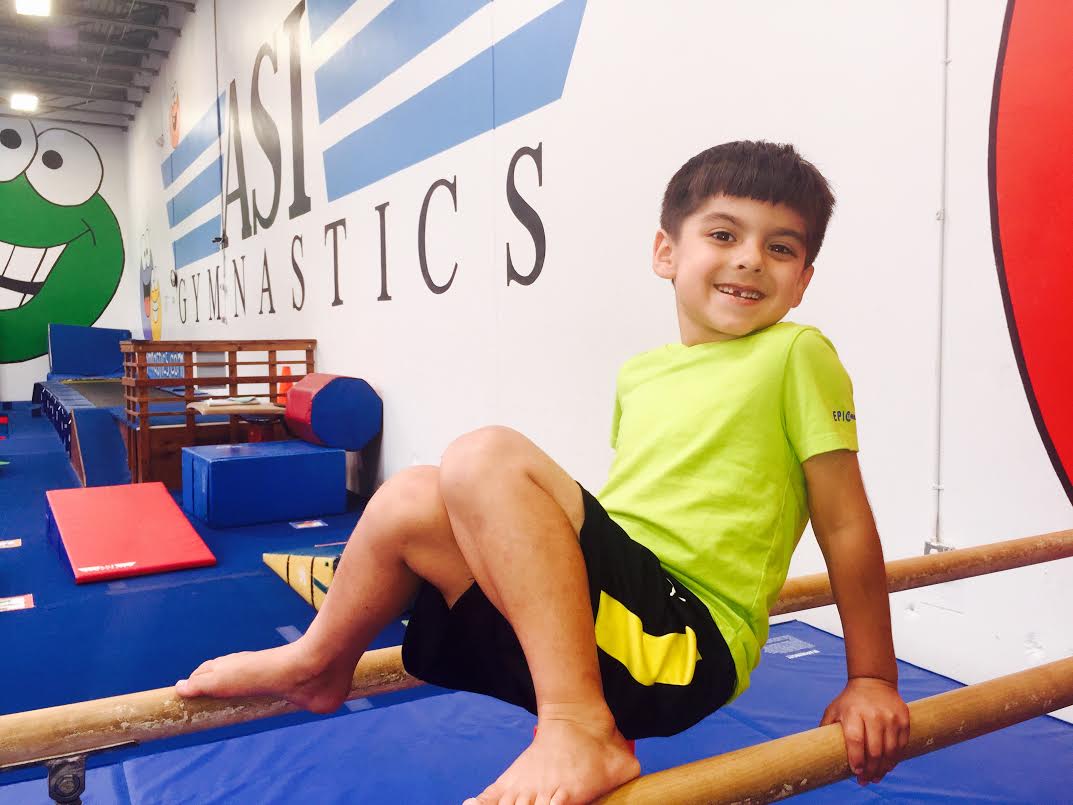 Plano West
Lillie is one of our dynamite Power Tumbling students! She is currently is in Power Tumbling Silver and working to master her favorite skill, the back handspring! Lillie started Power Tumbling almost a year ago after beginning in Girls Bronze and is now on the Girls Level 1 team. Her favorite event during Power Tumbling class is the tumble track and climbing the rope. Outside of gymnastics, Lillie also does soccer and softball. She says she loves gymnastics "because the coaches are nice!" Her parents say she is benefiting from gymnastics and tumbling tremendously.
"Her strength has gotten noticeably better, and when she plays soccer you can tell her balance is a lot better."
Her first coach at ASI Plano West was Coach Meredith, and Lillie's parents could see how great she was with the kids. "Every coach since then has really impressed us too, so we keep coming back!"
We love seeing Lillie accomplish so much during her practices and can't wait to see what she accomplishes next!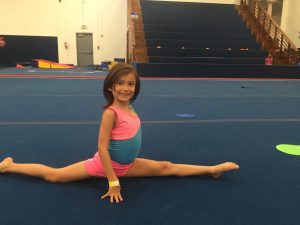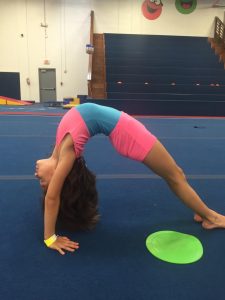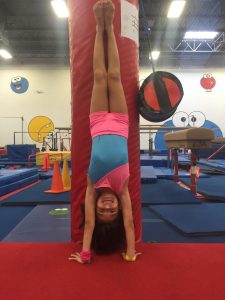 Rockwall
Amanda is one of Coach Kirsten's Girls Team Level 3 gymnasts, and Rockwall is lucky to have such an amazing athlete. She started at ASI Rockwall in December of 2011.  Mom said they drove by the gym frequently, and were also recommended to ASI Gymnastics by a friend. When Amanda was asked what she enjoys and loves about gymnastics, she was quick to reply, "Beam is my favorite event, and I love that I am constantly learning something new. Plus, Coach Kirsten is very patient and fun but most importantly, she is a great instructor who makes gymnastics fun."
When Amanda isn't at ASI, she loves to play volleyball. Her family loves the discipline and responsibility that competitive gymnastics has taught Amanda. She keeps up with a very busy schedule and maintains good grades in school.  Mom said, "Amanda loves gymnastics – it's her happy place!"
ASI Rockwall is extremely fortunate to have someone in the gym who appreciates the sport of gymnastics like Amanda. We can't wait to see what the future has in store for Amanda, and we wish her the best of luck in her 2016-2017 gymnastics meet season!