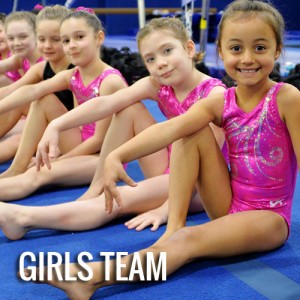 The new year has begun and competition season is revving up! Competitions are an exciting time for ASI team athletes to show us what they've been working on all year long! They practice their new skills, their routines, and work on conditioning exercises in order to be ready for competitions. The coaches and athletes put in hours of work to make sure they are ready!
Although there are many team athletes, the gyms are filled with excited recreational students! During their weekly classes, rec students watch and see the team girls working diligently in their practices. Some look to them for inspiration and motivation, and some are hoping to be on team some day!
So, why should you attend the competitions to watch the team girls?
A New Motivation: An hour long class once a week is a great start to gymnastics. It's a great way for your child to get introduced into the sport, and create goals for their gymnastics future. Attending a competition would give your gymnast some motivation to reach for bigger goals, attend more classes, and achieve to be on team one day! Watching the team girls compete their routines, and thinking about all of the work they have put into them, will surely inspire your young gymnast.
A Feeling of Commitment: As of now, your gymnast probably practices about an hour per week, possibly two depending on how many classes they are enrolled in. Attending a competition will inspire your gymnast to take on more hours in the gym. They will see that the gymnasts competing at these competitions attend the gym more than one hour per week. This will give your gymnast some insight on the commitment it takes to be on team!
Team Support: It would be great for recreational students to attend a competition so that they can give Team ASI even more support! All of the athletes competing work so hard on their routines and they deserve a lot of support!
Goal Setting: Some recreational students who are in the Silver level or higher may already be thinking about joining team someday. Attending a competition will help them set goals on certain skills and strength levels that it takes to be on team. Those already dreaming of being on team will receive that extra bit of inspiration to set those goals even higher!
We hope that more and more recreational students attend the competitions coming up this spring!

---
Interested in getting involved? ASI offers families the opportunity to earn tuition credit by assisting at any ASI hosted meet. This is a great opportunity for anyone interested in learning what meets are all about! The minimum age to volunteer is 9 years old.
Adults volunteers (ages 15 and older) will earn a $25 tuition credit per session
Children volunteers (ages 9-14) will earn $15 tuition credit per session