This past weekend, Team ASI competed at the Sand Dollar Invitational, a USAG meet hosted in sunny Kissimmee, Florida!  The team consisted of Level 4's, 5's, and 6's from ASI Allen, Arlington, Firewheel, Keller, Lake Highlands, and Cypress. The girls competed on Friday, January 20, and then enjoyed a great weekend in Florida! They were accompanied by ASI coaches Isis, Laureen, Anna, Alyssa, Candace, and Elizabeth. There were women Level's 1-10 competing from all over the country! It was a long day of competition, as the ASI girls competed all day long on Friday, but they did so well and are now getting ready for their next competition.
Level 4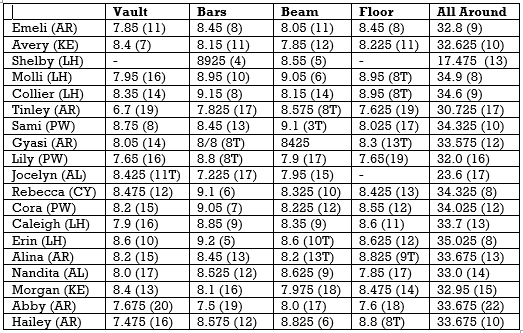 Level 5

Level 6

Isis, SI Team Director – "I thought it was such a great experience for the girls to compete as one team this year. It was such a great feeling to see the girls interact and support each other on the floor. The parents really united together as well and I think we had the loudest cheering section the whole weekend. Coming back from this meet I think it will create long lasting friendships between the girls that will carry over into our local meets. It was a really proud moment."
Barnack, ASI Facilities Supervisor – "The energy was building as people made their way to the ESPN Wide World of Sports. Wow! Even though I've been there before something about that venue gave me goosebumps… I can only imagine how these kids felt at their age coming to a stage like this to compete in a sport that they love. The atmosphere in the auditorium was great. It was BIG. People were happy to be there to support their kids and excited about the competition going on in the various gyms. As I scanned the observation areas, bleachers, and floor looking for ASI people, I found some familiar faces. Faces that I see at ASI meets. I saw entire families of athletes represented by Arlington, Keller, Lake Highlands and Allen. I also saw some people from the Cypress gym but did not know them so I introduced myself…I just plopped down next to them and started a conversation. It was great. As I got to know them, it was clear to me that the love they have for their kids is "youuuge" as our new president would say. There were tons of memorable moments. I'd like to share two of them that stuck out. The first one was during the Level 5 competition. All the families had gathered on one side of the auditorium in the bleachers. They had made signs and were excited to cheer on their ASI gymnasts. Just before the Level 5's competed on bars, we were talking and watching the girls warm up…to be frank, they did not look good during warm-ups. And not just one or two of them, but the whole group. You could see the disappointment on their faces. They were not happy. When the first gymnast saluted the judges and approached the bar, the anxiety was high. With each completed skill she seemed to get stronger and stronger and stronger… Then, the dismount… Stuck Landing!! What?? Are you kidding me right now!!  The audience erupted with applause …AWESOMENESS!!! The energy at that moment was incredible and it must have affected the rest of the Team because every one of them killed it!  It was a great moment and it helped propel them to 1st, 2nd, & 3rd in the All-Around."
"The second thing that stuck in my head for this weekend's competition was also an incredible thing to witness. I was given an opportunity to take pictures, which I love to do. As I struggled to figure out how to get the best angle to capture just the right moment, I settled into a spot in front of beam. The team from ASI Arlington was warming up. They were paired up with another group of athletes from Missouri. As each gymnast performed their routine, you could hear the typical "come on, you got this" and "let's go" from gymnasts supporting their teammates throughout the gym. But something was different. I couldn't put my finger on it because I had one eye in the camera and the other was closed while I tried to get as many good shots as possible. Then I heard it again…"Come on Alina"….I paused, looking at the other Arlington gymnasts hoping to catch where the encouragement was coming from. Nothing. Back to getting more action shots. Then it happened again. "You got this Abby" …then again; "Come on Abby." I didn't give it much more thought but when Hailey stood there waiting for the judge to salute, I heard "Let's go Hailey, you got this girl." But this time, I wasn't taking a picture, and I heard where it was coming from. A team from Springfield, Missouri – Ozark Mountain Gymnastics. It gave me goose bumps. At the awards presentation, I caught up with their coach and told her that I saw what her kids were doing on the floor! She was a bit defensive and said, "Oh really? What were they doing?" I said that I heard them cheering on our girls while they were competing at beam. She was relieved and said that they try to teach their athletes about cheering others on and being good sports. So when I saw the ASI team and told them that it was their competitors that were encouraging them and what a great quality that was in an athlete, they said how cool that was. When the Ozark Mountain Team came into the awards arena, the ASI Team girls gave them a big group hug and thanked them for encouraging them. A couple of the moms were behind Coach Rebecca when I told her about this awesome show of sportsmanship and they could not contain their emotions. I was impressed to say the least. And when the ASI girls asked why the other team did that, I said because that's what good sports do."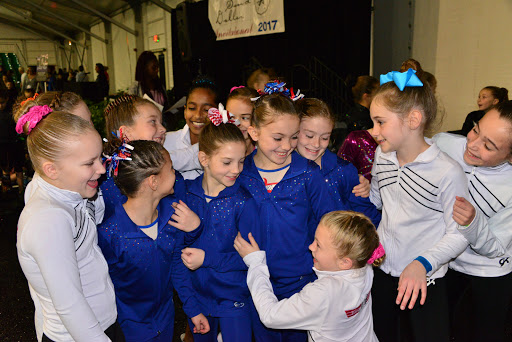 Laureen, Level 3-6 Team Coach – "It was exciting for those girls who went to the Sand Dollar Classic last year because they really wanted to improve their performance from what they did the previous year. Florida judges judge more strictly than Texas judges, and that was a hard adjustment last year. The girls were much better prepared this year and it showed both in the ones who had been there before, and for those going for the first time. It was exciting to hear about all the awards the girls received and to see their excitement when they hit their routine. I agree with Isis, that competing as one team helped the girls feel more supported and confident in their performance."
Overall, this was a meet all about team work and perseverance. There are new friendships formed and new motivation moving forward into competition season. Congratulations to all of the athletes who competed, and we can't wait to support you at the next one!