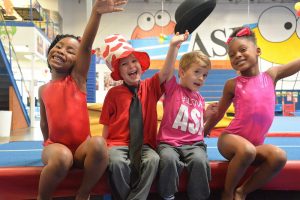 Are you wanting a night off? Are you in need of a much-deserved date night? Do your kids need a night of fun out of the house? If so, ASI Gymnastics Valentine's Parents' Night Out might just be your answer. On Saturday, February 11th from 7pm-12am come drop your kids off for gymnastics, games, crafts, and pizza!
After you leave your kids at ASI for some fun, it is time to treat yourself. Here are five ideas to make the most of your Valentine's Day.
Get a massage: What better way to really get in a relaxing mood then a massage?  Take some time to pamper yourself and enjoy the silence, while your kids are getting their energy out.
Go to a comedy show: Laughing is one of the best ways to relieve stress, so a comedy show could be exactly what you need. While you kids are away at Parents' Night Out, kick back and enjoy the entertainment!
Go to dinner: A nice dinner with good conversation is something everyone needs to make time for. No need to worry about kids menus, the kids will be having a pizza party at Parents' Night Out.
Stay in: This is the ultimate relaxing Valentine's date night. While you are kid free, you can curl up on the couch and watch a movie or read a book, with no interruptions. What could be better?
Go see a movie: An intriguing movie is always a good idea for Valentine's date night. No fighting over what kids film to go see, it can be all up to you this Valentine's.
With so many possibilities, what reasons could you have not give you and your children a night of fun?
PRE-REGISTER