Allen
Jeremy is in our Boys Gymnastics program at ASI Allen. He has been here for almost a year and takes two Boy's Gold classes with Coach Danielle and Coach Victoria. He loves coming to gymnastics to he can continue to get stronger. He loves his coaches "because they're cute and they teach me a lot!" Other than gymnastics, Jeremy also likes to play soccer!
For mom, she enjoys taking Jeremy to gymnastics because "he is getting stronger, more coordinated, and he is making friends." They heard about ASI from a friend who said it was a perfect place for boys to take gymnastics and get exercise. We are so happy to have Jeremy and his family be a part of ASI Allen!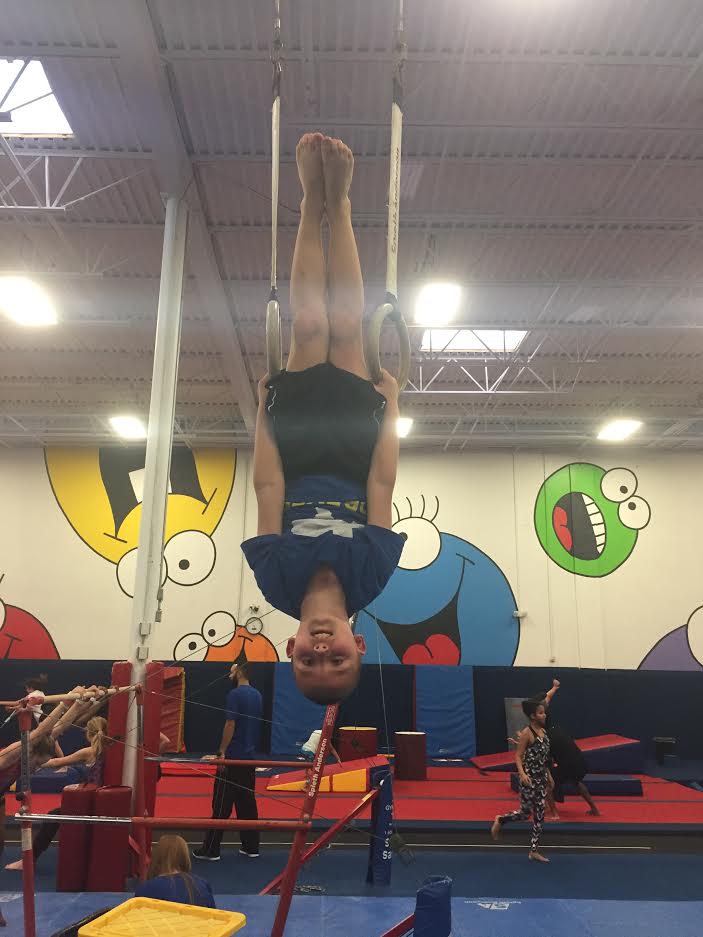 Arlington
Landon has been taking classes at ASI for five years now. He is in Coach Hani's Boys Gold Gymnastics class. Landon began taking classes because he wanted to get stronger, improve his gross motor skills, and core strength. He was born a micro-preemie, and it has been a joy to watch him overcome obstacles throughout the past five years. His parents have even noticed the strength he has gained since taking gymnastics. They enjoyed the encouragement Landon receives from both his coach and fellow students. Outside of gymnastics he also loves basketball, baseball, and watching football. We here in Arlington are excited to meet the needs of Landon and his family every week.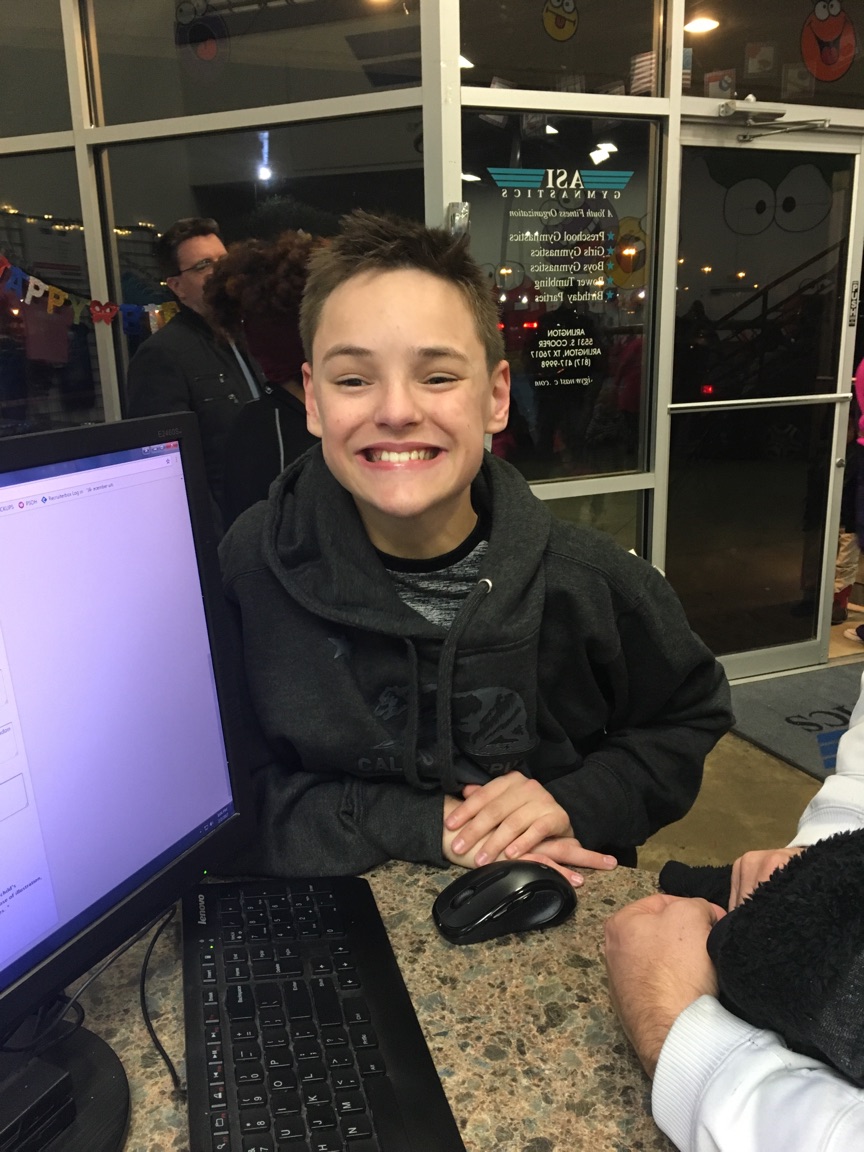 Cypress
ASI Cypress would like to introduce you to Brooke! Brooke is enrolled in Power Tumbling Silver with Coach David. She started at ASI Cypress in August of 2014. After a two-year break from gymnastics, she started back with us in August of 2016. We are so excited to have Brooke back in our gym.Brooke loves coming to class each week because she enjoys getting better at her skills. She is so excited to have her round off back handspring finally!
Brooke's family loves the family friendly atmosphere of our gym and the location within our community. Brooke's parents said that her confidence is soaring. She practices all the time, and they love that her perseverance is paying off. She gets stronger with every class. Mom said, "I love that Brooke has a place to shine."When we asked Brooke what she likes about Coach David, she said: "Coach David is fantastic because he helps me a lot, gives me valuable tips and is very encouraging."
We are so happy that Brooke and her family love coming to ASI every week, and we can't wait to see continued growth and improvements in power tumbling.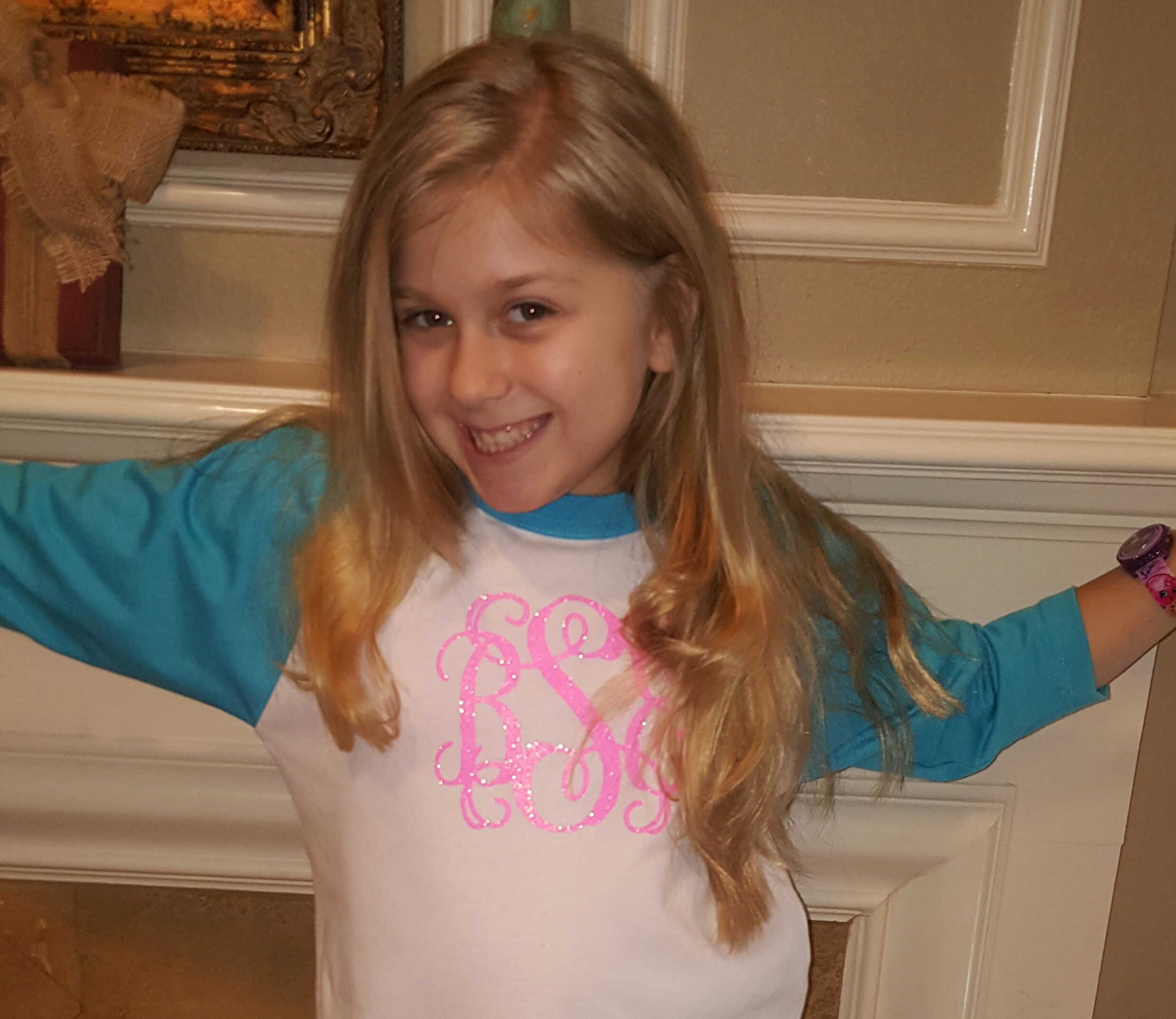 Firewheel
Angel is 11 years old and is currently in our Boys Team Level 4 with Coach Tanner, and is also in Power Tumbling Silver with Coach Leith. Angel has been attending ASI for two years now. He started off in our Boys Bronze class and worked his way up to team in less than a year. Angel loves coming to gymnastics because " I get to learn and do excellent routines, and participate in events." His favorite event is the high bar.
When we asked Angel's mom how he was benefiting from Gymnastics, she said, " He can work with others, socializing, creating new friendships, learning about teamwork, working hard to meet goals and staying healthy and fit!" Since day one  Angel's mom said: "the coaches to the front desk staff, everyone has been attentive, caring, and supportive."
Angel is such a joy to be around. Always happy and with such a positive attitude! We are so glad to be able to see him grow in life and gymnastics.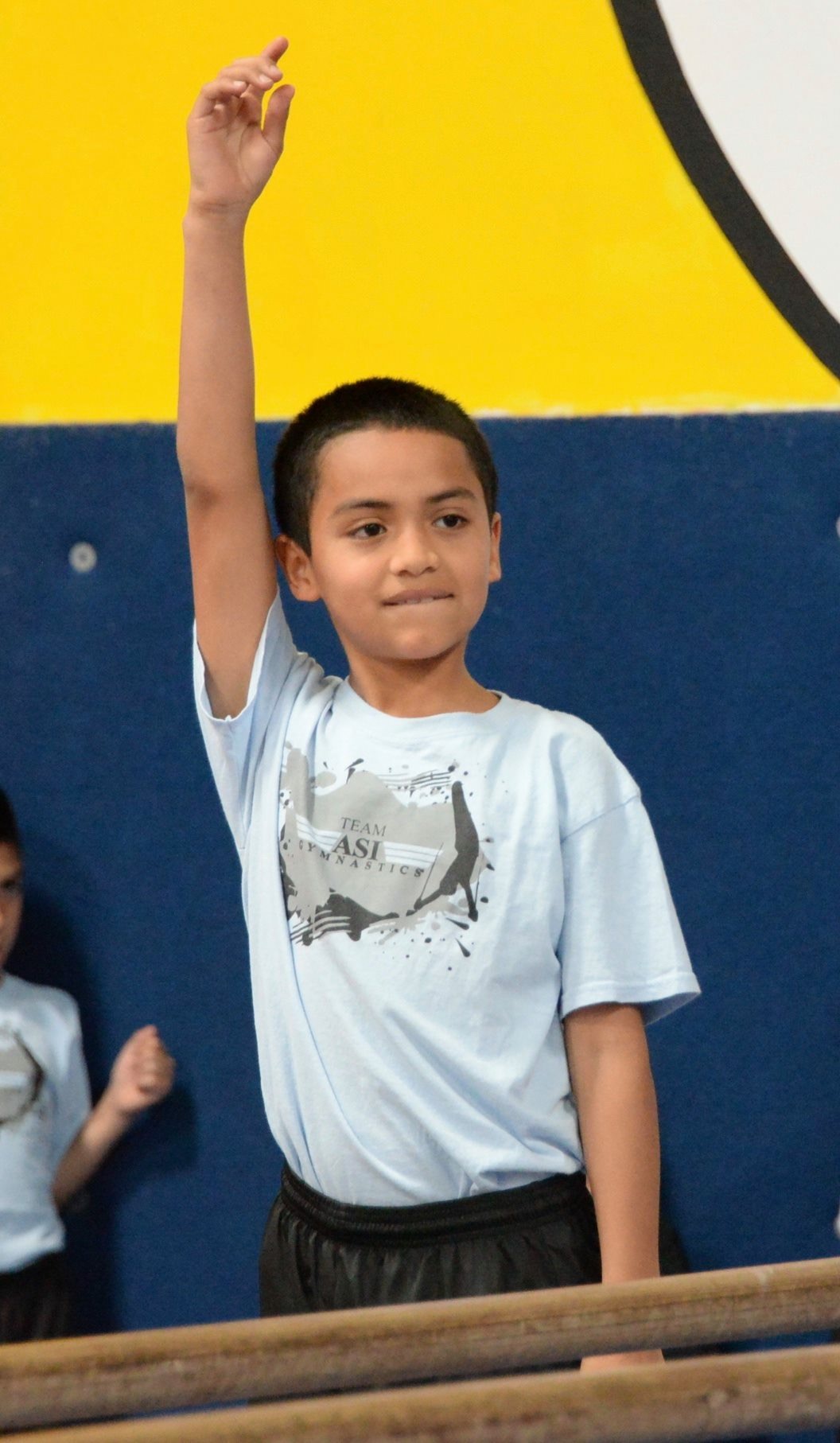 Keller
Weston is a Level 4 gymnast on our boy's team here in Keller. Weston can be found in the gym working on team skills and power tumbling several days a week. He stands out as one of the hardest workers in the gym, and his skills show it! On top of working hard, Weston is known for always encouraging and cheering on his fellow teammates and being an overall great teammate. His positive attitude makes a big difference in every practice!
In addition to gymnastics, Weston enjoys baseball and tennis. He loves gymnastics because "it is fun, challenging and I like my friends."He also loves Coach Jordan because he "is an awesome coach who pushes me in gymnastics in a good way." Weston's favorite event in the gym is parallel bars just like Coach Jordan. His family discovered ASI by driving by, for they live in the area. They have chosen ASI because it is "a fun place for competitive gymnastics." They love gymnastics for Weston because he "has gained confidence, maturity, leadership and strength." Weston embodies all of the characteristics of a great gymnast and true leader, and his smile while working is evidence that he has a blast doing so! We love Weston and the entire Taylor family here in Keller and cannot wait to see how far each of their gymnasts go!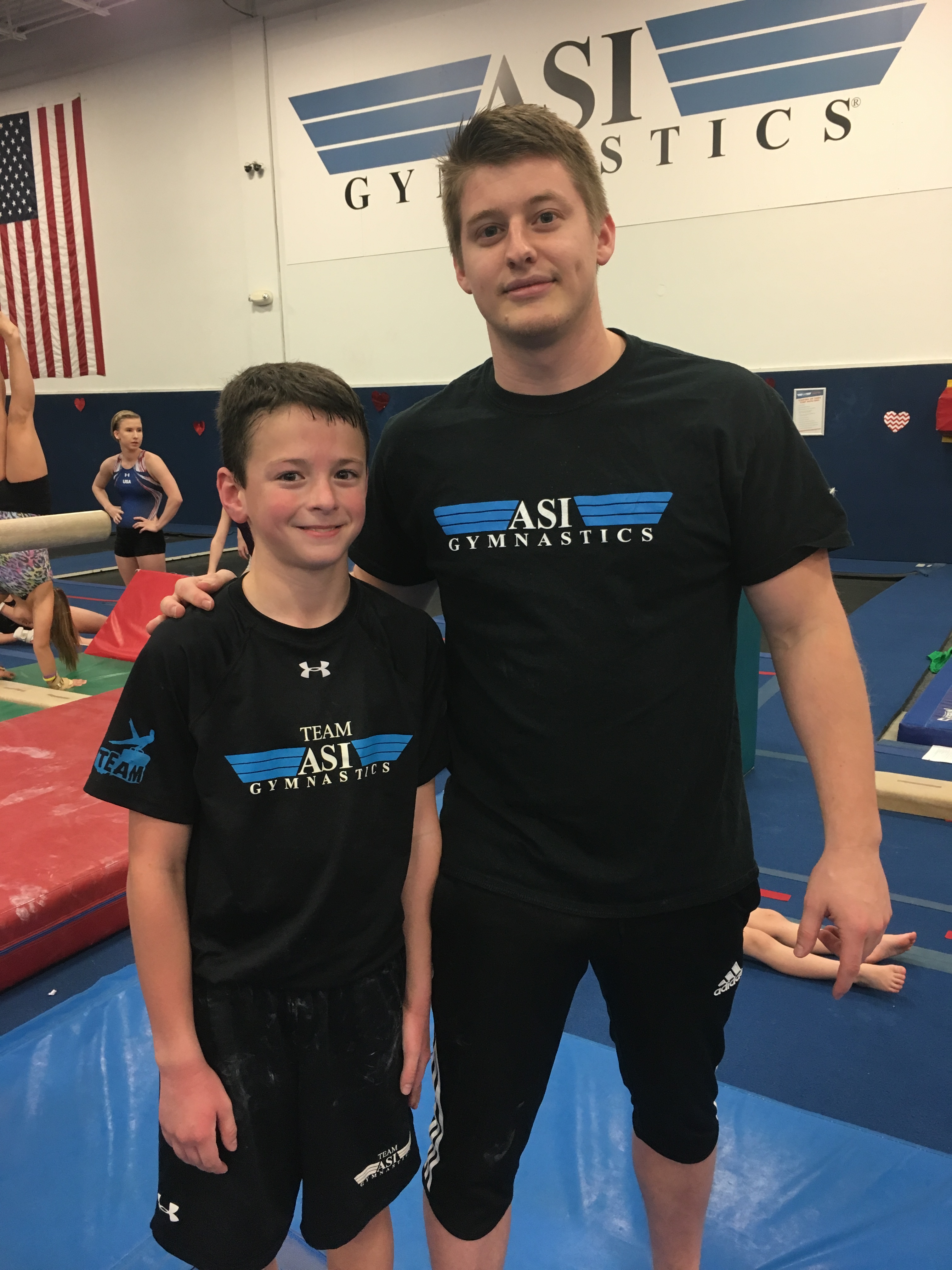 Lake Highlands
ASI Lake Highlands is happy to give the Student Spotlight to Sophie! She is a spunky and wonderful seven-year-old student who is learning what the Girls Silver class has to offer. She thinks her coach, Coach Sarah, is incredibly fun and loves the time spent on the trampolines. Sophie has been with ASI for about three years and has grown a lot over her days with us. One of the biggest reasons she enjoys coming to ASI is to jump into the pit when they have their free time.
Sophie also likes to play basketball, soccer, and practice her ballet skills. Her parents brought her to ASI because they live across the way, and wanted to see what we had to offer them. Her father, Bill, thinks that she has gained more confidence since coming to gymnastics and is gaining skills for other activities later on in life. We are so excited to have Sophie with us every week!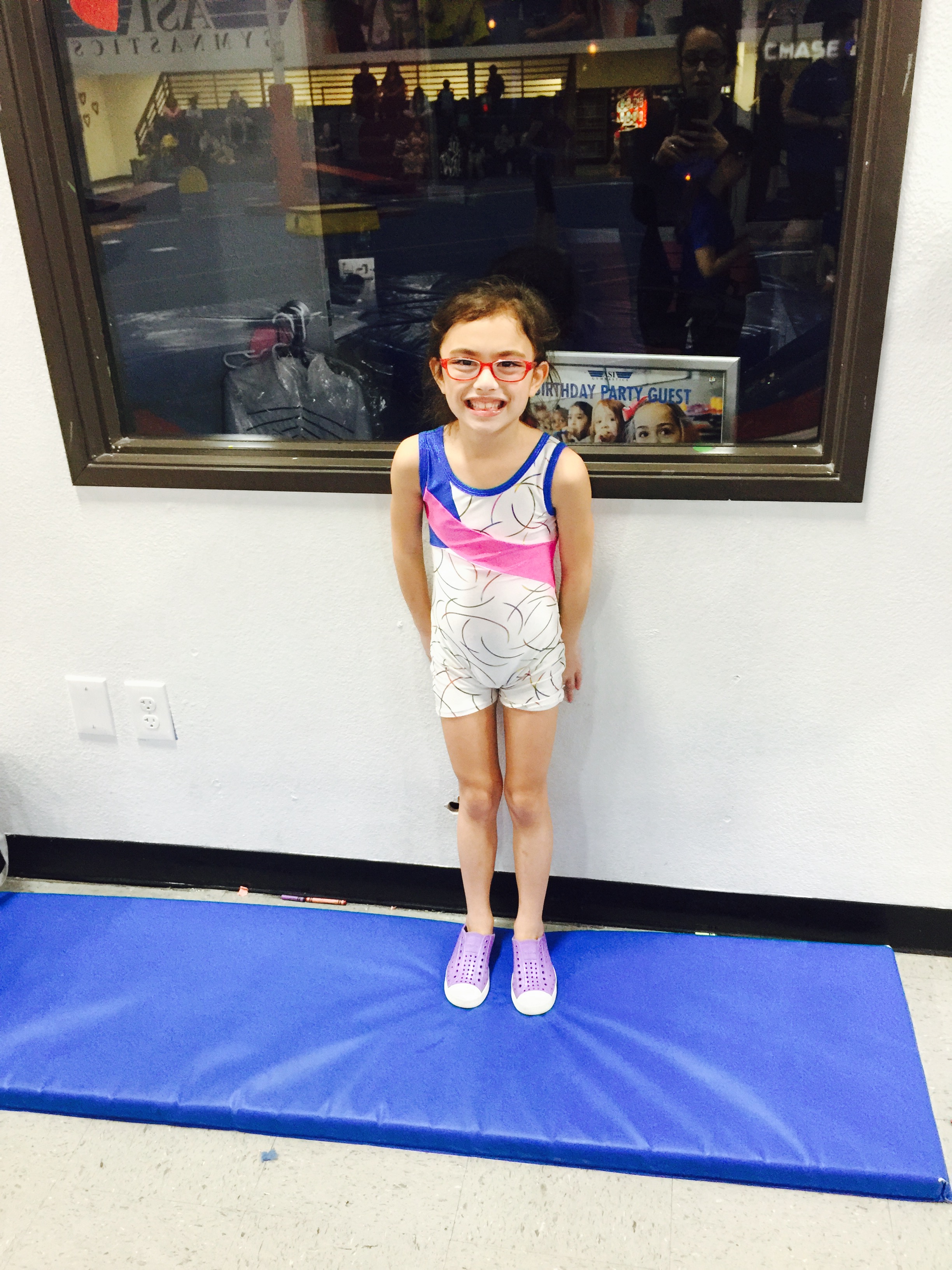 Mesquite
Precious has only been enrolled at ASI Mesquite for about four months now, but in that time she has promoted all the way up to our Gold Level! Precious comes to class every Tuesday night ready to work hard and learn more skills! Her coach, coach Alyssa, loves getting to work with Precious. "She has so much drive and love for Gymnastics that she pushes herself to be the best she can be. It's no surprise that she is flying through the levels, and mastering new skills so quickly. I consider myself very lucky to coach Precious, and watch her grow into the sport!"
Precious loves her gymnastics class, but when it comes to her favorite event it absolutely would be the trampolines! She considers Gymnastics as her hobby, and loves getting to push herself every week during Coach Alyssa's class! Outside of Gymnastics she also enjoys playing basketball and soccer. Precious, how much you have grown in the sport of Gymnastics in such a short time is amazing! We consider ourselves very lucky to have a Gymnast like you in Mesquite!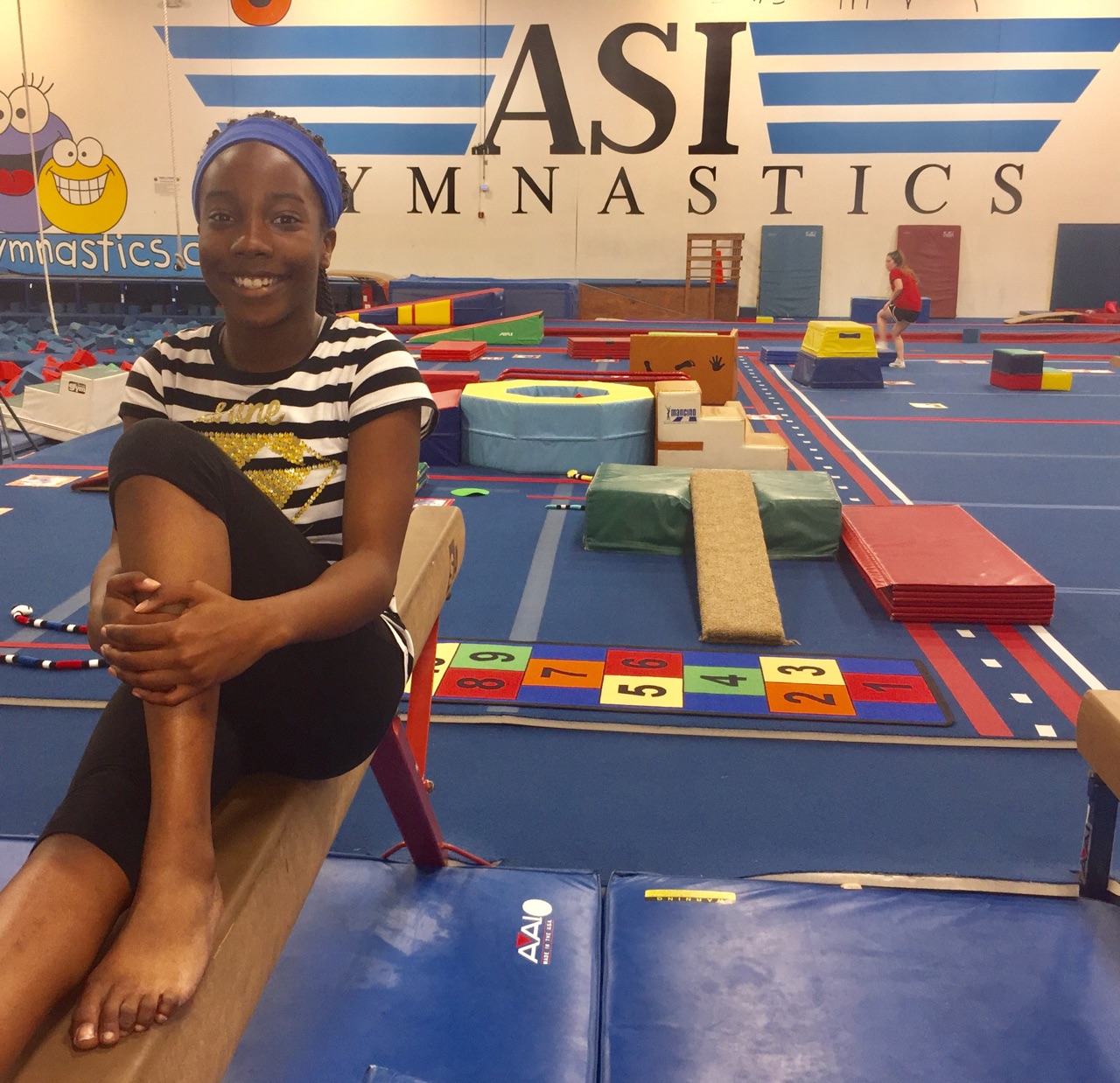 Rockwall
Lillie is one of Coach Rebecca's Kidz Gym Kiddos. She has been a student at ASI since March of 2016.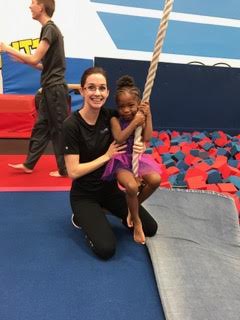 "I love coming to gymnastics because I get to flip on the bar, play in the pit, and ring the bell! I like seeing Coach Rebecca, Coach Adam, and Coach Jonny." Lillie says. When Lillie is not here at ASI, she loves playing soccer with her big sister.
When describing her coach, Lillie says " Coach Rebecca is awesome because she teaches me new things all the time. She helps me when I need help, and she is always nice to me and gives me hugs."
Mom says she heard about ASI through many parents at the daycare that her girls attend. "I heard nothing but good things about ASI, and I wanted to try it out for myself. I'm very pleased with the programs and the staff."
Lillie's mom thinks gymnastics has benefited her daughter in many ways,"Lillie has grown so much. She has never been shy or timid but is very much a  perfectionist. Gymnastics has given her confidence, a better focus and a remarkable relationship with people outside of her usual. She channels her natural athletic ability as well as burns off lots of that toddler energy."
ASI Rockwall is extremely fortunate to have such an amazing athlete in our gym, and we look forward to watching Lillie grow here and progress from here.
 The Woodlands
Riley is three years old and is in Coach Lexi's Kidz Gym class. She loves coming to gymnastics and doing all of the different activities. Her mom says that Riley has a smile on her face from the time they pull into the parking lot until they walk out the door. Riley's favorite event is everything, but she enjoys jumping on the trampoline, flipping on the bar, obstacle courses, and of course the pit! Sweet Riley loves her coach because she is amazing, fun, and has so much energy. She makes learning exciting!
Riley's mom said that they enjoy gymnastics because Riley's coordination and strength have improved so much over the last six months at ASI and her discipline has improved as well. We also asked why they picked ASI, mom said, "We heard great things about ASI. We had done a few Open Gyms with the older kids, and after watching the Olympics, Riley wanted to join! ASI The Woodlands is so excited to have a little gymnast like Riley with is!