Allen
Coach Hannah has been at ASI Allen for 10 months.  She has been working with children for many years.  She started babysitting at a young age and also helped with the daycare kids at her church.  Hannah has worked with special needs children through PAL.
She has a familiar background with gymnastics.  Hannah started at a young age doing gymnastics and Eagles Wings and moved into tumbling.  She then joined a team with Cheer Athletics and cheered for three years.
Hannah loves her Kids Gym and Girls Bronze classes and finds it so rewarding to build these relationships with the kids here at ASI.  She is such a fun and lively coach and finds her job so fulfilling.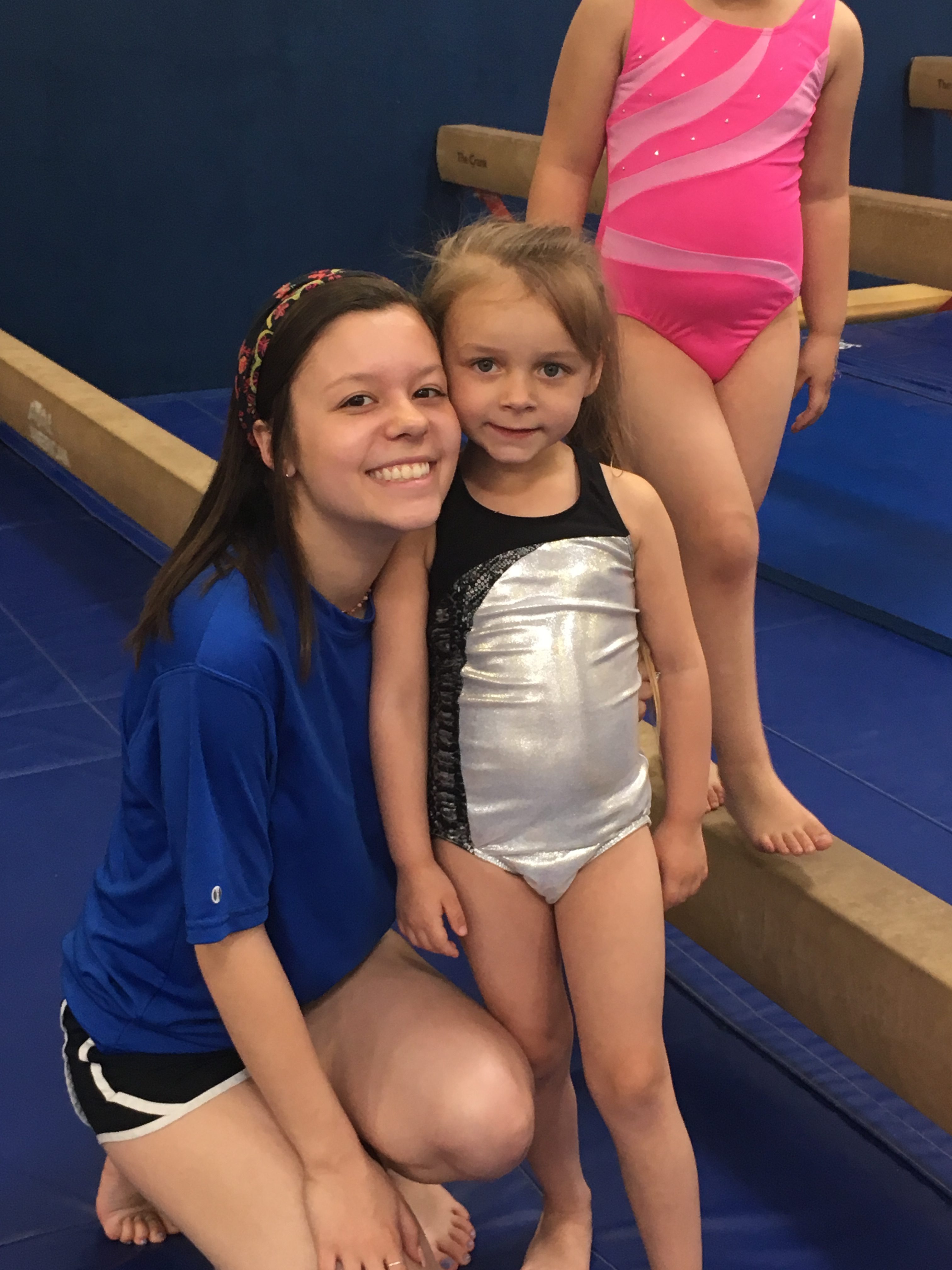 Firewheel
Coach Michele has been with ASI Firewheel for over two years now. She is currently coaching our Tiny Tots and Kidz Gym programs. However, she has been working with children for over 10 years! She has worked at a preschool learning center, children's department at her church, and is currently the Assistant Children's Pastor. While she may not have much of an athletic background herself, she is a huge sports fan! She watches almost every sport but prefers to attend live sporting events whenever possible.
She got her start here when she won a free month of gymnastics from an auction. Her son, Lance, has been enrolled in classes for six years and is currently on our boys competitive team. Since catching the gymnastics bug she has learned a lot about the sport. Coach Michele thinks Gymnastics is great for kids because it develops their large motor skills, builds their confidence, helps to prepare them for school, and gives them strength and flexibility that can be used for higher levels of gymnastics or almost any other sport.
Her favorite event to coaches is bars. However, her favorite thing about coaching is when a child finally masters a skill they have been trying. I love how excited they get when they can do something new they have never done before. I also love just having fun with the kids and being silly. Kid laughter is one of the best sounds in the world!
While she only graces us with her presence for morning classes, you may get lucky and see her fill in from time to time in the evenings! We can all agree that her coaching style is encouraging, patient, and friendly.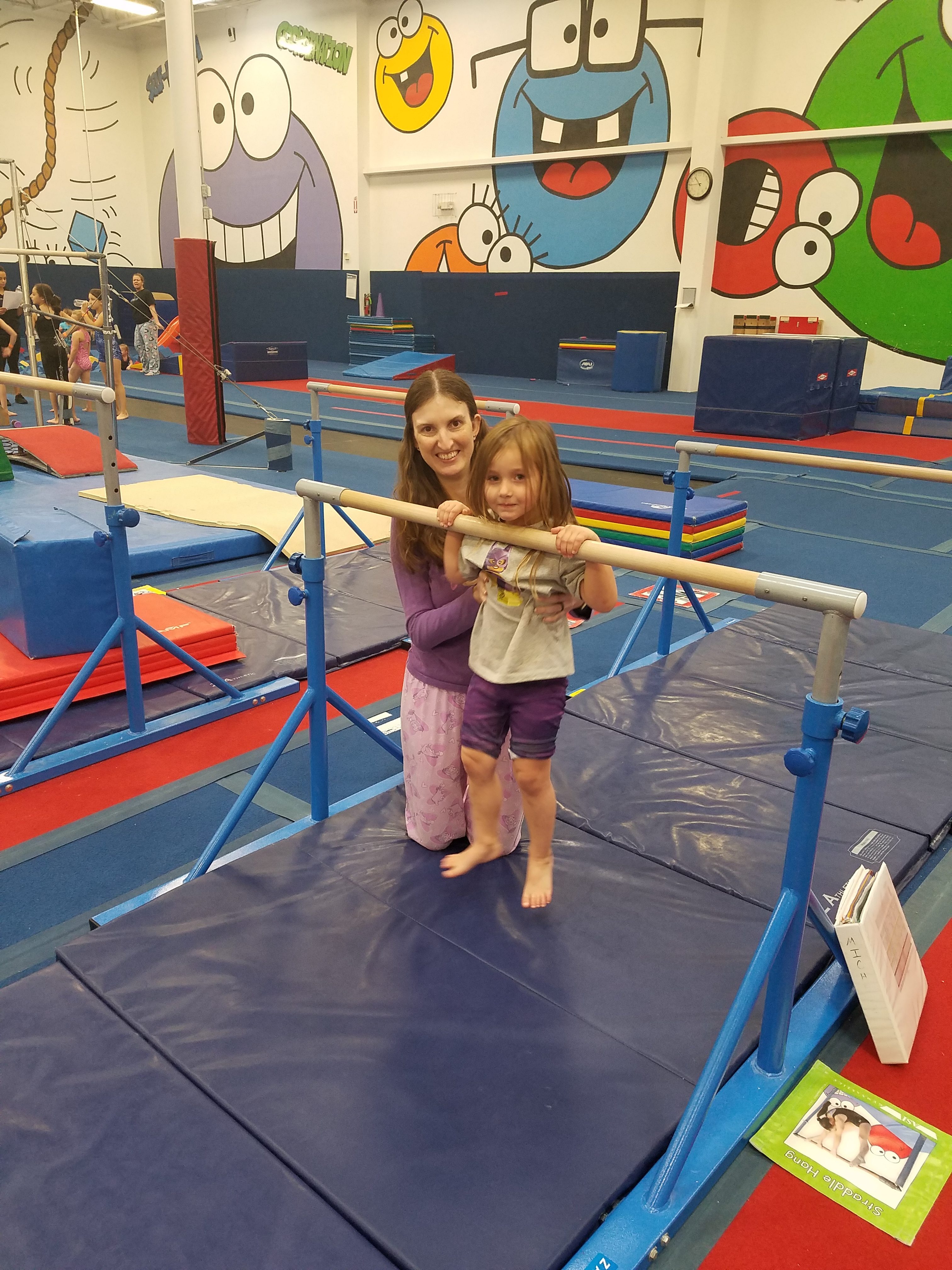 Keller
Coach Lauren  has coached in Keller for just under one year. In that time, she has made great strides in learning nearly every product ASI has to offer. Coach Lauren coaches Tiny Tots, Kidz Gym, as well as Boys and Girls gymnastics. She's one of our most energetic birthday party coordinators, and our Gymnastics After School kids love her! The fact that our students love Lauren is not a surprise given her extensive background with children. Lauren began babysitting at the age of 12 and still works part time in a childcare setting for her church.
In addition to loving children, Lauren has a passion for sports, and tried them all as a child. Her athletic career began at the age of 4 when she started taking ballet, and continued with basketball and karate for the next 10 years. In high school, Lauren began running track and even tried her hand at some grappling! With such a diverse background in sports, it's no wonder that Lauren loves Gymnastics because it gets the kids moving.
"A lot of kids don't realize that learning all these skills are actually helping them exercise. It is helping with flexibility which will help prevent muscle tears down the line. It's also boosting their energy while improving fitness and overall health".
Lauren describes her coaching style as controlled, safe, and fun. Her favorite part about coaching at ASI is the kids.
"I love being around children. They give me joy and energy in my every day. My favorite moment is when I see the smile and joy coming from my kids faces when they finally master a skill they've been working on for awhile."
ASI Keller is lucky to have coaches like Coach Lauren who has a passion for kids and their progress in the sport!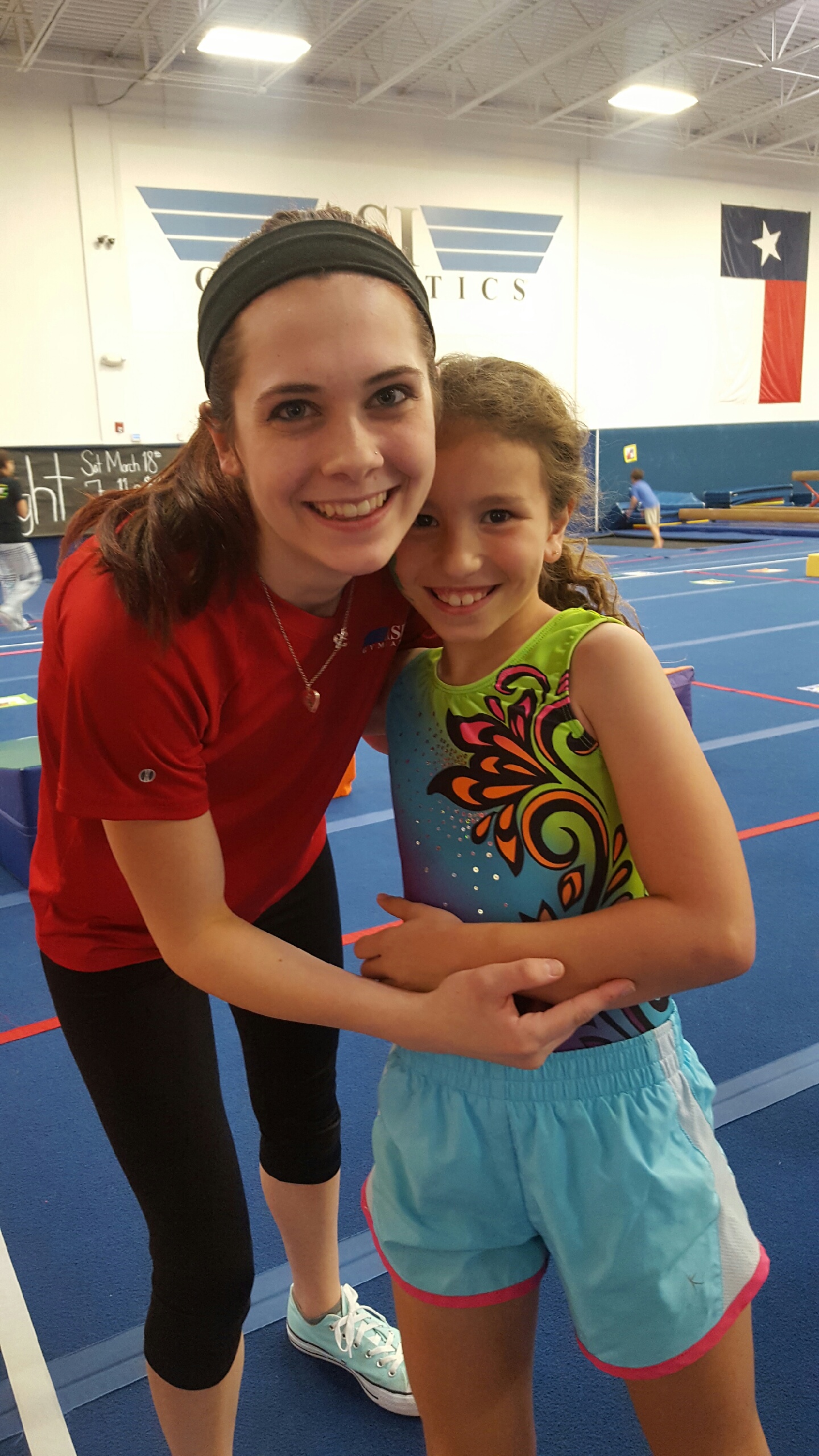 Lake Highlands
ASI Lake highlands is proud to present Coach Lizzy for the Coaches Corner of the month! Lizzy has been with ASI for almost five years. During her time here she does Kidz Gym classes, birthday parties and is a supervisor for all the fun products. She also is a media specialist during meets capturing all the wonderful moments of the gymnasts. In 2014 she graduated for North Forney High School and also graduated from Steiner Institute of Esthetics for Skin Care.
Lizzy says, "I love children because they are so much fun to be around. And I come from a big family and every time we get together for the holidays I love seeing all the kids!"
Her favorite thing to coach is Kidz Gym and she describes her coaching style as fun, silly and loving. She also believes that gymnastics is great for kids because they learn how to be a team player and gain self-esteem.  ASI Lake highlands would be so lost without Lizzy and how great she helps run all the great programs we have here.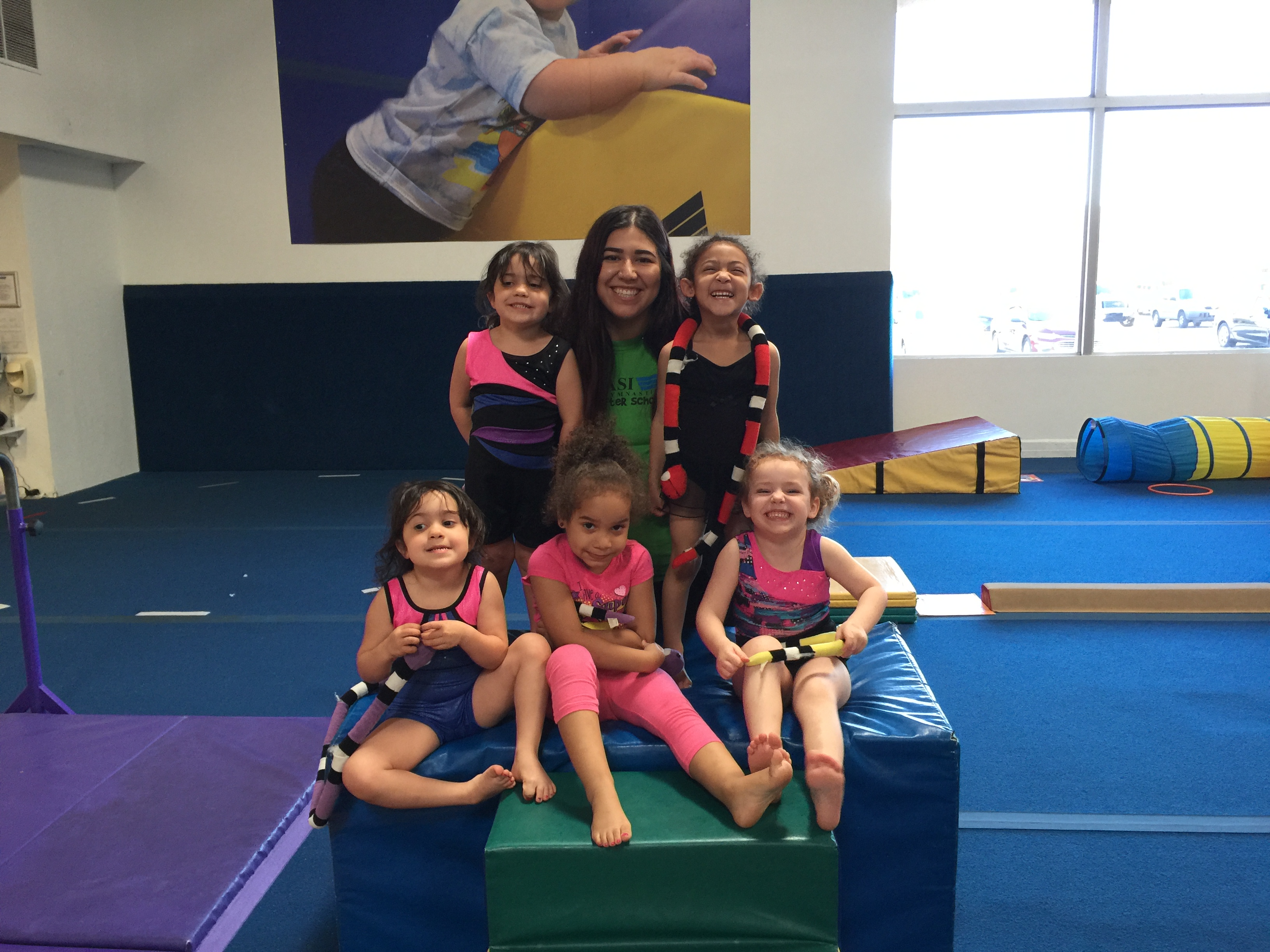 Mesquite
Jacob in Mesquite is one of our senior coaches, that has been with ASI for seven years now. He coaches a huge variety of classes and fun products from Tiny Tots all the way to Boys and Girls Team. Jacob grew up in the sport of Gymnastics competing for eight years, and even attending ASI Mesquite as a child. His strong background in Gymnastics has lead to him becoming an excellent well-rounded coach, and employee for mesquite.
Coaching at ASI means a lot to Jacob, "I love being able to develop athletes who then gain confidence as they acquire new skills. But I love even more developing young men and women who gain valuable life skills from the challenges of the sport and the coaching I'm able to give them pertaining to things outside the sport. I truly love building relationships where I can teach and be taught with a last impact."
As for coaching the sport of gymnastics his view is that, It is accessible to any kid, regardless of their natural talent level. Gymnastics is for every kid that walks into an ASI gym, and it gives them a place to feel safe, empowered, successful, valuable, and best of all strong.
Jacob thank you for all your hard work and dedication you have given ASI over the past seven years! The gym, staff, and kids all love you, and are exciting to see you continue to grow in the company.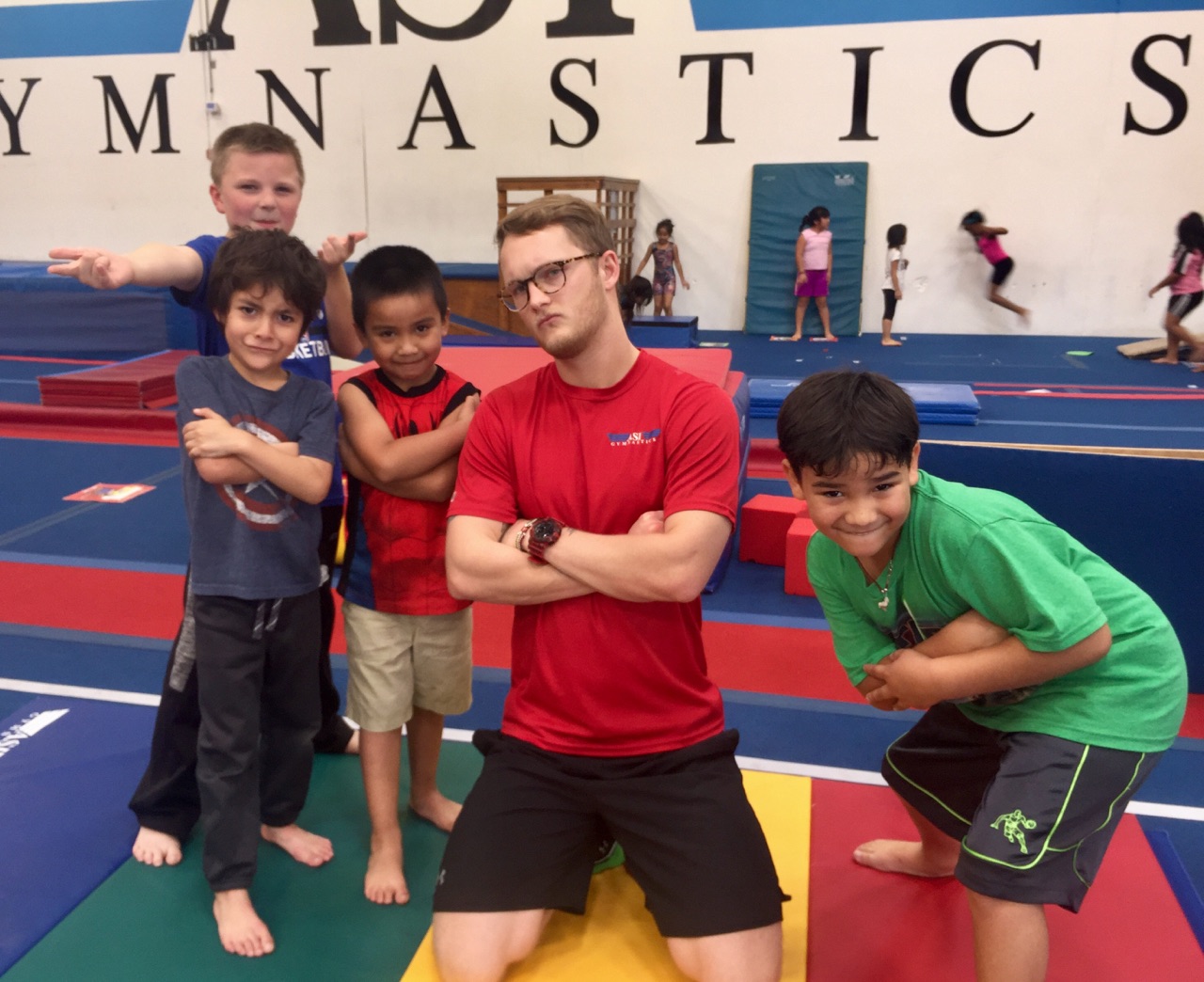 Plano West
Coach Elizabeth at ASI Plano West came to us from the University of Memphis. She is 26-years-old and has spent 11 of those years coaching gymnastics. Coach Elizabeth was a gymnast for 11 years, competed level 9 and trained level 10.  When she isn't talking, coaching, or learning more about gymnastics, Coach Elizabeth enjoys camping, reading, and traveling.
In her eight months here at ASI, she has won the hearts of her Level 3 and 4 teams, her Tiny Tots, Girls Gymnastics classes, and her Gymnastics After School students. Her energy in the gym is contagious when she is coaching. She is also very creative with her coaching, she isn't afraid to share her opinion or give suggestions. Coach Elizabeth's favorite event is the bars.  We asked her why she chose to coach at ASI.
"I coach at ASI because when I first moved to Dallas, last summer, it was the gym that shared all the same values as me. I love working with the other staff members and children. ASI has also taught me so much in my short time here."
ASI Plano West is lucky to have a coach so dedicated to her students. Coach Elizabeth is always looking for better ways to coach her girls. She doesn't take "I can't do it" as an excuse from her students. She encourages them and pushes them to do their best.
Coach Elizabeth believes gymnastics is great because, "it teaches children so much more than just skills; it teaches respect, time management, hard work, and perseverance. They learn life skills that will help them in the future all while having fun."

Rockwall
Jennifer has been coaching at ASI Rockwall for a little over 10 months now. She currently coaches our Girls Bronze level classes, along with Kidz Gym classes. She is also certified to coach Power Tumbling.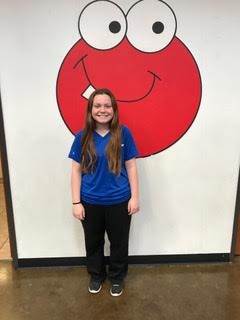 She took Some Power Tumbling classes here at ASI when she was younger and loved it. She loves coaching Gymnastics because she is getting to be with children and teach them skills that she knows.
Jennifer did cross country for two years in middle school and did Gymnastics during her freshman and her sophomore year of high school, now she does Swim.
We asked Jennifer what would be her favorite event to coach and she said it would have to be Bars.
"Gymnastics is great for kids because it gives them a great workout, it is fun, and it teaches them how to follow a rotation."
She summed up her coaching style with 3 words "Fun, Challenging, and awesome".We are so lucky to have such an amazing "team player" as a part of our ASI family.
The Woodlands
Coach Lauren is a coach at our Woodlands location and has been with us for four months. She is currently coaching Tiny Tots, Kidz Gym, both Girls and Boys gymnastics, Birthday parties, and is included in our other fun products. Lauren is 20-years-old and is attending Lone Star college with plans to transfer to Sam Houston University for both sports medicine and education. She explains her coaching style as energetic, but disciplined. She loves that ASI includes classes for all ages letting them start development at a young age not only in gymnastics, but in social skills as well. Lauren explains that she loves her team her ASI The Woodlands and couldn't be happier with the coaches she is surrounded by. She loves the environment here at the gym and is so glad to have gotten the opportunity to change student's lives through ASI. We are blessed to have her on our team!