Allen
Coach Jason is such an energetic and positive coach and has been coaching at ASI Gymnastics for five years. Jason is one of the few coaches who gets to travel and coach at more than one location. In fact, he coaches at four of our locations and Allen is lucky to have him on Friday for classes! You know when Jason is in the gym because the kids just gravitate toward his fun-filled Superman personality.
Coach Jason has an extensive background when it comes to working with children. Not only as a coach, but he used to babysit his cousins when he was younger and enjoyed working at VBS and camps for his church. Jason's knowledge about the sport of gymnastics is bar none. He was a gymnast for 10 years and he is currently judges boys gymnastics competitions. You can still see him doing flips from time to time. Jason also cheered for UT Dallas and NCA and is working hard to one day soon be a Pediatrician.
Jason has built so many relationships with kids and families here at ASI over the years. He finds it so rewarding and fulfilling to be a part of this company because he gets to impact so many lives on a daily basis in a sport that he enjoys doing. We are so lucky to have Jason as a coach and are excited to see where the next five years take him!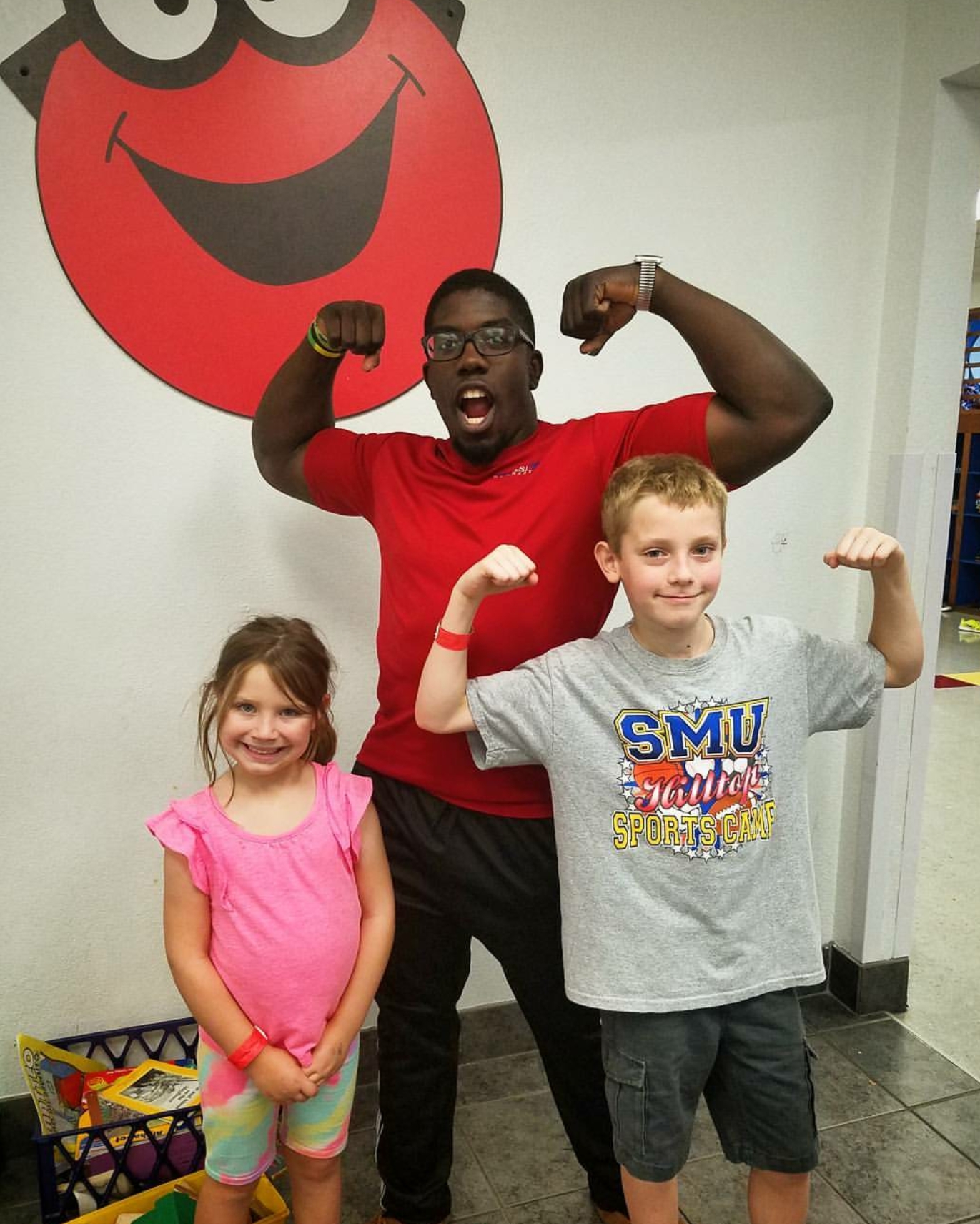 Arlington
This month Coaches Corner is Alex . Alex has been coaching at ASI for about eight months now. He first started coaching in high school and he has been coaching gymnastics ever since. In fact, that's also when he, himself started doing gymnastics. He competed at a level 9 before he decided to go to college, where he currently attends University of Texas at Arlington. He coaches Boys and Girls classes, Power Tumbling classes, and boys team. This is his first year doing Boys Team at ASI but his first season has been amazing. The boys adore him and the parents have been very pleased. We here in Arlington are ecstatic to have him be apart of our team and can't wait to see what else he can bring to the team.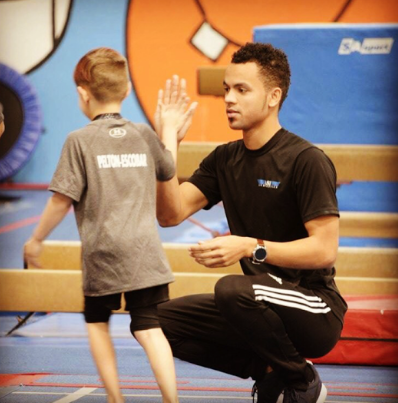 Firewheel
Coach Leith has been with ASI for about six years now. Coach Leith plays many roles here at ASI Firewheel. He is currently our product supervisor for our Power Tumbling program, coaches Boys Silver and, is a crowd favorite for Birthday Parties.
Coach Leith has always been very active, "I was on the Guyanese boys team in South America and also was a Muay Thai kick boxer. When my family moved to Texas I competed in track and field from elementary all the way to college. I also played Rugby, Soccer, Tennis, Cricket, and Football competitively. I am now competing in Powerlifting. I placed second in my first competition. "
In his spare time Leith likes to pass time by reading marvel comics. "I grew up reading the Marvel comic books and to this day, I still read them. But my favorite would be the Thor and Spiderman issues.
When asked why Gymnastics makes kids so great coach Leith replied, "Gymnastics build character. It lets the kids know that nothing is impossible if you work hard and put your mind to it. Another positive aspect of Gymnastics is when the kids come to class, they start to establish relationships with their classmates and that builds new friendships."
"When asked what event coach Leith liked the most he replied " I love coaching Power Tumbling because you as a coach have to make up the stations that will help the kids improve. It's never a dull moment."
Staff, parents and students love Coach Leith here at ASI Firewheel. Thanks for all your hard work Coach Leith!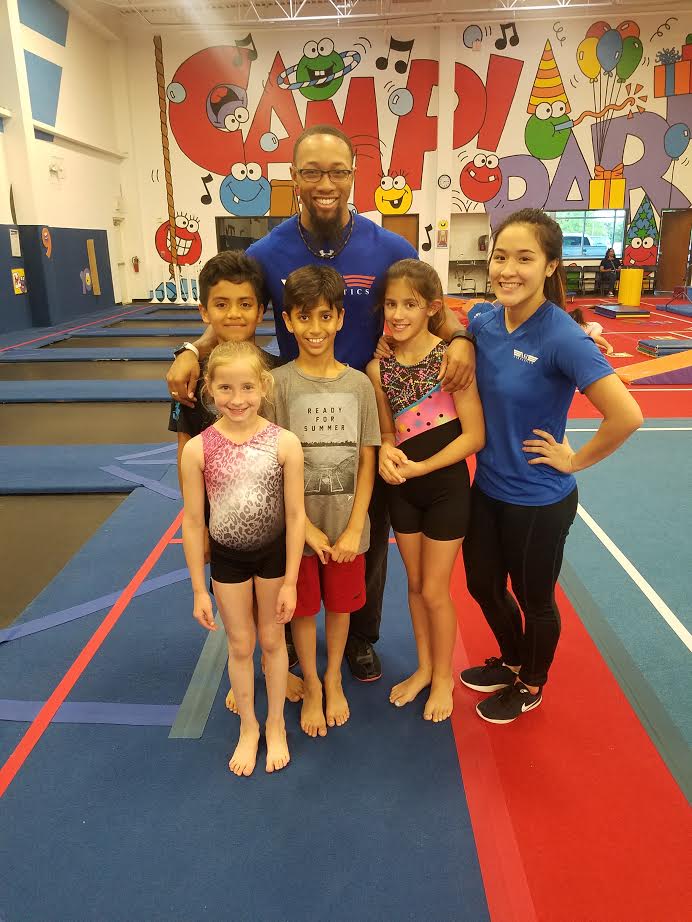 Keller
At 17-years-old, Coach Lauren is just beginning her coaching career at ASI Gymnastics and is already one of our most popular coaches. Her students love her and she is highly knowledgeable about the sport of gymnastics, which makes her a great asset. Before she started coaching at ASI, Lauren was a gymnast here herself, taking gymnastics at ASI for 6 years during her 7 year career as a gymnast. Now in her senior year at Central High School here in Keller. Before she was a coach, she was a nanny, which explains why she is so great with her students. Lauren loves coaching Kidz Gym classes and Girls Gymnastics classes, but her favorite class to coach is the challenging Girls Advanced Gold. She describes her coaching style as fun, hard and exciting. Her love for the sport is easily conveyed to her students as she helps them to learn new skills, and her excitement is contagious. As a gymnast, she understands the physical demands of the sport and pushes her students to not give up and helps them to achieve their goals.
 "Gymnastics is great for kids, because they get physical activity. They get to meet new kids and they get to learn new things. I love watching kids get better at the skills that they have been trying, because they get so excited. I love to see them get excited and then they want to get better!".
Though she's been coaching in Keller for only seven months, Lauren is making her mark on her students and her coworkers. She is a fun coach, a great teammate and we hope to keep her around for a long time!
Lake Highlands
​ASI Lake Highlands would like to present this months coaches corner to Vincent, who has only been with us for five months! He is 22-years-old and moved to Texas from California. Vincent heard about the coaching opportunities here through Coach Nereida. He coaches a number of classes in Power Tumbling and does all the fun products that ASI offers to its children. He is currently assisting the team girls as much as he can and they all love him! The way he stays fit is by walking to work almost every day. When he was younger he played football and ran track for three years and then once in high school he began his cheering career! He has previously worked with kids in California at the All-Star gym to help them learn dance choreography and he also helped the children at his church.
When asked about why he loves working at ASI  Vincent said, " I love how hard-working the kids are. They put in the work and effort and that's what I love to see because it is such an important characteristic to learn. They will carry those for the rest of their lives."
His favorite event to coach is bars and floor. He thinks his coaching style is tough, persistent and loving!  ASI Lake Highlands is luck to have such a fantastic person working here!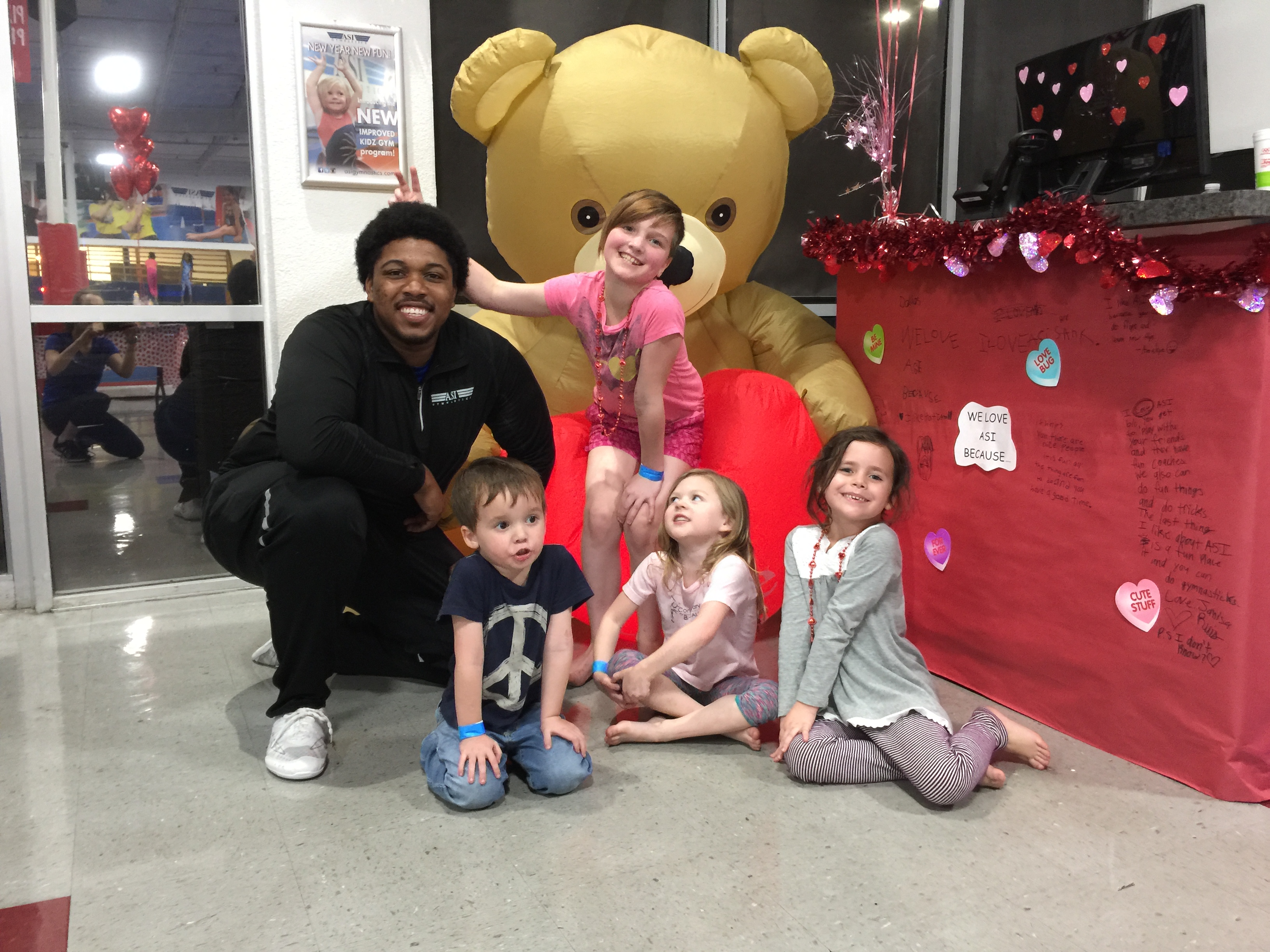 Mesquite
Coach Karla in Mesquite is not only an amazing coach, but her fun, outgoing, bubbly personality lights up the gym whenever she is here.  Karla has only been with ASI for a little over nine months, and is already a certified coach in Tiny Tots, Kidz Gym, Girls Gymnastics, Birthday Parties, and other Fun Products. Her Favorite to coach would have to be Tiny Tots,. Karla is amazing when it comes to working with the babies in the Gym. In her short time of Coaching she has already made an impact in so many kids lives!
Karla grew up playing soccer, and decided as she got older she wanted to try something different and start working with kids. We are so glad she did!
Karla believes Gymnastics is great for kids because, "It takes them out of their comfort zone, and gives them the opportunity to interact with other kids all while learning the sport of Gymnastics!" Her favorite part about coaching at ASI is  seeing the smile on the kids faces every day. No matter what kind of day I am having they always seem to make my days so much better. Karla we are so proud of you and we can not wait to see how much you grow at ASI!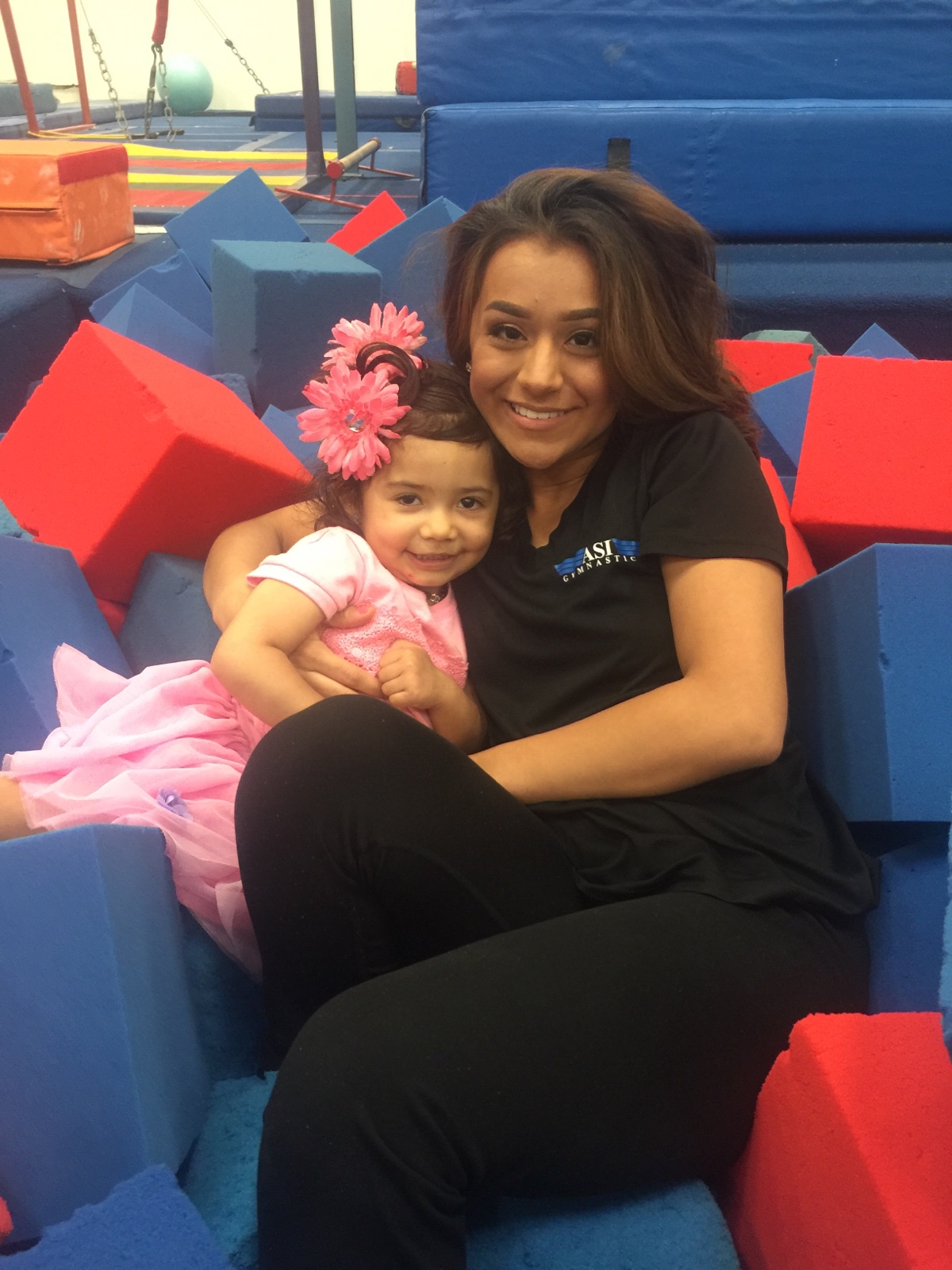 Plano West
Sarah has been coaching at ASI for 11 months.Sarah has already built great relationships with her gymnastics students, families, and her Gymnastics After School kids. She currently coaches Kidz Gym and Girls Gymnastics. She is working on finishing her Gold certification for the gymnastics program. Sarah is one of the weekly supervisors for our Gymnastics After School program. She is also a frequent lead in our Open Gyms, Camps, and Parents Night Out.
Coach Sarah attended Lake Highlands High School and took some courses at Richland College. She married her high school sweetheart, Mr. Matt and has two cute puppies named Bentley and Hadley. Sarah's favorite books are the Harry Potter series. When she isn't at ASI, she enjoys reading, watching movies, and staying active with her husband and family. AS a child Coach Sarah was a dancer starting from the age of 3.  In high school, she was a member of the Lake Highlands drill team, the Highlandettes.
Before working with ASI Coach Sarah worked with an after school program at the St. Johns Episcopal School where she would also substitute Pre-K and Kindergarten physical education. She began at ASI last summer when she needed a second job to save some extra money for her wedding. That summer job turned into something she hopes "to turn into her future." Coach Sarah has really shown some passion in the work that she does with ASI.
"I love coaching because there is a happiness that I have found in sharing the goals I have for my kids and the goals they have for themselves. For the longest time I never had a dream for myself. I never knew what I was meant to do or what path God had in store for me. I love the feeling of setting goals and accomplishing them with my students while watching them revel in the pride of ringing the bell. I love knowing I helped them get there!"
We asked Sarah why she thought gymnastics was great for kids and she answered:
"Gymnastics is great for kids because it allows them to see themselves progress and improve. While they have fun and work hard, it teaches them that what they put into it is what they can get out of it. Gymnastics also can help kids to push themselves to new levels. If they are intimidated by the bars, the beam, or being upside down; with the help of the coach they can overcome that fear and feel accomplished with what they have done."
ASI Gymnastics Plano West is lucky to have coaches like Sarah that care so much about their students and their success.