Is ASI still operating on a normal schedule?
AS of now, ASI Gymnastics is still operating on a normal schedule. We're tracking this situation very closely and we will continue to keep you updated as we know more. The health of our ASI community is our top priority.
How is ASI Cleaning their facilities?
In addition to our current cleaning procedures, ASI Gymnastics has increased the frequency and extent of our cleaning services, to include but not limited to:
Washing hands before and after each class

Cleaning door knobs, vending machines, water fountains and other frequently touched hard surfaces 

Providing hand sanitizer around the gym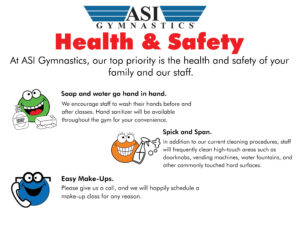 What "Best Practices" should we follow at ASI Gymnastics?
Come Healthy

Come with Clean Hands

Come with extra hand sanitizer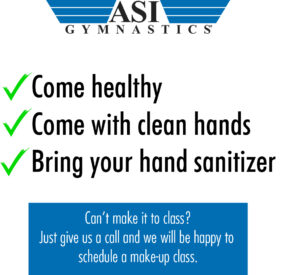 What if we have to miss a class?
No problem. If for any reason you have to miss a class, give us a call and we will happily schedule a make-up.
How is ASI responding to Dallas County and Montgomery County's order?
ASI is aware of the order urging events not to hold gatherings of 250 people. We have pulled a capacity analysis report and all our class hours and events fall within the 130-140 person range. We will continue to monitor our capacities to make sure we are always in compliance. 
Team ASI Questions:
Will USAG and TAAF meets be cancelled?
USA Gymnastics and TAAF have decided to suspend all sanctioned events through March 31st due to the increased concern of the COVID-19. This will affect all of our athletes for the following State Championships:
USAG Women's Level 6 State Championships (March 13-15, 2020)

USAG Women's Level 7 State Championships (March 27-29, 2020)

USAG Men's North Texas State Championships (March 28-29, 2020)

TAAF Biron Youth Sports Center – March 21-22, 2020
TAAF Girl Power
We are waiting for additional information from USA Gymnastics for any further updates on possible rescheduling. Please click HERE to review the statement from USA Gymnastics.
My child has not met the mobility score requirement, will she still be able to promote to the next level?
We will take a look at the scores so far this season; however, we will place a larger emphasis on skill development, rather than the score requirement.
My child did not have the chance to attend 3 TAAF qualifying meets this season, will she still be eligible to compete at the State Championships?
We are waiting on word from the TAAF organization on the State Championships qualifying procedure. As soon as we know more details we will inform everyone.