Try FREE, Enroll FREE
Sign up for a FREE trial class from August 24 – August 29, and if you enroll in a class, you will receive $30 off!
Come tour the gym and experience the ASI difference. We have a class that will fit all your children's needs.
PROMO CODE: TRYFREE20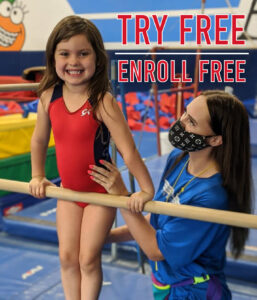 1. Create myASI account
Choose your local ASI and create your myASI account online. It's free!
2. Find a class & enroll
Once logged into your myASI account, find a class that you want to try and click "SUBMIT REQUEST."
3. Choose "TRIAL" as enrollment type
From the enroll screen, choose your student and select "Trial" as the enrollment type.
4. Show up to your trial class!
Once you receive an email verifying your trial class, show up on the date and time specified.
Need Help? Contact Sales
COVID-19 Safety Protocols:
REDUCED CAPACITY
– We are operating at limited capacity
– Only one parent per student in the gym
– We ask that no siblings be allowed in the gym at this time
– We ask that no one over the age of 65 come to the gym
KEEPING IT CLEAN
– Cleanings before, during, and after each workout
– Overnight deep cleaning and disinfecting
– Extra staff designated to help with cleaning during each shift
KEEP THE DISTANCE
– Specialized seating to ensure that everyone practices social distancing
– Parents must bring a yoga mat or cushion to use for seating in the bleachers
SAFETY FACE COVERINGS
– Face coverings will be worn by all staff
– We require that all adults who enter the building also wear a face covering
HEALTH FIRST
– All staff must have temperature checked before starting their shift
EXTRA PRECAUTIONS
– Gymnasts will need to bring a backpack or gym bag to class with a water bottle and hand sanitizer
– We encourage the option for drop off and pick up at this time