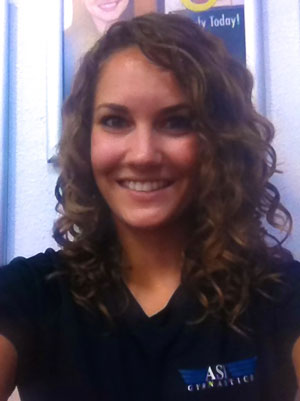 Title: Coach
Classes: Tiny Tots 1 & 2, Kidz Gym 1 & 2, Girls Bronze, Silver, Gold, and Level 1 Team.
Q: Why did you decide to apply for a job at ASI?
A: My mom coached gymnastics when I was growing up and she worked here when I was 14. I would come help her with open gyms and and PNOs ALL the time. The manager gave me a job here the minute I turned 15!
Q: What do you love about working at ASI?
A: I love walking in the door every day and being greeted by my kids' smiling faces! It's impossible to be in a bad mood when they are making me laugh all day.
Q: How do you think gymnastics helps kids?
A: Gymnastics is such a beautiful and graceful sport. However, it also requires an amazing amount of talent and skill. This intense sport helps kids because it provides a great deal of physical activity while remaining interesting and FUN!
Q: Why do you enjoy coaching?
A: I enjoy coaching because it allows me to make a difference in these kids' lives. Not only am I teaching them cartwheels and handstands, but also how to work hard, follow instructions, and believe in themselves.
Q: What's one of the proudest moments you've had as a coach?
A: My proudest moments as a coach are when my kids FINALLY accomplish a skill that has been giving them trouble and they've been working on for while. I absolutely love the sense of accomplishment it gives them…not to mention the confidence boost! Being able to tell them, "See, I TOLD you you could do it!!" is one of my favorite things about this job!
Getting To Know You:
Q: Where are you from?
A: I was born in Johnstown, Pennsylvania, but I've lived in Royse City, Texas for most of my life.
Q: Are you currently in school (college/high school) and where?
A: I'm currently attending Texas Woman's University in Denton and I'm studying nursing.
Q: What's something someone would be surprised to know about you?
A: I have 8 chickens!
Q: What are your hobbies/interests outside of working at ASI?
A: I love reading, singing, playing piano, and hanging out with my family and friends
Q: What sports and activities did you participate in while growing up?
A: I was in gymnastics, soccer, Girls Scouts, Sea Scouts, 4-H, and swimming. I also volunteered at the Dallas Zoo when I was 11-14 years old!
Q: Have you ever coached or taught children before?
A: I have been teaching gymnastics at ASI for five and a half years now 🙂
Q: What is one goal you'd like to accomplish in your lifetime?
A: I want to see the play Wicked on Broadway! In the front seat of course 😀
Q: If you could be anyone in the world (living or dead) who would you be and why?
A: The owner of Starbucks…because then I could have as much Starbucks as I wanted!!
Fun Facts:
Favorite Color: Yellow
Favorite Animal: Monkey
Favorite Sport: Gymnastics!
Favorite Candy/Food: Chocolate/Chicken Fried Steak!
Favorite Super Hero: Spiderman