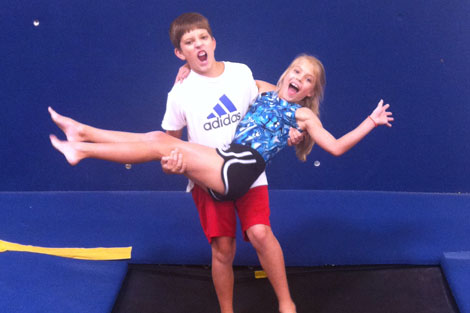 Meet Plano West's coolest camper, Katie Case! Katie was sad to say goodbye to all of the fun she had this summer at Survivor Camp, but now that school has returned, so has Katie! Katie knows that the ASI fun doesn't end when school begins, so she's back at Plano West in our Gymnastics After School program! Every day after school, her favorite coaches roll up to Homestead Elementary in the Gymmie Van, and take Katie and her brother to ASI for some fun, gymnastics, fun, a quick snack, fun, maybe a little homework, fun, and MORE FUN! With all that exercise, it's no wonder she's such a talented athlete!
Quote from Katie
"I love the trampolines because… It's fun being upside down!"
Katie has been coming to ASI for six years, and she is as much a part of our lives as we are of hers! Katie started in a Girls Bronze class, worked her way up to our competitive Girls Team, and now she has moved on to Power Tumbling to become a cheerleader! She's learning "all kinds of flips!" as she puts it. With her impressive gymnastics skills and even more impressive positive attitude, Katie will always have a place at ASI! Maybe one day she'll be… COACH KATIE!!!
KATIE CASE
ASI PLANO WEST
Age
School
Grade
Favorite Subject
Favorite Gymnastics Skill
MORE STUDENT SPOTLIGHTS