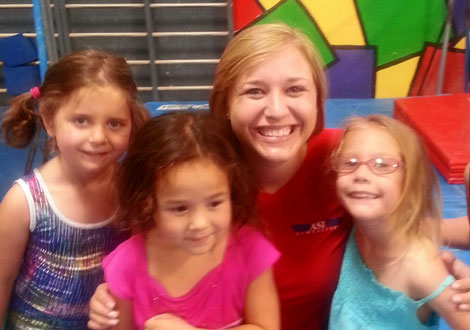 Anna Price is a fun new face at ASI Allen. Her friends and neighbors had been telling her for years that a coaching position at ASI was the job for her. This spring, she finally gave in, and she couldn't be happier. Anna is right at home in the ASI Allen family.
Quote from Anna
"I love everyone I work with! All of the kids are so much fun to teach and all the coaches are so helpful and nice."
Anna had a great time coaching at Camp Survivor this summer, and now she is coaching gymnastics classes. Anna started out working alongside experienced coaches, learning proven techniques and skills that she could use to help her students grow in their gymnastics abilities. Thanks to ASI's comprehensive training process, she knows that she is truly offering her students the highest possible quality of gymnastics instruction.
Quote from Anna
"The coaches do a really good job of training you to be the best possible coach."
Anna continues to learn and grow and develop as a coach, all to make sure she's giving every child an incredible experience at ASI. In fact, she has impressed her students, their parents, her coworkers, and her supervisors so much, she was asked to coach a competitive team this season! Anna appreciates that ASI has made her realize her passion for coaching. As far as she is concerned, teaching kids is one of the most rewarding things a person can do, and now she gets to do it every day.
Quote from Anna
"The thing I love most about coaching is seeing a child accomplish a new skill. I love seeing how excited they are and the happiness they get from it!"
Good luck this season, Coach Anna! GO TEAM ASI!
Coaches
Girls Gymnastics
Girls Team
Camp, Open Gym, & PNO
College
Favorite Subject
Favorite Sports Team
MORE COACH'S CORNERS