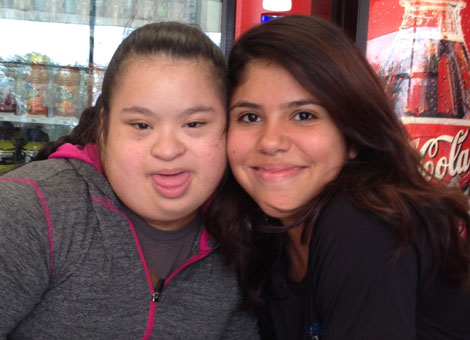 Maria Lopez is a 7th grader at Scott Johnson Middle School, but every Saturday morning she is the life of the party at ASI Allen. This M&M lover was a witch for Halloween, but don't let that fool you" she is a total sweetheart. Maria started taking Gymmie Kids classes at ASI when she heard about it from a friend in the program about 5 years ago. Her relationships with her coaches, her love of the trampolines, and the significant progress she's made over the years keep her coming back!
Quote from Maria
"I love to bounce!"
Gymmie Kids is an adaptive gymnastics program for children with special needs. Maria has Downs Syndrome, and it can be difficult for her to participate in a standard gymnastics class, so she recieves one-on-one lessons with Coach Jazmyn every week. They work on typical gymnastics skills and specific drills that help Maria meet her individual goals.
Quote from Maria
"I love to learn the new moves they teach me!"
Jazmyn helps Maria develop strength at the bars, cardiovascular stamina and spatial awareness on the trampolines, and confidence and balance at the beams. Just a few weeks ago, Maria walked all the way down the balance beam, sideways, by herself! Maria, you rock!
Age
School
Scott Johnson Middle School
Grade
Favorite Gymnastics Skill
MORE STUDENT SPOTLIGHTS